Crunchy Pita Bread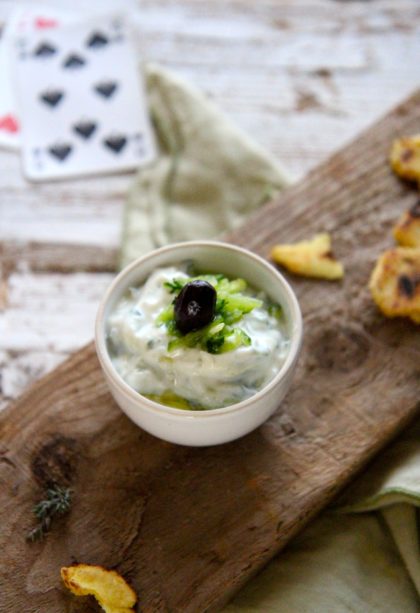 After a long time we finally invited some friends to come over and play cards.
I love to play cards! But to be honest, I guess I just mastered one which is called "mau mau";-) I don't know why but I'm pretty good in it and usually I win;-) I'm pretty lucky since I usually draw a 7 and an 8 without cheating!
The card 7 means that the player next to you has to draw two more cards and the card 8 means that the one next to you needs to skip one round. Hehe;-) Gosh, i loooooove it!! And since a great card game is just half the fun without some nibblers I usually serve my legendary tsatziki and my fantastic pita bread. Divine!!
And now guess how this game evening ended. Yes, it was a big success for me! Yeahhhh;-)
Crunchy Pita Bread
Mix the flour, the salt, the oil and the water in a bowl very well. I usually use my hands for that. It's very important that the dough has a nice consistency. If the dough sticks to your hands add some flour and if the dough is to thick simply add some water. Distribute some of the corn flour over your working surface, take 100g of dough, place it on the working surface and roll it out with a rolling pin.
A little tip;-) As soon as you rolled out the dough, take a small pot *16-17cm in diameter*, and push the pot into the dough to get an evenly round shape. Pour some oil into a riffled pan, add the round dough and slowly bake it from both sides until its done. Repeat this until all of you dough is used up. If you wanna keep them warm, simply store them within the oven.
*My tip: If you don't have a riffled pan, simply use a normal one or if possible use a small grill. Just place the dough onto the hot griddle for a few second. This will enhance the taste even more;-) Finally serve the pita bread with the tsatziki and enjoy!!