Gluten free Waffles with different Toppings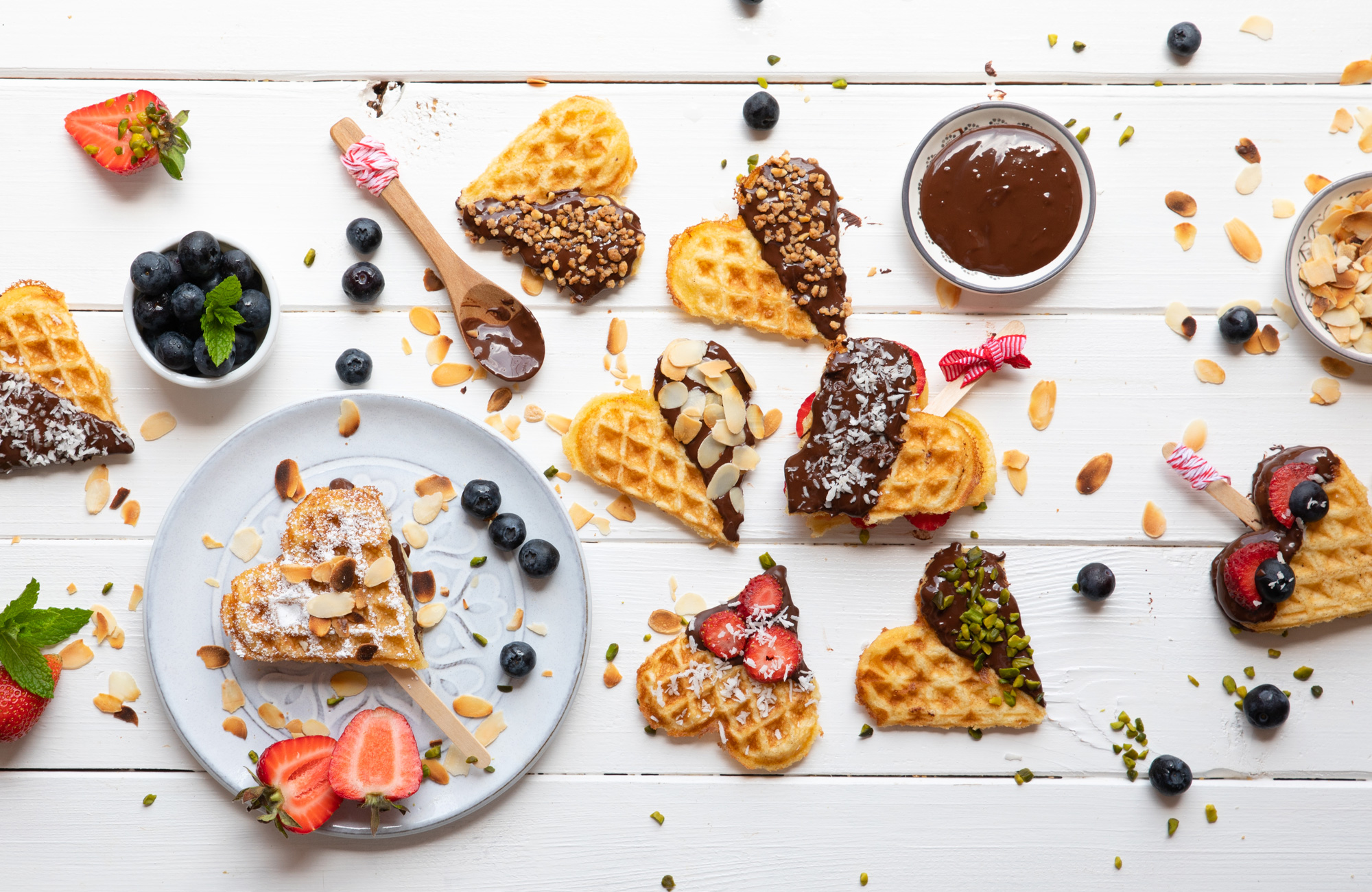 There is no such thing as too much work when it comes to our kids, especially not if they can enjoy some healthy treats.
I think that waffles are always right and I don't really know anyone, either big or small who doesn't like waffles.
Ok, I know that most of the people prefer to eat them on cold winter days, but if you top these gluten free, heart shaped waffles with fresh fruits and some chocolate you will like them during the summer as well. Especially our little ones love the fruit and chocolate combination.
In the end, I scattered some coconut, pistachios and almonds over and then they were suddenly all gone;-)
These waffles contain eggs.
If you or someone in your family should have an intolerance against eggs, don't worry! Micha got you covered. I created a vegan version as well and here's the link:
In addition you will need a mixing machine, a big bowl and a whisk. 
Gluten free Waffles with different Toppings
300g gluten free baking mix from Schär
350 almond milk
100gr cane sugar
3 eggs
1 pinch of salt
1 tea spoon of baking powder
Coconut fat for the waffle maker

For the topping

A handful of fruits according to your tolerance
100g dark chocolate with Xylit
1 tea spoon of coconut, pistachio, or almond leaves.
Give the baking mixture, sugar, salt and the baking powder into a mixing bowl.
Fill the almond milk into a different bowl.
Separate the yolk form the egg white and add the yolks into the milk and whisk everything thoroughly.
Add the yolk milk to the flour and stir until everything is creamy.
Beat the egg white until its firm.
Heat the waffle machine and brush some coconut fat over the iron.
Fuse the firm egg white with the dough "don't stir" and pour one ladle full of dough onto the waffle maker and bake the waffles.
If you want to keep the waffles warm, simply store them in the 50° preheated oven.
In the meantime, melt the chocolate over steaming water and clean the fruits.
Die Waffeln in Herzen teilen und jetzt darfst Du Deiner Kreativität mit der geschmolzenen Schokolade und den anderen Topping Zutaten, freien Lauf lassen;-)
Now separate the waffle hearts and let your creativity flow with your toppings and the melted chocolate;-)
Have lots of fun with this recipe;-)
Micha