Green, Vegan Thai Curry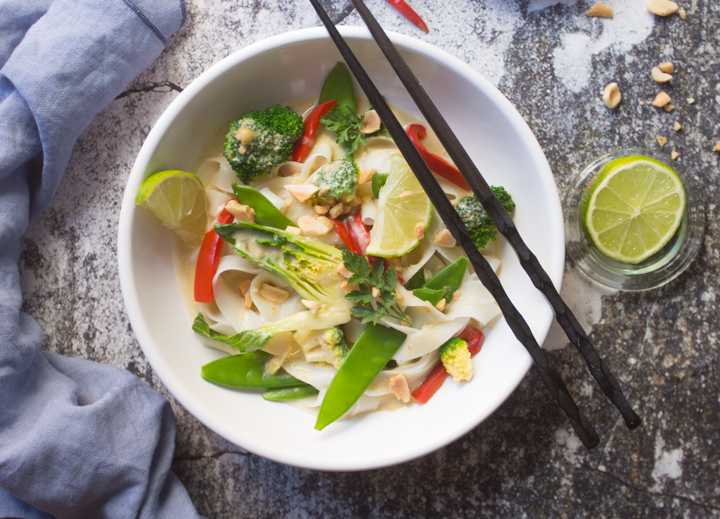 Curry, curry and more curry. I simply love this food and for some reason, I can't get enough of it. On one hand it's super easy to prepare and on the other hand, it's super delicious. Aaaaand you can even prepare a great, green curry out of the remaining stuff that you have in your fridge. Actually, that's what I did yesterday;-) 
I can only say… super tasty AND so quickly prepared.
Green, Vegan Thai Curry
200g rice noodles *I usually use the thicker ones* 
Available at any Asian store or in well sorted regular supermarkets.*
200g of different veggies that you can find in your fridge;-)
I still had spinach, broccoli, red pepper, sugar snaps and pak-choi. 
2 tablespoons of coconut oil 
400ml coconut milk
200ml vegetable broth
2 teaspoons of green curry
1 tablespoon of peanut butter *Optional: Almond butter*
1cm thick piece of ginger
2 cloves of garlic
1/2 chili bean
1 lime
A handful of crumbled nuts *Optional: Cashew nuts*
1 tablespoon of tamari sauce *gluten free*
Some fresh sea salt
Some fresh pepper form the mill
1/2 bunch of fresh coriander
Clean the vegetables and chop them according to the vegetable kind. Peel and slice the garlic. Peel and chop the ginger. Halve the lime, clean the coriander, shake it dry and chop. Halve the chili *if you want remove the seeds* and chop it.  Slightly heat  1 tablespoon of coconut oil in a pot or a wok, add the chili, the veggies, the nuts and slightly pan fry everything. As soon as your veggies are al dente, take them out of the pot or wok and fill them into a bowl. Heat up water in a pot and add the remaining coconut oil, add the garlic, the ginger and stir the green curry. Please make sure to stir thoroughly so that nothing get's burnt.  Please add the vegetable broth and the coconut milk after 1 minute and let everything simmer for another 5 minutes.  Now add the peanut butter and whisk all the ingredients until the peanut butter dissolve completely.
Season the curry with the tamari sauce, the spices, the lime juice and add the veggies.
Once more, stir thoroughly.
Fill the noddles into 2 bowls, pour the curry over and…