Caramel-Chia Pudding with fresh Berries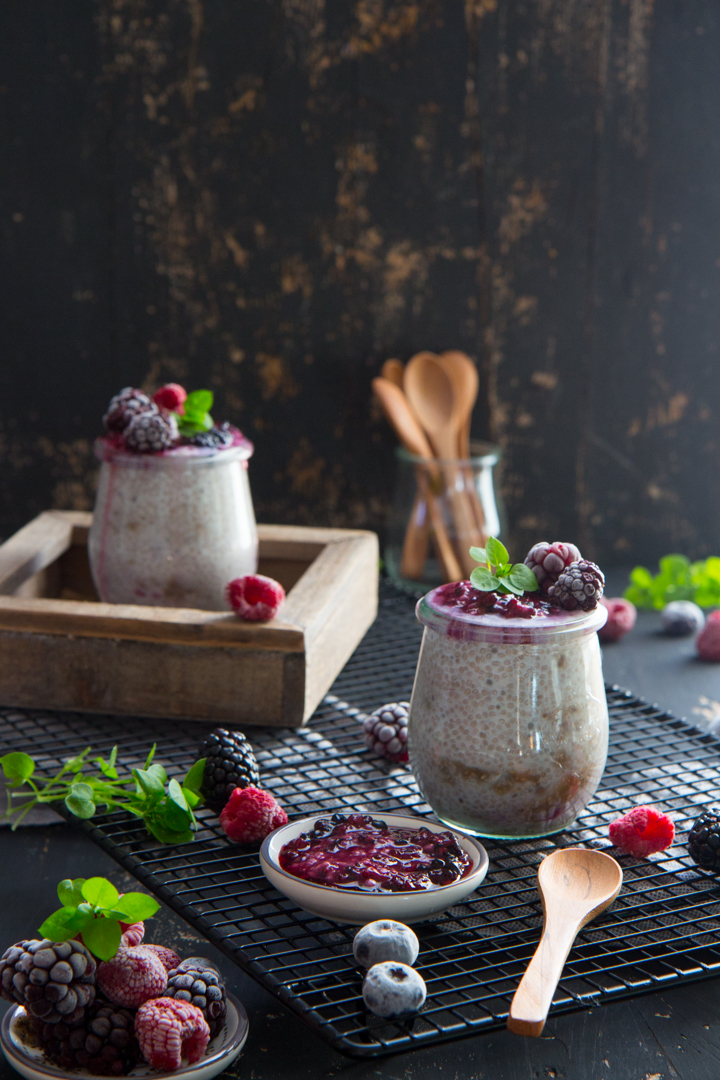 I'm telling you, I could eat this fantastic caramel pudding everyday day if I wouldn't have to follow the rotation system. 
The rotation system is an integral part of my plan, which means that it is much healthier not to eat the same food everyday and to bring some variation into your diet. And yes, this also applies to our favorite food that we could eat every day! 😉 If you would like to try this great caramel pudding, simply follow this recipe ♥
mhhhhhhh………Michas Kitchen Revolution makes it easy to eat tasty.
Caramel-Chia Pudding with fresh Berries
200ml coconut milk
2,5 tablespoons of cane sugar
3 tablespoons of honey *Optional: Coconut syrup*
1 vanilla bean
2 tablespoons of white chia
150ml rice milk *Optional: Almond, soy or gluten free oat milk* 
4 tablespoons of white chia seeds
2 tablespoons or rice syrup *Optional: coconut syrup, agave syrup or apple syrup* 
150g mixed berries *according to your intolerances*
1 tablespoon of rice syrup * Optional: agave syrup or apple syrup*
Some extra berries
First of all we will prepare the caramel. Mhhhhhhhh tasty.;-)  Halve the vanilla bean and scratch out the vanilla essence.  Fill the coconut milk, sugar, honey and the vanilla essence into a pot and let everything simmer und the milk reduced 50% and the caramel got nice and creamy. Add the chia, stir well,take the pot from the fire and let the chia caramel rest. For the chia pudding, fill all the ingredients into a vessel, stir well, fill the chia milk into two glasses and let them soak for 30-45 minutes. In the meantime squash the 150g of mixed berries within a small pot, add the syrup, stir well and let the berries simmer for 5 minutes.  Now pour the caramel over the pudding, distribute the liquid berry mix over as well and topp the tasty pudding with some extra berries. If you want you can distribute it in your own way.
Have lots of fun and enjoy this caramel chia pudding.
PS: Eat a spoon for me please. I need to pause at the moment because of the rotation rule…..
Micha from Micha's Kitchen Revolution sends her regards in cooperation with Pro Immun M, the diagnostic laboratory for food intolerances.