Almond-Lemon Cake with Blue Berries & a Pistachio-Crunch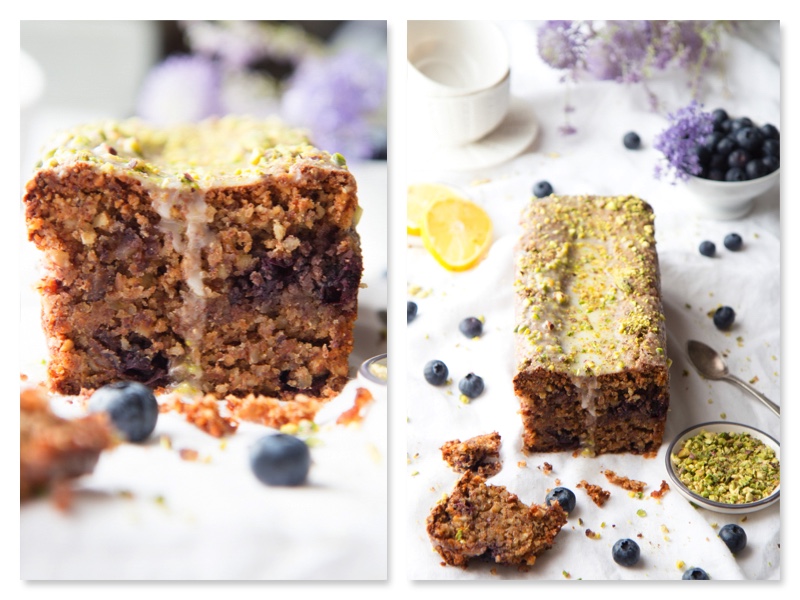 Sooooo, what do you think can never miss on a nicely set up coffee table during the easter time? Of cooooouurse, a super tasty and juicy cake which is quickly and effortlessly prepared. Tadaaaaaa……. I have just the right thing for you. My gluten free, fluffy, easy and super juicy almond lemon cake with a topping made out of a lemon-pistachio crunch. 
I can only say: Yummyyyyy and happy Easter ♥
And here's the quick recipe:
Almond-Lemon Cake with Blue Berries & a Pistachio-Crunch
450g ground almonds
120g blue berries
120g cane-sugar
3 egg yolks
3 egg whites 
1 vanilla bean
1 lemon & the zest of a lemon 
1/2 package of gluten free baking soda "7,5g"
A pinch of salt
For the lemon topping:
120g powder xugar *Simply grind the xugar*
2,5 tablespoons of lemon juice
50g ground pistachios without peel and salt
In addition you'll need baking paper and a longish baking form.
Give the egg yolks and the sugar into the mixing bowl of a kitchen machine and mix everything nice and foamy.
Preheat the oven up to 160° upper / lower heat and cover the baking tray with baking paper.
In the meantime, clean the blueberries and let them drain within a sieve.
Cut the vanilla bean lengthwise open and scratch out the pulp with a knife. Add the ground almonds, the vanilla pulp, the lemon zest, the baking soda and the salt into the mixing bowl and blend everything into a creamy mass.
Now add the lemon juice and turn off the machine. Add the blueberries into the dough and beat the egg white into foam.
Then add the blueberries and the egg white foam to the dough and pour everything into the form.
Place the form onto the griddle and bake the cake within the preheated oven for 40-45 minutes.  I recommend to do the wooden stick test after the baking time.
If the dough sticks to the wood, simply continue to bake the cake for another 5 minutes.  As soon as the almond cake is ready, take it out of the oven and let it cool down for 15 minutes.
Afterwards, carefully lift the cake out of the form, slowly remove the baking paper and let the lemon-almond cake cool down completely on top of the griddle.
Finally blend the lemon juice and the powdered sugar very well and pour it over the cold caked and then scatter the pistachio crunch over as well.
This recipe is: Gluten free 6 yeast free.