Asparagus Salad with Herbs & roasted Nuts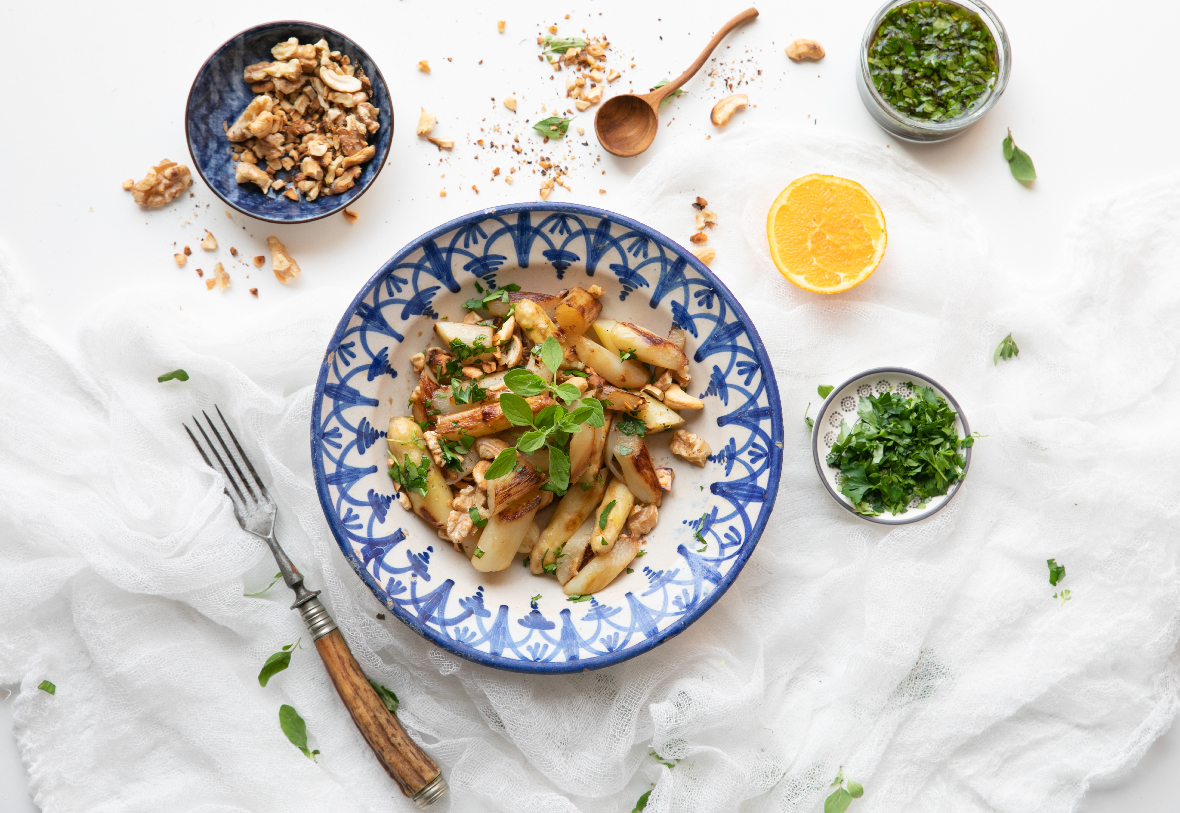 What do you think?
Is it really not possible to like asparagus? My dear friend Simone for example doesn't really like it at all! She can't stand those tasty white sticks. Neither as a salad, pan fried, blanched nor whatever else way to prepare them. She simply doesn't like it.
To be honest, I can't understand why, because I love asparagus and I if you ask me, the asparagus season could last much longer than 8 weeks. And as long as this great vegetable is available at my local farmer, I will keep on posting my favorite and new asparagus recipes for you.
I hope that at least YOU will like that?!;-)
Enjoy, Micha
And here is my super delicious asparagus salad recipe.
Asparagus Salad with Herbs & roasted Nuts
700g white asparagus *Optional: Green asparagus*
A handful of nuts according to your tolerance. *I used walnuts and cashew nuts*
1/2 orange *squeeze*
1 tablespoon of lemon juice
2 tablespoons of balsamic vinegar
4 tablespoons of cold pressed olive oil
1 tablespoon of rice syrup *Optional: Maple syrup, yuca syrup, pear or apple syrup*
1 tablespoon of chopped parsley
1 tea spoon of chopped dill
1 tea spoon of chopped tarragon
1 teaspoon of cress
Some fine sea salt
Fresh pepper from the mill
In addition you'll need 1 tablespoon of olive oil in order to pan fry the asparagus.
First of all, boil up some water for the asparagus.
Remove the wooden ends, peel the stalks, cut them into bite sized pieces and cook them in the boiling water for 2 minutes.
Use a sieve to take the asparagus out of the water and let it drain.
In the meantime, give all the other ingredients of the dressing into a bowl and mix everything very well. Eventually season everything once again.
Give 1 tablespoon of olive oil into another pan, heat it up and slightly brown the asparagus pieces within.
Take the asparagus out of the pan, place the on a plate or a deep plate, distribute the dressing all over and mix everything very well.
Let the salad infuse for about 15 minutes.
Scatter the roasted nuts over the salad and serve it tepid.