Spanish Tomato Rice with softly grilled calamari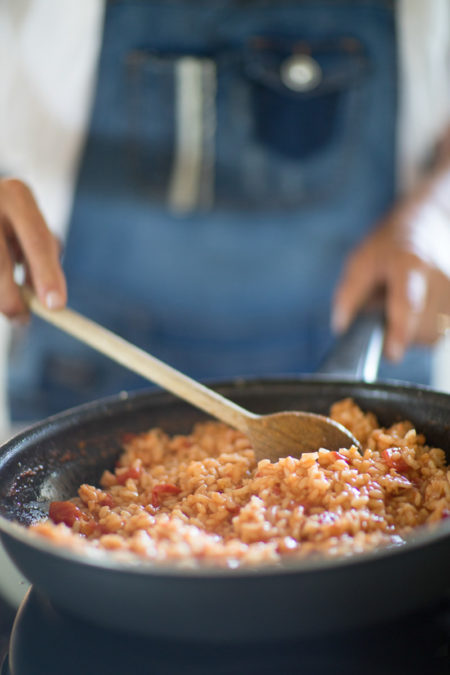 Before we are slowly heading towards autumn – sigh – let me introduce you to one of my last summer recipes. The following is a simple, mediterranean recipe that is prepared within 20 minutes and it will definitely bring you some"Oh wow, this is tasty!" moments;-) Have lots of fun with it and a lovely, sunny day.
Spanish Tomato Rice with softly grilled calamari
300g gutted calamari 
1 tablespoon of ghee
2 tablespoons of butter 
1 shallot 
1 clove of garlic 
200g risotto rice *Optional: Brown rice*
800 ml vegetable broth
1 can of diced tomatoes *You can find a sugar free organic version in any health food store or natural food store*
1 lemon
Salt & fresh pepper from the mill 
Some chopped parsley
Prepration:
Peel the onion and the garlic and dice both. Add the butter into a slightly heated pan, add the onion, the rice and stir. Stir both until the onions are glazed. Now add the garlic, wait a moment, stir once more and deglaze the rice with 200 ml of vegetable broth. As soon as the liquid is absorbed, add some more vegetable broth and continue to stir. Repeat this until you've used up all the broth. Now add the tomatoes and the lemon juice, stir well and let everything simmer until it's creamy.
In the meantime, clean the calamari, dab it dry with a clean cloth and cut it into rings. Afterwards halve the rings with a sharp knife. Add the ghee into a pan, let it heat up, add the calamari and slightly sear it from both sides.
*Always sear the calamari for a short time, because the longer you sear it the more chewy it gets.*
Add the seared calamari to the rice, stir well and add some salt and pepper.
Finally distribute this mediterranean rice dish onto plates, scatter the parsley over and enjoy asap.
Have lots of success and fun with it;-)
Micha