Puff Pastry Pizza with colorful Veggies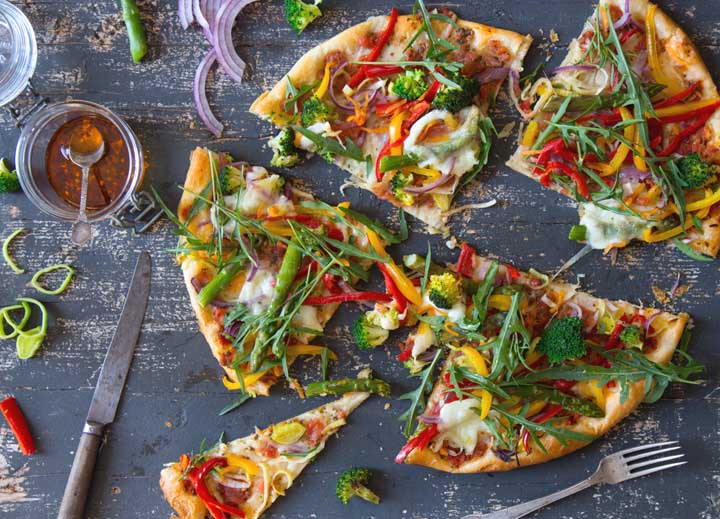 Shall I tell you a secret?! Yesterday evening, I was so not in the mood to cook anything. Yes, even I have one of those moments 😉 However, we were still hungry after all. So what to prepare? Mhhhhhhh… As I looked into the fridge, I found a gluten free puff pastry that I bought last week in the supermarket because I was curious about how it would taste.
Yes, I know.
Normally, I am not a big fan of convenience products, but since I am in a rush sometimes and certainly not a food fundamentalist I can find myself using them as well. 😉  So why not try out something new?! In addition, I had some veggies left and my tomato sugo is waiting for its turn as well. So let's begin. It's quickly prepared, I promise.  15 minutes later the pizza found it self within the oven, and another 15 minutes later on the table. And I must say… The pizza tasted surprisingly good and it was super crunchy as well. Test successfully passed 😉
PS: You are free to top your pizza completely different but I must say that my version tasted super delicious. And in a few days I will introduce you to an amazing pizza made out of a crunchy rice dough. I am so looking forward to that and do you know what? My cooking passion is back as well 😉
I have some puff pastry left so let's see what I can make out of it. Im pretty sure that it will be a solid dish;-) Well, actually Im pretty sure about it already. I will prepare Spanish empanadas. Mmmhhh… can't wait!
Puff Pastry Pizza with colorful Veggies
250g gluten free puff pastry *I usually use the one of the company Croustipate. But theres another one of the company Schär. Available at well sorted supermarkets such as: Edeka, real, Wasgau and Kaufland.  
1 red pepper
1 yellow pepper
1 red onion
1/2 leek
1/2 bunch of rucola
1 ball of buffalo mozzarella *If you don't like or tolerate Mozarella, simply substitute it through vegan cream cheese*.
Tomato sauce *I used my fruity tomato sugo*  //www.michas-kitchen-revolution.com/2016/08/24/fruchtiges-tomatensugo/
2 tablespoons of cold pressed olive oil 
Sea salt
Fresh pepper from the mill 
If you like add some chili oil.
Cover a baking tray with baking paper and roll out the dough on top. Take a fork, lightly prick the pastry dough several times and leave the tray aside. Clean the peppers and cut them into slices. Peel, halve the onion and cut it into thin slices. Clean the leek and cut it into fine rings. Clean the rucola and shake it dry. Cut the Mozzarella into fine slices. Preheat the oven up to 220° upper and lower heat.  Pour the oil into a pan and brown the pepper, the leek and the onion within. Distribute some tomato sauce over the dough. Add salt and pepper. Add the slightly browned veggies and distribute the Mozzarella on top.  Shove the baking tray into the lower part of the oven and bake it for 12-15 minutes until done. Take the puff pastry pizza out of the oven, scatter the rucola over and if you want sprinkle some chili oil over.
And now? Well, now I would say… Bon Appetit;-)