Majoram-Potato-Chicken Pan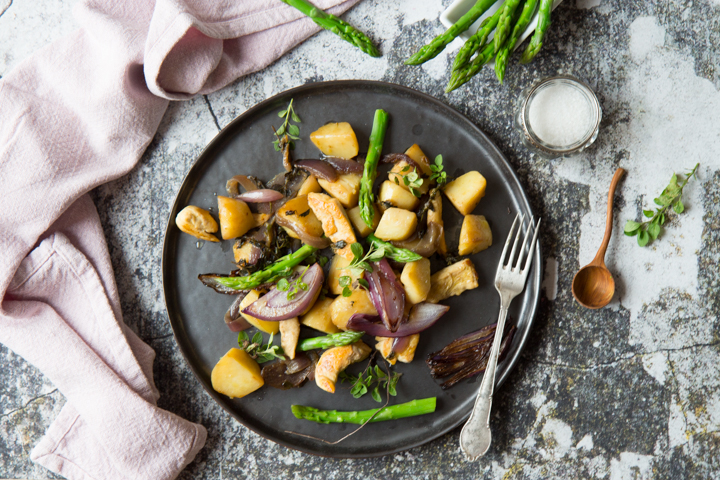 Today, Micha's Kitchen Revolution will throw yet another genius & quick recipe into the hungry crowd;-) Well, to be honest I didn't set a timer but I can tell you that this tasty pan is ready in not more than 20 minutes. Isn't that fast?
What are you waiting for? We already ate our potato chicken pan;-)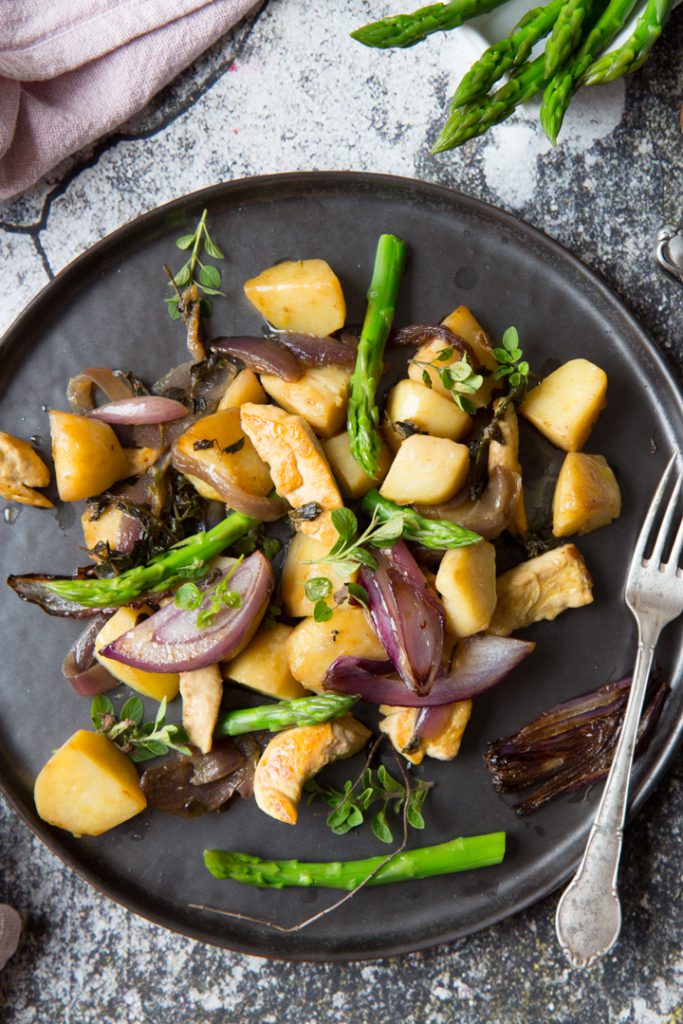 Majoram-Potato-Chicken Pan
200g chicken filet
400g potatoes
1 red large onion
1 bunch of green asparagus
100ml vegetable broth
A handful of fresh majoram. Clean and shake it dry. *Optional: 1 tables spoon of majoram. 
A pinch of salt
Fresh pepper from the mill
2 tablespoons of olive oil *Extra virgin*
In addition, you will need a bowl with ice water.
Clean the chicken, dab it dry and cut it into slices.
Peel, clean and dice the potatoes. Peel the onion and cut it into thick slices. Remove the woody root ends of the asparagus and cut each stalk into 5 cm small pieces.
Give oil into a pan and slightly brown the chicken from all sides within. Take the chicken slices out of the pan and place them onto the plates.
Give the potatoes and the onions into the hot pan and fry both for about 5 minutes at medium heat.
In the meantime stir occasionally. Now add the vegetable broth and let the potatoes simmer within until they are done.
In the meantime fill water into a pot and boil it up. Give the asparagus pieces into the water and cook them for 2 minutes until they are al dente.
Use a sieve to remove the asparagus pieces from the water and dive them into the ice water for about 5 seconds.
Take them out and let them drain. *We use the ice water in order to keep the lovely green color of the asparagus;-)
Scatter the majoram into the potato pan, stir well, add the chicken, the asparagus and finally season everything with your spices.
And now enjoy this lovely dish;-)
Micha