Tepid Apple Crumble With Coconut Cream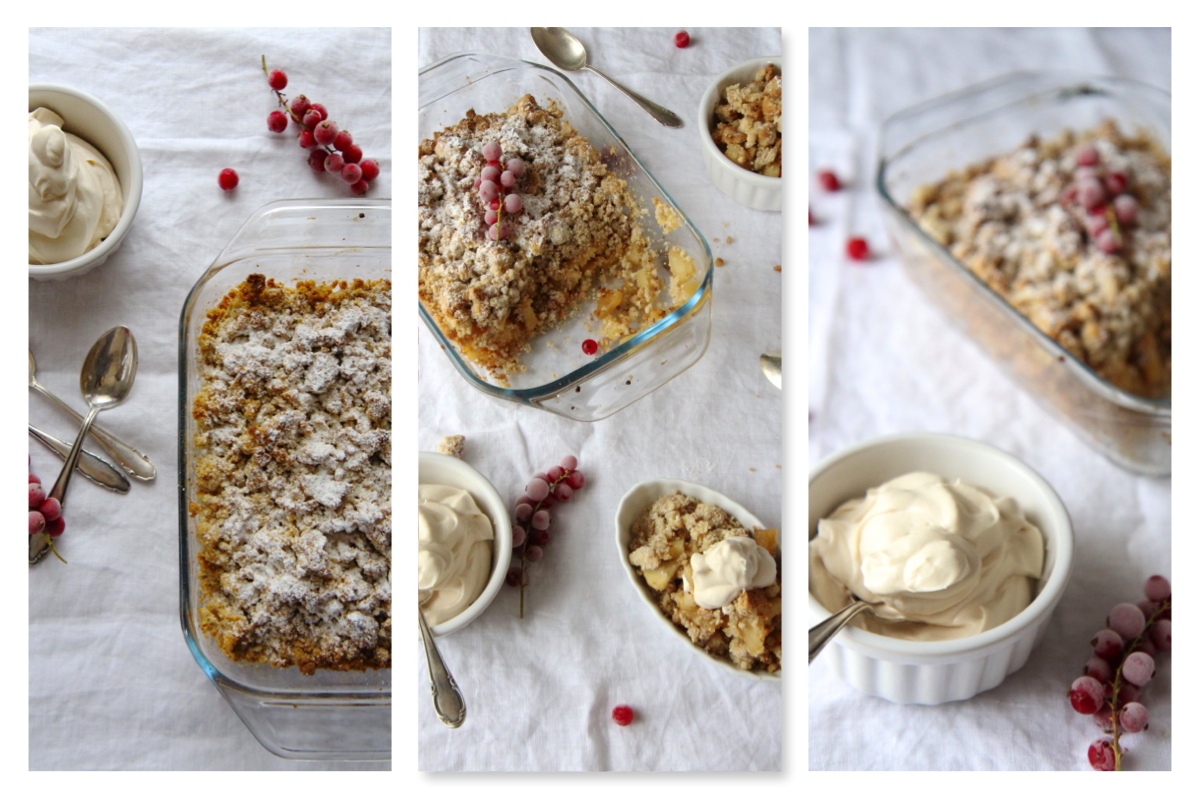 Oh lord, tepid apple-crumble… Even I would leave everything behind for this this crumble and if it has an extra amount of crumbles I would probably loose myself in it;-)
Are you tempted? Here's the recipe!
Tepid Apple Crumble With Coconut Cream
3 big and sweet apples *Optional: Pears*
1 table spoon of lemon juice
1-2 table spoons of coconut blossom sugar *Optional: Add some more if you would like to have it sweeter*
1/2 tea spoons of vanilla extract 
60g rice flour *light*
60g buckwheat flour
70g almonds
50g coconut blossom sugar *Optional: Birk-sugar*
60g butter *Optional: Vegan butter*
Preheat the oven up to 180 degrees upper/under heat. Peel the apples, remove the seeds, dice them and fill them into a bowl. Mix the sliced apple with the lemon juice, the vanilla powder and fill everything into a baking dish. Now let's go over to the crumbles. Fill all the dry ingredients in a bowl, add butter and knead until you have nice crumbles. Now distribute the crumbles over the apples in the baking dish.
Shove the baking dish into the preheated oven (middle level) and bake them for 15 minutes at 180 degrees. Turn the temperature down to 160 degrees and continue to bake the crumble for 10 more minutes.
Before you serve, whip the coconut cream. Fill the firm and cold coconut amount into a bowl and whip it as creamy as possible.
 If you don't tolerate one of the flours, use teff, sorghum flour, gluten free oat flakes or ground almonds instead. This won't change the indication of quantity at all.
For the whipped cream:
1 tin of organic, cooled coconut milk!  *Optional: Whipped cream from von "Schlagfix". Available at health stores or organic supermarkets*. 
Fantastic!!!
Have fun and lot's of success. The entire "Micha´s-kitchen-revolution Team" sends their easter regards!