Potato Soup with crunchy roasted Leek and Pumpkin Seeds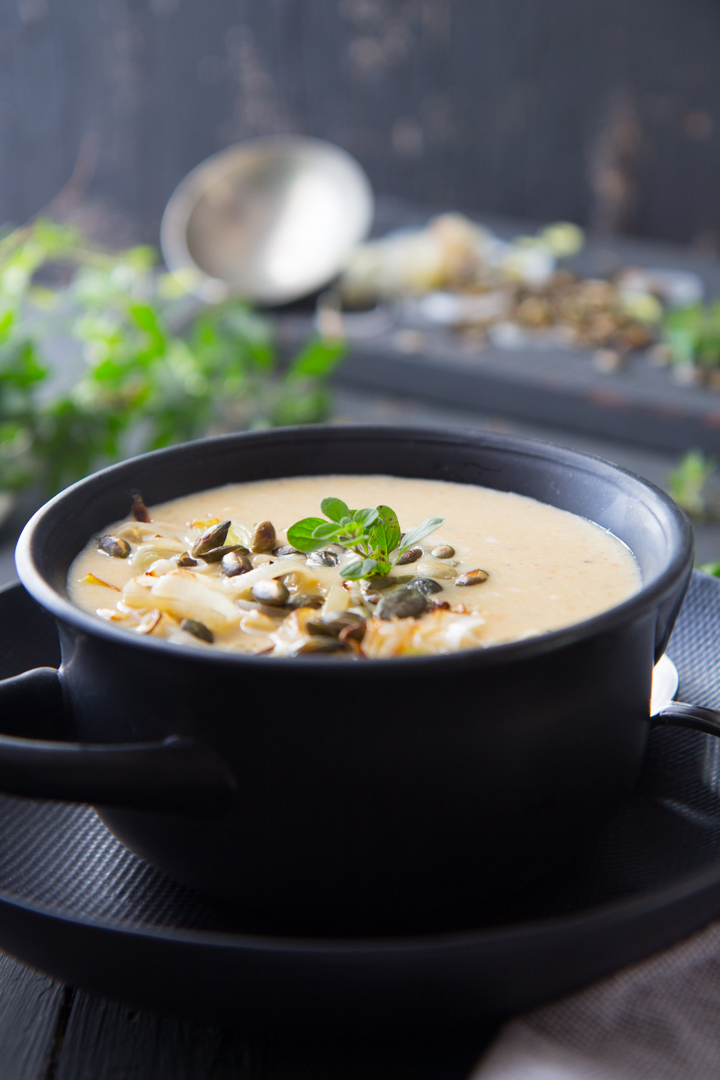 Gosh, this potato soup is so delicious!! Yeeees I know, Self-praise is no recommendation.
But I just can't help myself in moments when my creations taste so good;-) Just try it out and you will see;-)
But now, let's get started!
Potato Soup with crunchy roasted Leek and Pumpkin Seeds
1L vegetable broth
500g potatoes *waxy*
250g soup greens
2 carrots
1 onion 
1 tables spoon of olive oil 
1 bay leaf
1/2 lemon
150ml soy cream *Optional: Cream or rice cuisine*
Ingredients for the topping:
2 tablespoons pf olive oil
1/4 leek *Middle piece*
A handful of pumpkin seeds
Peel and dice the potatoes, the soup greens, carrots and the onion.
Pour the oil into a higher pot and brown all the ingredients from all sides.
Now add the vegetable broth, stir, add the bay leaf and cook the soup with the lid on top. In the meantime clean the leek, dab it dry and cut the leek into thin stripes or rings.
Just before the soup is ready, heat some olive oil in a pan and brown the leek within.
Afterwards place it on a paper cloth and let the oil drain.
Now take a second pan and brown the pumpkin seeds until you can smell their divine scent.
Remove the by leaf from the soup, puree the potato soup, add the cream and the lemon juice, stir, season with salt and pepper and fill the soup into your plates.
For the topping scatter the crunchy, browned leek and the roasted pumpkin seeds over and ……..mhhhhhhh….. soooooo….. gooood;-)
I wish you lots of fun and success and PLEASE eat one plate for me. Mhhhhhh……
Bon Appetit;-)
Micha from Michas Kitchen Revolution.