Rustic Avocado Sandwich with fried Champignons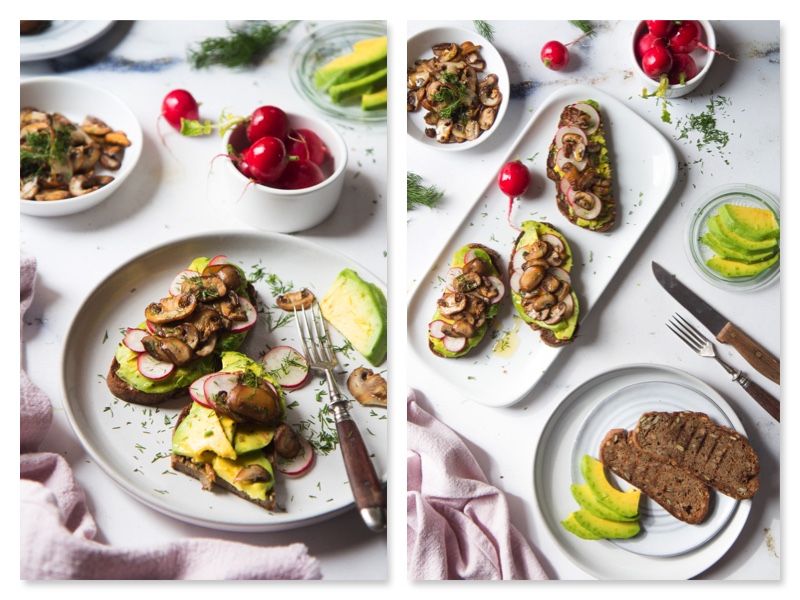 If you are looking for a light and super tasty snack or a quick dinner, then you've come to the right place because this avocado sandwich doesn't just look seductive it simply is;-)
Rustic Avocado Sandwich with fried Champignons
2 slices of my farmers bread *find the link here Rustic, Yeast-free Countryside Bread
A handful of fresh champignons
1 ripe avocado
1/4 lemon
1 tablespoon of olive oil
A pinch of sea salt
Some freshly ground pepper
For the topping, you'll simply need some thin slices of radishes and some cress, chives or dill if you want.
Clean the champignons with a little brush, remove the stalks and cut the mushrooms into thin slices.
Slightly heat the oil in a pan and brown the champignons within.
Either toast both bread slices or brown them in a griddle pan.
Halve and peel the avocado, remove the stone, cut the pulp into thin slices and sprinkle some lemon juice over.
Garnish your toasted bread slices with the avocado, slightly salt and pepper, distribute the champignons on top and finally decorate the radish slices, the cress, chives or dill over everything as well. Bon appétit.
Micha;-)
This recipe is: gluten free, egg free, sugar free, yeast free, low in histamine, nut free, vegetarian and vegan*