Rice – Cucumber – Potato Salad with Salmon Ceviche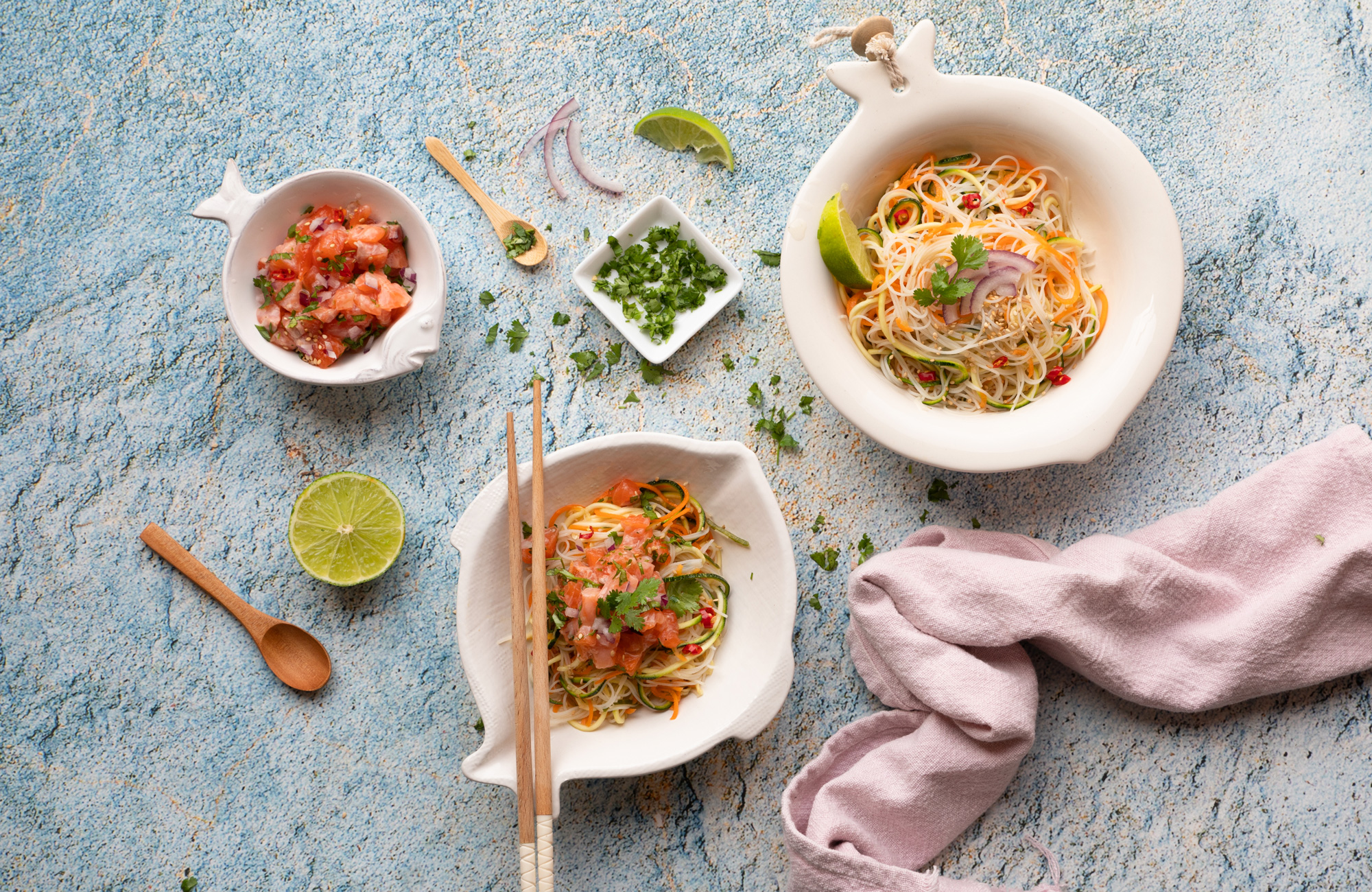 Mhhhhh yummy… today I would like to introduce you to my favorite salmon ceviche, paired with a slightly Asian, rice-cucumber-potato salad and prepared with lots of love;-)
I can only say; super delicious, super fresh, very aromatic and easily prepared.
I recommend you to prepare everything with a bit more time in advance so that the dressing can infuse properly. Please add both dressings ( for the salad & the salmon) not until 10 minutes before you serve everything. The raw fish won't fall apart but it would be still slightly marinated and it would get a nice color.
And here's a little tip: If you are not a big fan of raw fish in Sushi quality, simply use smoked salmon instead. Naturally it won't be the same and it won't be a ceviche but still very tasty.
Oh and please make sure that your fish dealer gives you the best sushi quality, in order for your ceviche to taste super fresh and delicious.
OMG, my mouth is watering! I am sorry but I will have to enjoy this ceviche with my tasty salad ASAP!
And I really can't put into words how much I am looking forward to it.
And here's the recipe:
Rice - Cucumber - Potato Salad with Salmon Ceviche
Ingredients for the salad:
2 carrots
1/2 cucumber *Optional: 1/2 zucchini*
1 tablespoon of freshly chopped coriander
100g fine glass noodles
Ingredients for the salad dressing:
2 tablespoons of rice syrup
1 lime
1 tablespoon of roasted sesame
2 tablespoons of sesame oil
1/2 chili
A pinch of sea salt
Some fresh pepper from the mill
1 tablespoon of gluten free tamari sauce
Ingredients for the ceviche:
200g of fresh salmon in sushi quality – without skin.
1/2 red onion
1 tablespoon of fresh coriander
1/2 celery
1/4 chili
1 lime
Some fresh sea salt
1 tablespoon of cold pressed olive oil
Peel the carrots and process them through a spiralizer.
Rinse the cucumber under hot water and process it through a spiralizer as well in order to get zucchini noddles.
Let the veggie noodles drain in a sieve, eventually cut them a bit smaller with scissors and give them into a salad bowl.
Now lets prepare the dressing for the salad: Give all the ingredients into a vessel, stir well and leave it aside for the moment.
Rinse the salmon under cold water, dab it dry with some kitchen paper and dice it afterwards. *Put the salmon into your freezer 15 minutes in advance and you'll be able to cut it more easily. Give the diced salmon into a bowl and store it in the fridge. Peel and dice the onion. Dice the celery as well. Clean the coriander, shake it dry and chop. Chop the chili as well. Give everything into a bowl, sprinkle lime juice over, stir well and leave it aside for the moment.
Boil up some water in a pot, turn off the heat and add the noodles. *Usually, it takes 3-4 minutes for them to soften* Afterwards pour everything through a sieve and let them drain.
Take the salmon out of the fridge, marinate it with the dressing and stir.
Add the glass noodles to the vegetable noodles, distribute the dressing over, mix everything very well, eventually season a little bit and leave it aside for the moment. Finally, distribute the ceviche on your plates, sprinkle some olive oil over and serve the marinated salad along with it.
Have lots of fun with the preparation and enjoy this meal.