Crunchy muesli with goji berries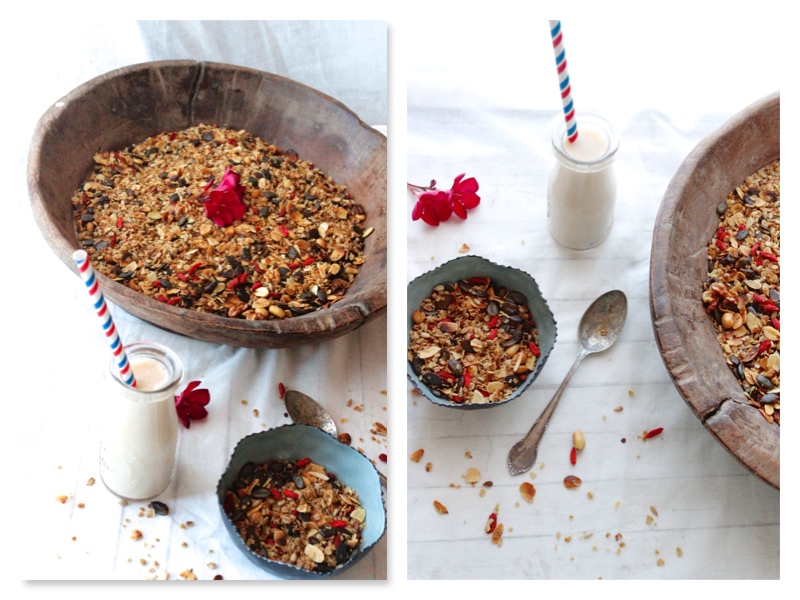 May I introduce… My absolute favorite breakfast. Known as crunchy muesli ♥ or granola ♥. It is highly addictive and very easy to prepare.
Crunchy muesli with goji berries
120g of rice flakes
30g of gluten free goat-meal  * alternatively buckwheat flakes*
 60 g of almond leafs
 60 g of walnuts
 50 g of coconut chips
 50 g of pumpkin seeds
 30 g of sunflower seeds
 20 g of peanuts (roasted and unsalted)
 a pinch of sea salt
 5 tablespoons coconut oil
 4 tablespoons of coconut blossom syrup or maple syrup
 2 tablespoons of hempseed
A handful of goji berries
Preheat the oven to 190 degrees (fan-assisted) and lay out a baking sheet on the baking plate.
Roughly chop up the walnuts and peanuts and put them together with all the other dry ingredients into a bowl.
Blend the coconut oil and syrup in a separate bowl and pour the oil syrup mixture over the dry ingredients and again blend everything well.
Evenly distribute the mixture on the baking sheet and bake it at 160 degrees for approx. 10 minutes, then turn it to the other side and bake it for another 10-15 minutes. Keep an eye on the granola, it shouldn't become too brown!
After the estimated time take the baking plate out of the oven, remove the muesli from the baking sheet and allow it to cool down. Now add the goji berries and the hemp-seeds and stir everything under.
Put the cooled down crunchy muesli into a glass with a screw cap, or into a preserving jar and store it in a dry place.
Tip:
The muesli fits best to all sorts of herbal milk, soy yoghurts and fruits of the season. There are no limits set to your creativity. A lot of fun with the crunch and bon a petit;-)
Enjoy the crunch! 😉
Micha