Pineapple-Carpaccio with a Crunch & a tasty Mint Sauce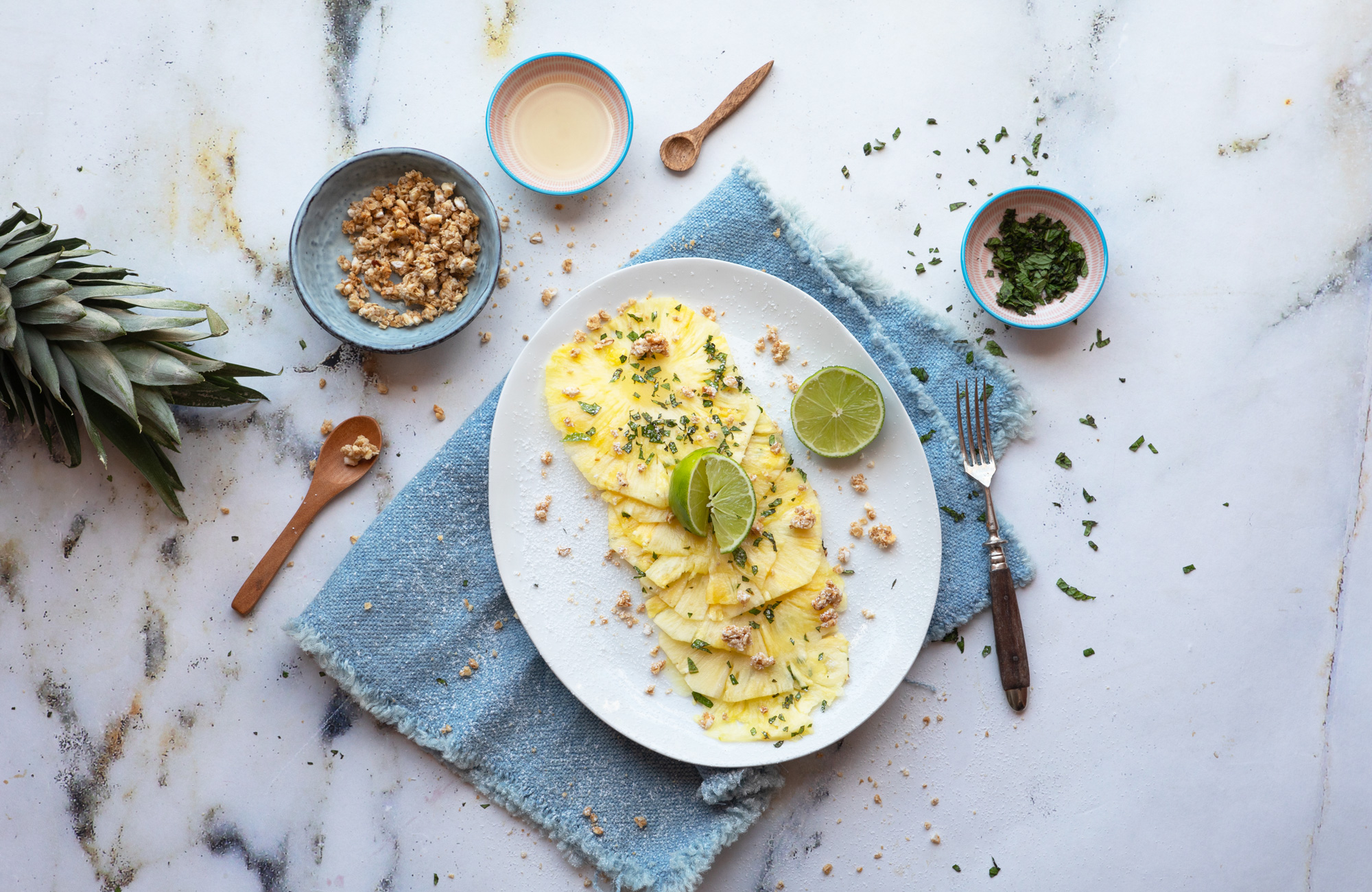 Do you love pineapple? And do you love carpaccio as well? If so, I would say it's your lucky day because this pineapple carpaccio is so fantastic, refreshing and delicious that you will devour it in an instant;-) At least that's what I do.
Especially now that I am doing some fasting, this little treat is a blessing. Ok, I have to admit that I am skipping the powdered sugar and the crunch during my fasting because that would be very contra-productive. After all, I would like to approach it in the right way without any exceptions. Clean eating, in a manner of speaking. I know, it's quite tough;-)
Some of you will at this point probably say; " I am not fasting and by the way I can't eat pineapple because I don't tolerate it. (Many people suffer a pineapple intolerance) – But let me say this: You can enjoy this tasty carpaccio by substituting the pineapple through apples or pears. It tastes as good and refreshing as the pineapple version.
You want some more crunch? Simply increase the amount by triple and fill the cooled super crunch into a glass. You can top many meals like yoghurts, fruits and overnight oats with it. And believe me it always tastes super, super delicious.
And here's the quick recipe.
Enjoy;-)
Pineapple-Carpaccio with a Crunch & a tasty Mint Sauce
1/2 pineapple
2 stalks of fresh mint
1 lime
2 tablespoons of powdered sugar
For the crunch:
100g oat meal *gluten free*
1 tablespoon of cold pressed olive oil
3 tablespoons of rice syrup *Optional: Date syrup, pears or apple syrup*
Preheat the oven up to 160°. (top and bottom heating)
Rinse the mint, shake it dry, pluck off the leaves and chop them.
Squeeze the lime, fill the juice into little bowls, stir well and cover the bowls in order to let the mint dressing infuse properly.
Pour oil and the syrup into a pan, slightly heat it up, add the oat meal and stir well.
Cover your baking plate with baking paper and distribute the oats all over. Shove the baking plate into your oven and let the oats bake for 30 minutes. Afterwards let them cool down. Crumble the crunch with your fingers and leave it aside for the moment.
Remove the top and the bottom part of the pineapple. Now remove the rind with a knife. That works well with a really sharp knife.
Afterwards cut the pineapple into very thin slices and distribute the pineapple carpaccio on a flat plate.
Distribute the dressing all over the carpaccio, sieve some powdered sugar over and simply enjoy.