Ratatouille. A tasty Vegetable Pot á la Micha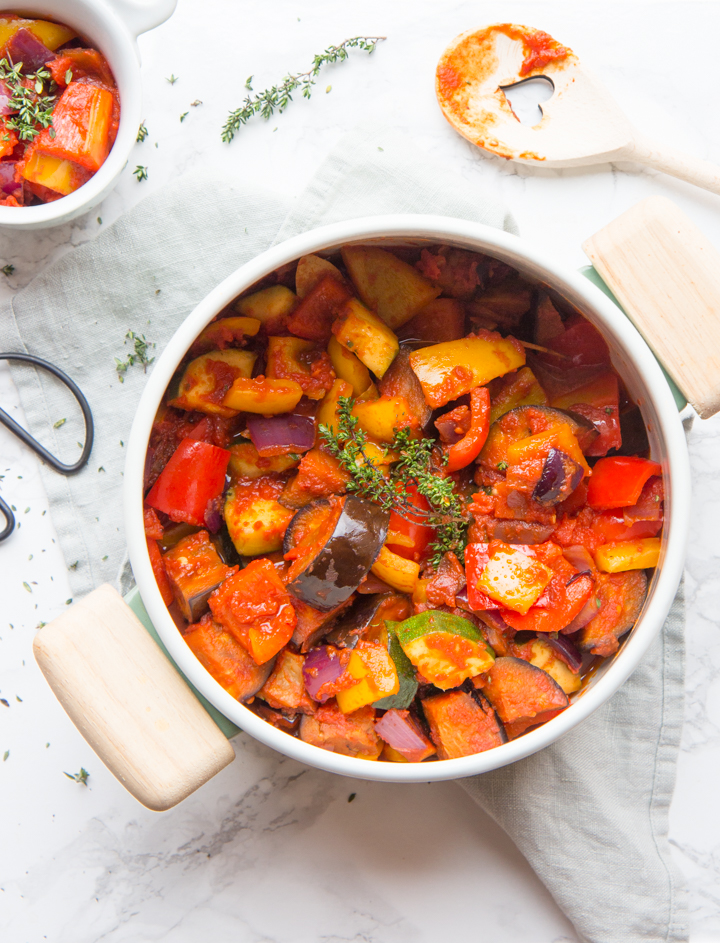 Since the sun is hiding behind a thick layer of clouds, I thought to myself; If the sun is not showing up anytime soon, I will simply bring some sunshine to the table with my fantastic vegetable pot. Ratatouille à la Micha;-)
Mhhhhhhhh…….. this fresh vegetable pot is simply delicious ♥ 
Ratatouille. A tasty Vegetable Pot á la Micha
2 zucchini
1 red pepper
1 yellow pepper 
1 eggplant 
1 red onion
2 cloves of garlic
2 tablespoons of olive oil *Extra virgin*
2 tablespoons of tomato paste *sugar free*
1 glass of tomato puree *sugar free*
2 bay leaves
2-3 tea spoons of fresh thyme
1/2 tea spoon of red peppers
Sea salt
Some pepper from the mill
Clean and dice the veggies. Peel and dice the garlic and the onion.
Give oil into a pot, slightly heat and brown the onions within.
Add the tomato paste, stir, add the veggies and cook everything for about 5 minutes.
Add the garlic, the thyme, the tomato puree and stir well.
Let the veggie pot simmer for about 15 minutes.
In my opinion a good Ratatouille tastes best when the veggies are still a bit firm to the bite.
Season everything with your spices and serve as hot as possible.
Bon Appètit ♥
You can serve these veggies either as a side dish or with a freshly baked piece of bread as a main course.