Tepid, Bavarian Cole-Slaw with crunchy Chicken Meat Balls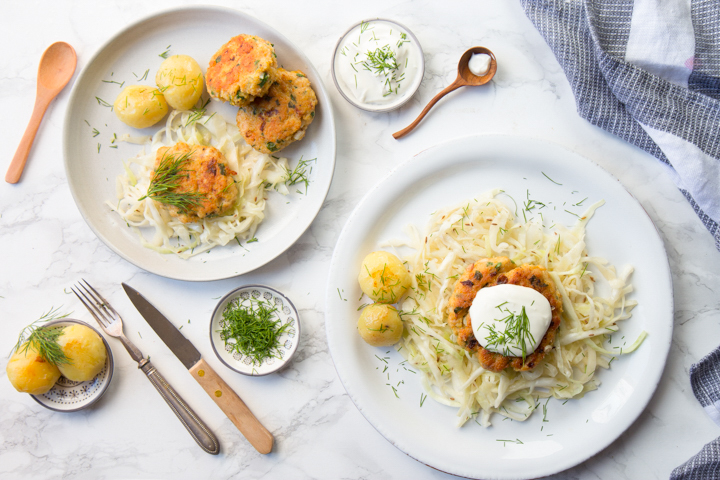 Mhhhhhh,
my freshly prepared, crunchy fried chicken meat balls with tepid cole-slaw and a smoked flavor are always the right choice. 
Tepid, Bavarian Cole-Slaw with crunchy Chicken Meat Balls
Ingredients for the meat balls:
350g chicken breast filet
1 small onion
4 tablespoons of cold water
2 tablespoons of fluten free breadcrumbs flour
1 table spoon of chopped parsley
1/4 tea spoon of sea salt
Fresh pepper from the mill
Some nutmeg *freshly grated*
2 tablespoons of cold pressed olive oil 
Ingredients for the cole-slaw:
400g white cabbage
100ml vegetable broth
2 tablespoons of apple vinegar
1 tablespoon of cold pressed olive oil
1 bay leaf
1/2 tea spoon of caraway
1 tea spoon of cane sugar
1/2 tea spoon of smoked salt
Clean the white cabbage and remove the external leaves, remove the stalk, clean the cabbage and shred it into stripes.
Give the white cabbage stripes into a bowl and spice it with the smoked salt.
Fill the vegetable broth and the apple vinegar into a pot, add the bay leaf and let the broth slowly simmer.
Pour the hot vegetable broth over the cabbage, add the caraway, oil, sugar and mix everything very well.
Cover the bowl with the salad very well and let everything infuse for 20 minutes.
Preparation of the meat balls: Clean the chicken filet, dab it dry and process it through a meat grinder.
If you don't have a meat grinder, simply ask your butcher to do it for you.  Peel and dice the onion. Give all the ingredients into a bowl and mix everything very well. That works best with your hands.
Form the meat balls with your hands and place them on your plates. Give some oil into a pan, slightly heat the oil and brown the meat balls form all sides within.
Now and then turn the meat balls. Distribute the white cabbage salad on your plates along with the chicken meat balls and serve.
While the salad infuses, you can prepare the meat balls.
Bon Appétit!!
This recipe is *gluten free, yeast free, egg free and dairy free*.