Miso-Tagliatelle with roasted Sesame and fresh Coriander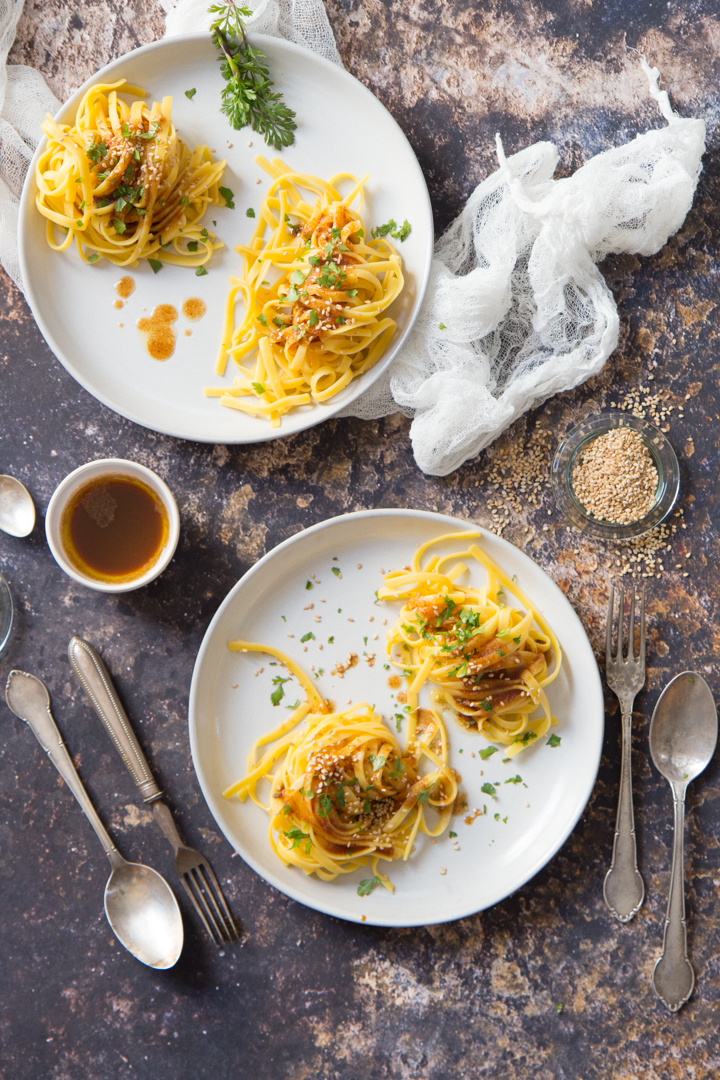 The basic condiment of the Japanese is their unique & spicy Miso paste, used by Asians for most of their meals. And I have to admit that I am a big fan of this tasty paste as well. But I usually enjoy this paste in a moderate manner. One reason is the included soy bean and the second reason is the yeast fungus that is used to make this paste.
Nonetheless, I didn't want to deprive you from this extremely delicious meal. Bon Appetit;-)
Miso-Tagliatelle with roasted Sesame and fresh Coriander
250g Tagliatelle *Corn, buckwheat or rice noodles. According to your taste and tolerance.*
30g butter
15g Miso-Paste *The darker one is more intense. I prefer the lighter one for this recipe.*
100ml wasser
1 table spoon of white, roasted sesame seeds
1 table spoon of chopped coriander 
Cook the noodles within a high pot and a sufficient amount of water *without salt* until they are al dente.
In the meantime melt the butter within a small pot, add the miso paste, stir and add water until its creamy.
Take the pot from the fire and leave it aside. Drain the noodles into a sieve and distribute them on plates.
Give a little bit of the miso butter to the noodles and scatter the sesame seeds and the coriander all over.
Kind regards sends Micha's Kitchen Revolution