Steamed Mussels with fried Potato Chips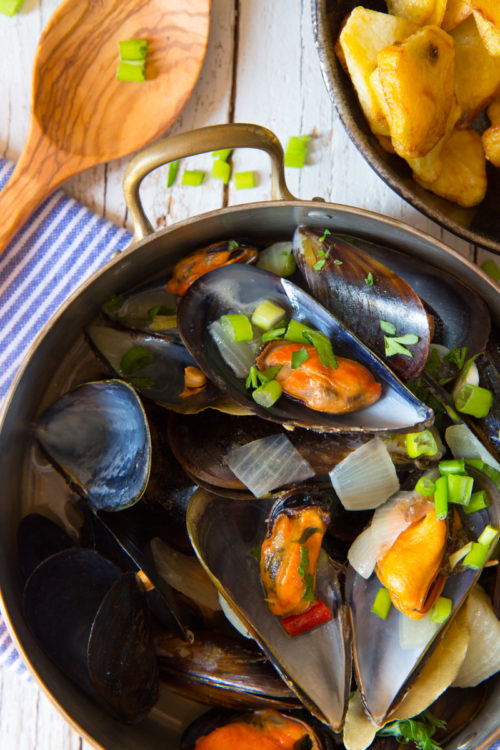 Micha's Kitchen had two highlights today;-) One highlight was our steamed mussels lunch and the other one was my first experience with a new air-fryer. I was very excited and curious if it works or if it is literally nothing more than hot air. But I have to say, frying without oil is fun and my potato chips were crunchy as well! Ok, ok…. I have to admit they were not as crunchy as the ones prepared in a regular fryer but they were crunchy. Hey come on… Who said that healthy food has to taste the same way as if it is out of a diner? Well there you go;-) No but seriously, they tasted really good! Unfortunately, I can't tell you more about this machine but I will continue to test it and I will share my experience asap.
And if you now think to your self: Hellooooo?! I don't own an air fryer! Do I really have to eat my mussels without potatoes? 
Nooo of course not!!
You can prepare you potato chips just the way I described it further down. Instead of frying, simply heat up your oven to the max, use the *grill* function, spread some baking paper over your baking tray, distribute the potato slices on top and bake your chips within the oven for a couple of minutes.
In the end, simply scatter some salt over and there you have some nice potato chips;-)
Steamed Mussels with fried Potato Chips
2kg of sea mussels
3 cloves of garlic
1 onion 
200ml white wine
1 bay leaf
2 table spoons or cold pressed olive oil 
1 bunch of fresh parsley *Clean, shake dry and chop*
4 middle sized potatoes
1 tablespoon of oil
A pinch of salt
Brush and rinse the mussels under water, remove the beard and clean them once more.  Remove open mussels immediately! Peel and dice the garlic and the onion.  Heat oil in a pot, add garlic and onion and brown everything while stirring for 1 minute.  Please don't let the garlic and the onion get to dark! Add wine, parsley and the bay leaf. Let the stock reduce itself to half and add salt and pepper.  In the meantime, peel the potatoes and cut them into 1 cm thick slices.  Put the potato slices into the hot air fryer and let them process for about 8 minutes. shake the sieve piece after 8 minutes and continue to fry for another 8 minutes.
In the meantime, add the mussels into the stock, cover with the lid and cook the mussels for 7-8 minutes within the stock. Take the potato slices out of the fryer, serve the mussels and the sauce in a deep bowl and enjoy.
ATTENTION!! IF SOME MUSSELS DIDNT OPEN AFTER COOKING, PLEASE DONT TRY TO OPEN THEM WITH FORCE AND REMOVE THEM IMMEDIATELY!
Enjoy your meal very much!
Micha