Porridge with roasted cinnamon nuts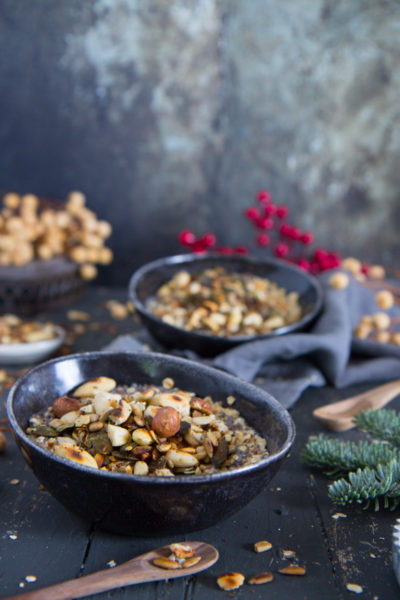 I never really thought that an oat meal can be something special. But after I've tried this recipe my opinion changed completely. The taste of roasted oats in combination with warm cinnamon nuts are turning a basic breakfast into something very special.
Porridge with roasted cinnamon nuts
100g oats 
200-250ml almond milk *Optional: Rice milk*
1 tablespoon of chia seeds
1 vanilla bean
1/2 tea spoon of cinnamon
A handful of mixed nuts
2 tablespoons of rice syrup *Optional: Maple syrup, pear syrup or agave syrup*
Brown the oats within a pan. *Please don't let them get too dark!*
Slice up the vanilla bean lengthwise and scratch out the pulp. Pour the milk into a pot, add the vanilla pulp, the chia seeds, the syrup and warm up the milk. Distribute the oats into 2 bowls and pour the vanilla milk over. Stir well and leave it aside. Chop the nuts and slightly brown them as well. Turn off the heat, scatter the cinnamon over and mix well. Now add the roasted cinnamon nuts and enjoy your tasty muesli.
Have lots of success and fun with this recipe.
Micha ♥