Gnocchis in a mushroom pan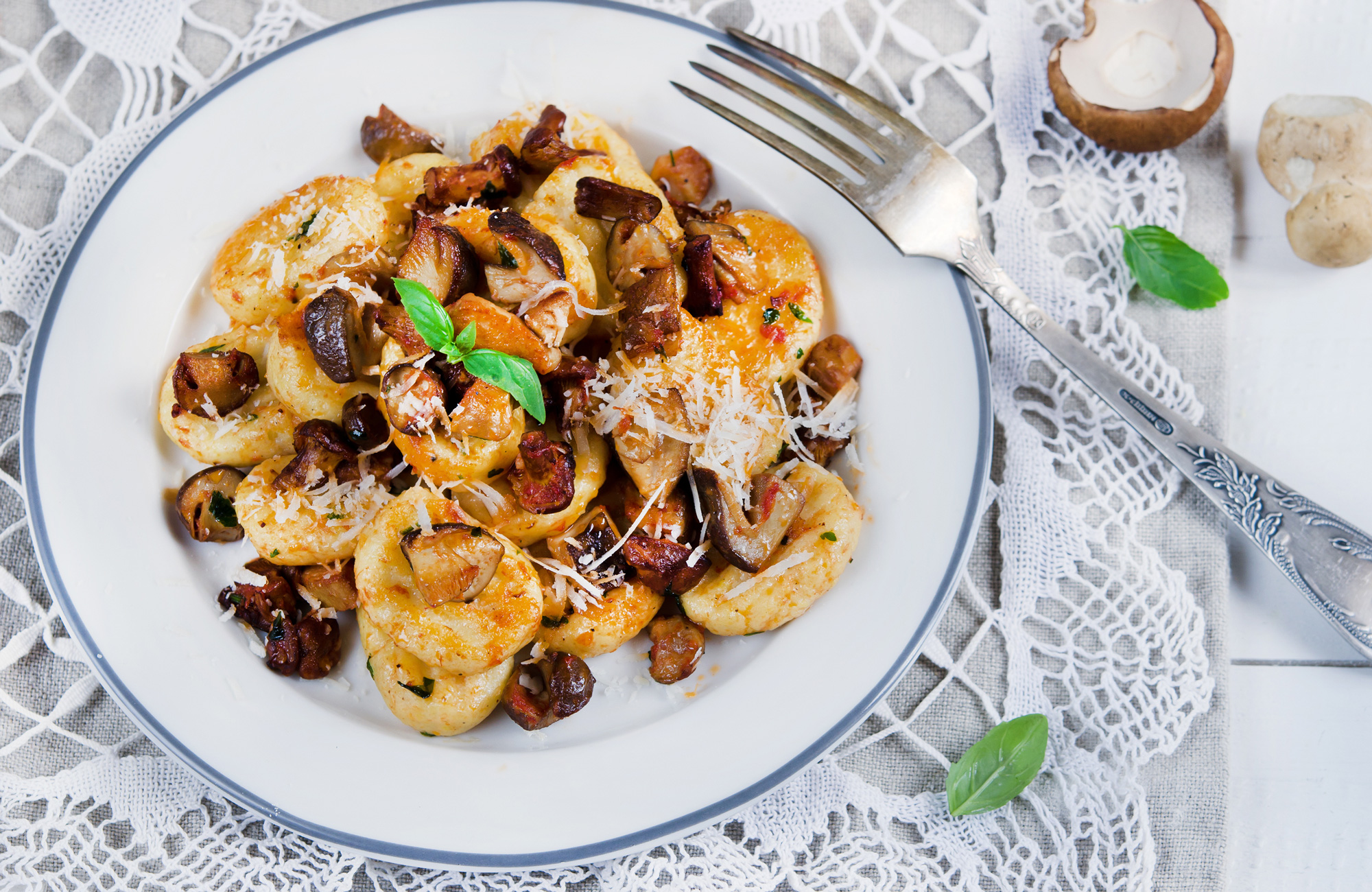 Homemade gnocchis are not just super tasty, but they are a great gluten free alternative to noodles, rice or potatoes as well. And since it's mushroom time I thought…
mmmmhhhhhhh…….. What about a simple, tasty gnocchi meal combined wit an amazing mushroom pan? Great and this is the recipe I would like to introduce you to today. A super tasty meal for your soul ♥
Let's start to cook.
How did you like this soul food? If you want, leave a comment below ♥
Enjoy and have a lovely day, Micha
Gnocchi rounds in a mushroom pan
for the mushroom pan:
500g fresh and mixed mushrooms *cleaned and sliced*
1 onion *Peel and dice*
1 clove of garlic *Peel and chop*
2 sticks of fresh rosemary *Pluck off the needles and chop them with a sharp knife
2 tablespoons of olive oil
Sea slat
Some fresh nutmeg
Fresh pepper from the mill
250ml rice cuisine *Optional: Soy cream, or 200ml if normal cream if tolerated
2 extra tablespoons of vegan butter  *You'll need them at the end* If you tolerate normal butter feel free to use it.
Let's start with the gnocchis.
Slowly boil up water in a pot.
Peel the potatoes while they are hot and  process them through a potato press into a bowl.
Add the potato flour, the yolks, spice and mix all the ingredients into a dough. *You'll see that the potato dough will have a great consistency and that it will not stick to your hands in the end.  If this should still be the case, simply add some more potato flour.*
Spread some more potato flour over your working surface, take 100g of dough and form it into a roll thick as a your thump.
 Now take a sharp knife, cut off 2-3 cm big pieces and slightly press the rounds with your middle finger flat.
Continue this until you've used up all the dough.
Put the gnocchis into the boiling water and let them simmer for about 3-4 minutes.
"Gnocchis are ready as soon as they start to swim on the surface*. Afterwards take the potato rounds out of the water and place them on a plate.
And now let's continue with the mushroom pan;-)
Heat up some oil in a pan*not hotter than 180° add the onions and brown them within.
Now add the mushrooms and continue to brown everything.
Add the garlic and the chopped rosemary, wait a moment and deglaze with the cream.
Add some spices and keep it warm.
 Take another pan, melt the butter and turn the gnocchi rounds within.  Now add the rounds to the mushroom pan, stir and serve as hot as possible. I'm curious now.