Grilled Sardines & The Rucola Marinade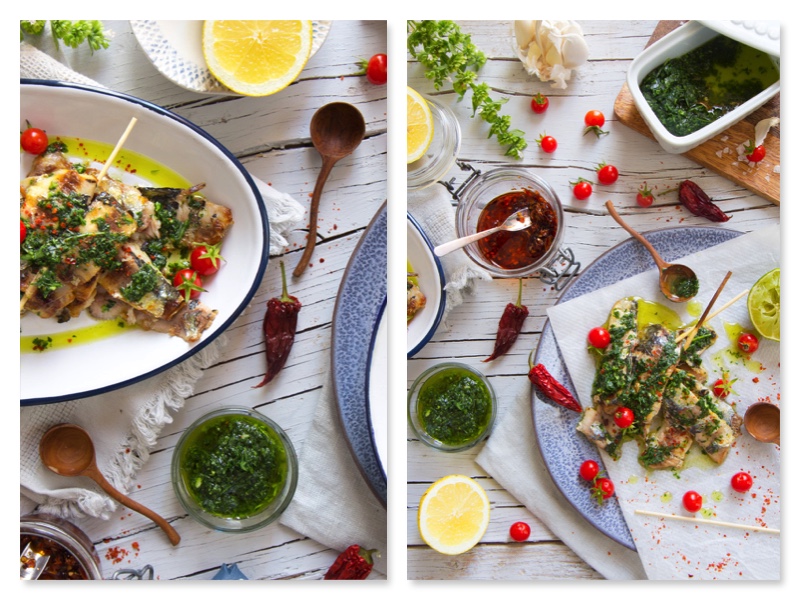 Wow, It's gonna be difficult to top these grilles sardines and the super tasty herb marinade! I know "A man's praise in his own mouth stinks" But what other can I say if it tastes so damn good?! This dish is one of my personal summer highlights of 2017 and it's so easy to prepare! I didn't prepare any side dish this time. I was simply too impatient and I wanted to enjoy these sardines as quick as possible!
Grilled Sardines & The Rucola Marinade
14 sardine filets *If your a big eater buy some more*
A pinch of sea salt
2 tablespoons of oil
100g fresh rucola
1/2 small lemon
2 cloves of garlic
1 small chili pepper
125ml cold pressed olive oil *The best you can buy*
Sea salt
Pepper from the mill
Preheat the grill. Clean the sardines, dab them dry and cover the side of the skin with oil. Clean the rucola, shake it dry and leave it aside. Juice the lemon. Peel and slice the garlic. Chop the chili. Put the rucola, the lemon juice, the garlic and the oil into a blender and mix everything until you have a nice marinade. Afterwards add some salt and pepper if necessary. Place the sardines on the grill *On the skin side* until they are crisp. As soon as all sardines are grilled, scatter some salt over, distribute them on plates, serve the marinade and simply enjoy.
Pair the sardines with a fresh salad. *If you don't want to gut the sardines yourself, simply ask the salesman of the shop to do it for you. I'm sure he will do it if you ask politely;-)