Chickpea Curry With Coconut Rice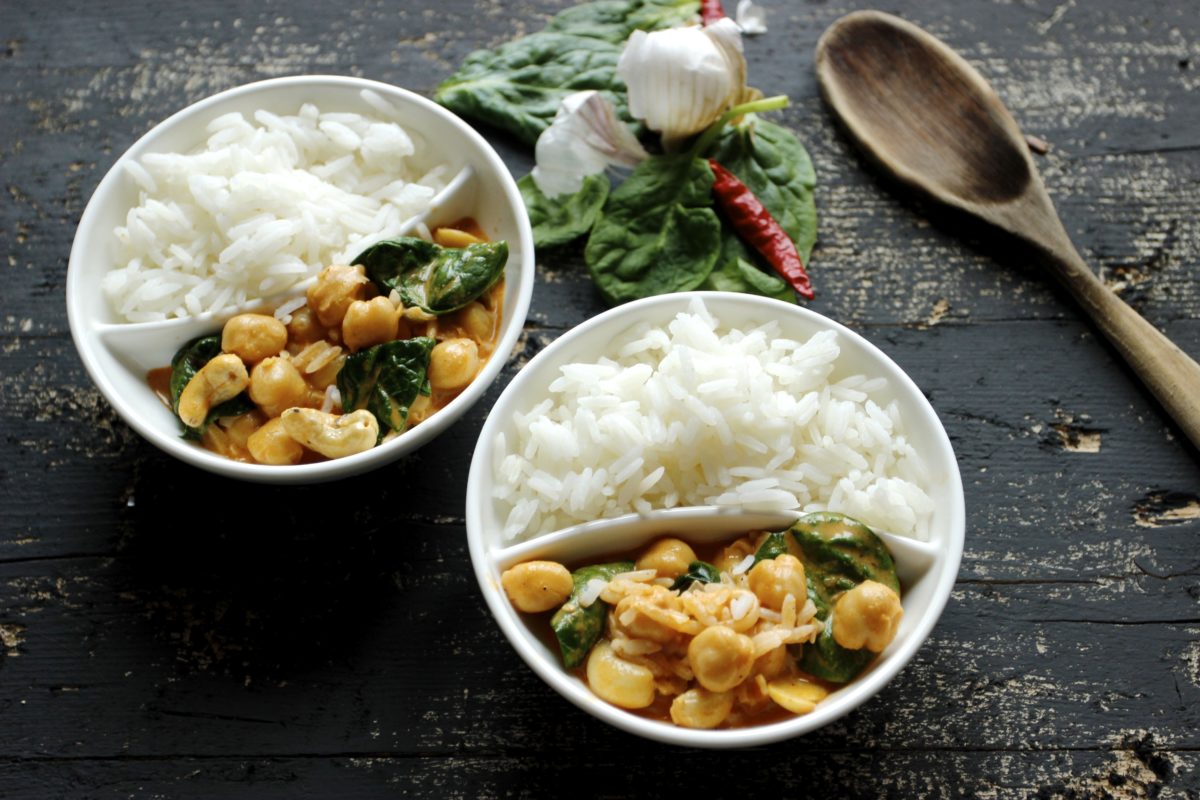 We had a super-mega-tasty chickpea curry 3 days ago and I have to confess: I fell in love with it!
Honestly, this curry is pure soul food and especially now during the cold, wet and grey time of the year it tastes double as good! And in addition we should not forget about the many health benefits chickpeas contain. They are full of minerals and natural proteins.
Well, at this point I you should just try it yourself;-)
And this is how it is done:
Chickpea Curry With Coconut Rice
250 g of chickpeas "drained net weight"
100 g of fresh spinach
600ml coconut milk
2 spring onions
1 stalk of lemon grass
1 clove of garlic
1/2 lime
1/2 chili pepper
2 teaspoons of curry
1 teaspoon "oriental spice" of Provicell
A little bit of grated ginger
A handful of cashews
Sea salt and fresh pepper
130 g of jasmine rice
Cook the rice in 200ml of water and 200ml coconut milk following the package instructions. Clean the spinach. Clean the spring onions and cut them into small rings. Beat the lemon grass with the the back of the knife and cut it into 4-cm-long pieces. Peel the garlic and hack it well. Squeeze the lime. Hack the chili pepper very well. Rinse the chickpeas and let them drain.  Warm up the coconut oil in a pan, add the onion rings and the cashews. Then let everything sear slowly until it is golden brown. Now add the garlic and the lemon grass, stir well and deglaze with the coconut milk. Finally add the chickpeas, the chili, the curry, the grated ginger and let it simmer.  As soon as the coconut milk has boiled down a little bit, add the spinach, stir well and finally season with the lime juice, salt and pepper. Serve the curry with the rice arrange and enjoy.
Honestly, I could take a bath in this recipe. Chinese kitchen: Easy, tasty and simple