Meatballs in a Tomato Sauce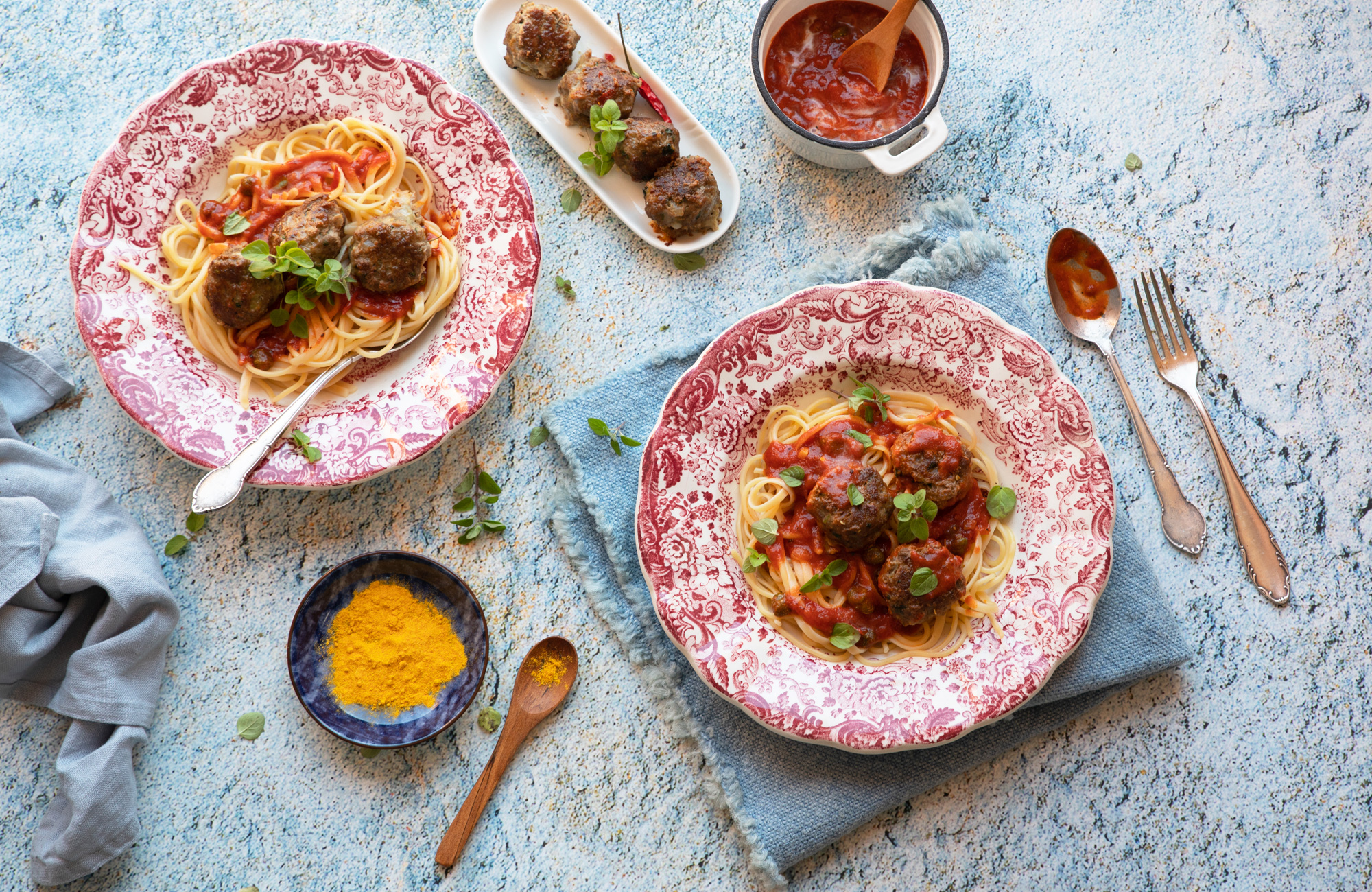 Do you love meat balls? And tomato sauce? AND coconut?
Mhhhhhh…..yummyyyy… If so, don't hold back. Because these meat balls are taking a bath in a slightly spicy coconut-tomato sauce and I have to admit, they taste really divine!
You can pair them with gluten free noodles or simply with a piece of gluten free bread and you'll have the perfect meal that is loved by adults and children.
And you will see that your little ones will devour them in an instant;-)
Ok, not everyone loves capers but you can simply skip them if you prepare this for your kids;-)
And for all of you who don't like meat, you can prepare a quick, vegan version as well.
However, I will have to post the vegan version at a different time. Imagine this scenario: My food styling was all set up and my camera was in position, next I wanted to pick up my meat balls from the kitchen and I realized that there were only 3 of 20!!! vegan lentil balls left… Yes, this is not a joke. ONLY 3.
They were all gone. Can you believe that?
When I asked " Hey where are my lentil balls"?
Answer: I quote…… eaten. Why are you asking??? I shouldn't have???
Ahhhhhhhhhh……….
So what does this tell us?
They were obviously super delicious grrrrrrr…. and I know now for the future, that I will secure everything that needs to be photographed in advance.
Well, I will calm down and eat my meat balls now;-)
How about you? Did you ever experience something like that?
Meatballs in a Tomato Sauce
For the balls
400g minced beef meat *BIO*
1 red onion
1 clove of garlic
1 egg
1-2 tablespoon of gluten free crumbles
1/2 chili
1 tea spoon of ground coriander
Some fresh pepper from the mill
1/2 tea spoon of refined sea salt
Some paprika powder *sweet*
1/4 tea spoon of curcuma
2 tablespoons of olive oil *extra virgin*
For the tomato sauce:
300ml sieved tomatoes *sugar free*
100ml water
2 tablespoons of tomato paste *sugar free*
1 red onion
1 clove of garlic
1 bay leaf
2 tablespoons of capers
1 tablespoon of fresh oregano
1 tea spoon of curry
1 tea spoon of  cumin *ground*
A pinch of sea salt
Some fresh pepper from the mill
1 tablespoon of olive oil *extra virgin*
100ml coconut milk
Give the minced meat into a bowl.
Peel and chop the onion and the garlic.
Chop the chili.
Add all the ingredients to the minced meat, mix everything very well and form the mass into small balls. *This works best with your hands*
Pour oil into a pan and slowly brown the meat balls from all sides on medium heat.
In order to prepare the tomato sauce, peel the onion and the garlic and dice both. Pour oil into  a pan and brown the onion and the garlic until they are golden brown.
Add the cumin and mix it with the onion and the garlic. Add the tomato paste and fry everything for a moment.
Now add the sieved tomatoes, water, the bay leaf and the capers, stir well and let the sauce simmer for about 10 minutes on low heat.
Season the sauce with your spices and continue to simmer everything for another 10 minutes.
Remove the bay leaf.
In the end, simply pour the coconut milk into the tomato sauce, add oregano and the balls as well.
You can enjoy my coconut meatballs either with a piece of gluten free bread or gluten free noodles.
Enjoy this meal!
Micha;-)