Crunchy Zucchini-Tomato Tart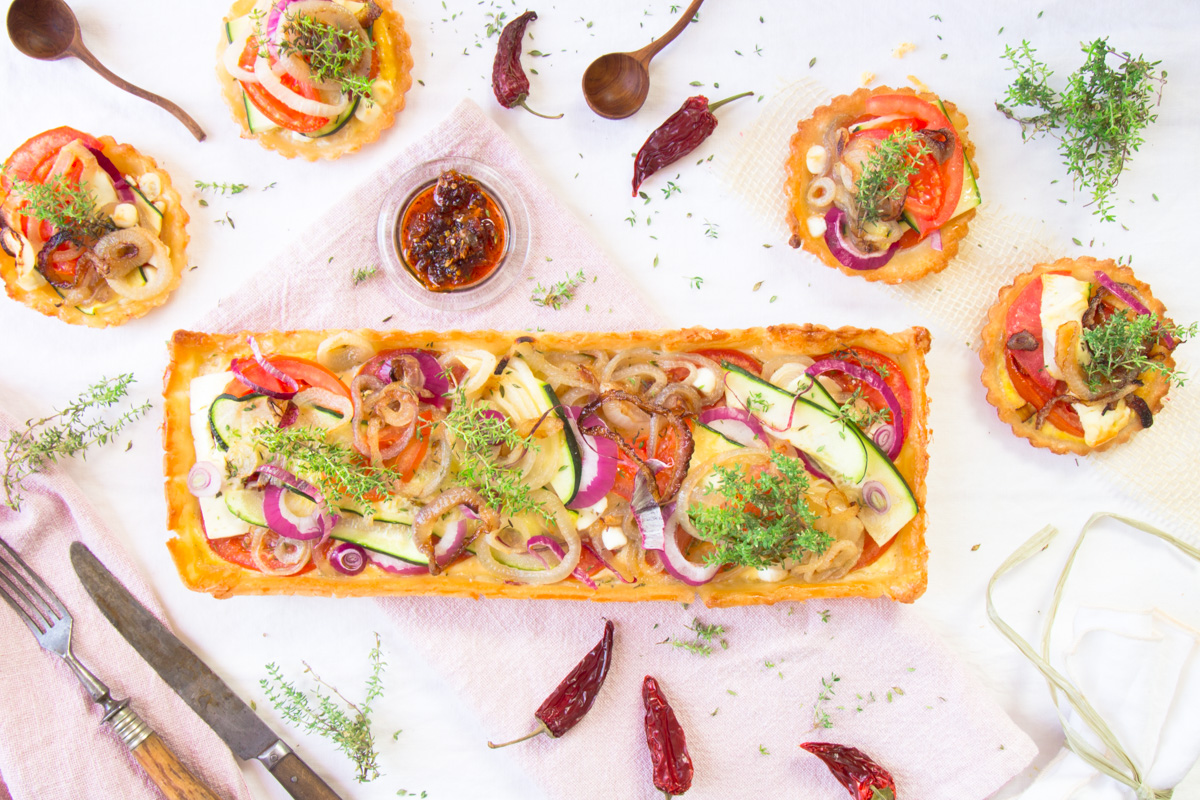 This tart is not just super tasty, in addition it's extremely crunchy and it spoils us with lot's of fresh vegetables and a slightly spicy flavor. This recipe is perfect for any occasion.
Crunchy Zucchini-Tomato Tart
1 package of gluten free puff pastry * I used the one of the company Croustipate* Available at Edeka, Rewe & Kaufland.
If you can, buy the gluten free puffy pastry from the company Schär.
I should mention this!! The dough contains a minimal amount of alcohol – according to the company Croustipate.
The Schär dough contains no alcohol at all.
1 small chili pepper
2 tablespoons of cold pressed olive oil
1 red onion
1 tablespoon of cold pressed olive oil
1 zucchini
2 big tomatoes
Some fresh thyme
A pinch of sea salt
Fresh pepper from the mill
The puffy pastry of "Croustipate" is not frozen and can be used immediately. The puffy pastry of "Schär" is frozen and needs to defrost for about 1 -1,5 hours. Chop the chili, mix it with the oil and leave it aside.* If you don't like it spicy, simply remove the seeds and only add the skin of the chili. Peel the onion and cut it into thin rings. Clean the zucchini and cut off thin slices with a potato peeler. Clean the tomatoes and cut them into thin slices. Clean the thyme and shake it dry. Spread the puffy pastry on the baking paper and lift the dough *without the baking paper* into a oil coated tart form. *Press the dough against the edges*
Brown the onion rings within a pan and 1 tablespoon of oil. Preheat the oven up to 180° upper and under heat. Lightly cover the dough with some chili oil and garnish it with the zucchini and the tomato slices. Salt everything a bit and distribute the browned onion rings over. If you decided to use the goat cheese as I did, simply distribute it on top of the tart in the very end. Now shove the zucchini tomato tart into the pre heated oven and bake it for about 20-25 minutes. Just before the tart is done, scatter some fresh thyme over and continue to bake for 1-2 minutes.
Serve this wonderful tart as warm as possible;-)
Optional: Some fresh goat cheese * I used little goat cheese balls. Available in any well equipped super market.
*In addition you'll need a long tart form and some baking paper* And some oil to coat the baking form.
Have lot's of fun with this recipe!
Micha;-)