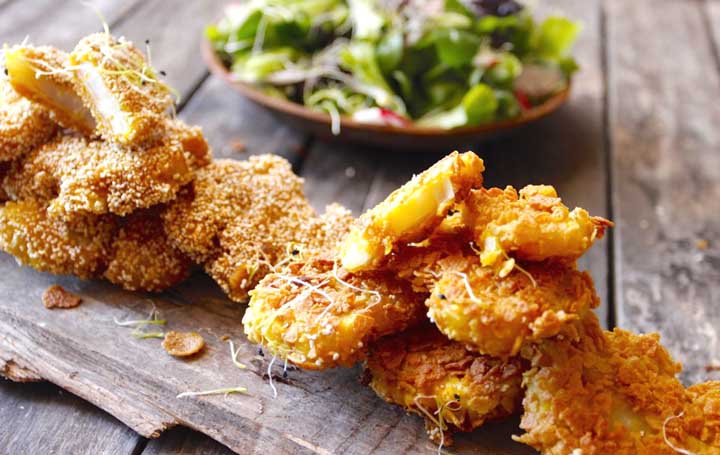 AND with lot's of flavor! Simply delicious!
It was really difficult to decide in which category this recipe belongs. Is it "lunch & dinner", or does it belong to the category "snacks"? Well in the end we all decided to make it part of the "lunch & dinner" category since this meal is very satisfying and a perfect main when combined with a salad.
A dear acquaintance of mine takes these cauliflower-schnitzels to work because she loves them cold as well. Just pair them with a dip of your choice and you'll have the perfect snack for in between.
Ingredients:
1 cauliflower
5 tablespoons of corn starch
5 tablespoons of water
Sea salt
Fresh pepper
Popped amaranth, chickpea flour or rice flour for the coating
Coconut oil
Preparation:
Boil up water in a pot and reduce the heat afterwards. Clean the cauliflower, cut it into 2 cm thick slices and keep them inside the water for about 1-2 minutes. Take them out with a scoop and let them drain. Mix the starch with the water, the salt and the fresh pepper in a bowl and fill it into a deep plate afterwards.
Fill the flour into the second plate and the popped amaranth into the third plate. In the meantime slightly heat the coconut oil in a pan. First toss and turn the cauliflower slices within the flour, then within the starch and in the end within the popped amaranth. Slowly brown the coated cauliflower slices within the coconut oil from both sides, take them out, let them drain on a kitchen paper and finally serve them as warm as possible. You can pair the nuggets with a tasty market salad.
Oh and I have something special for our little ones as well. Go to the recipe
I used some lemon juice, cold pressed olive oil, 1 tablespoon of tamari, fresh herbs, sea salt and 2 tablespoons of water for the salad dressing. I scattered some hemp seeds over as well. Yummy;-)
Habe fun while preparing this meal;-)