Refreshing Watermelon Gazpacho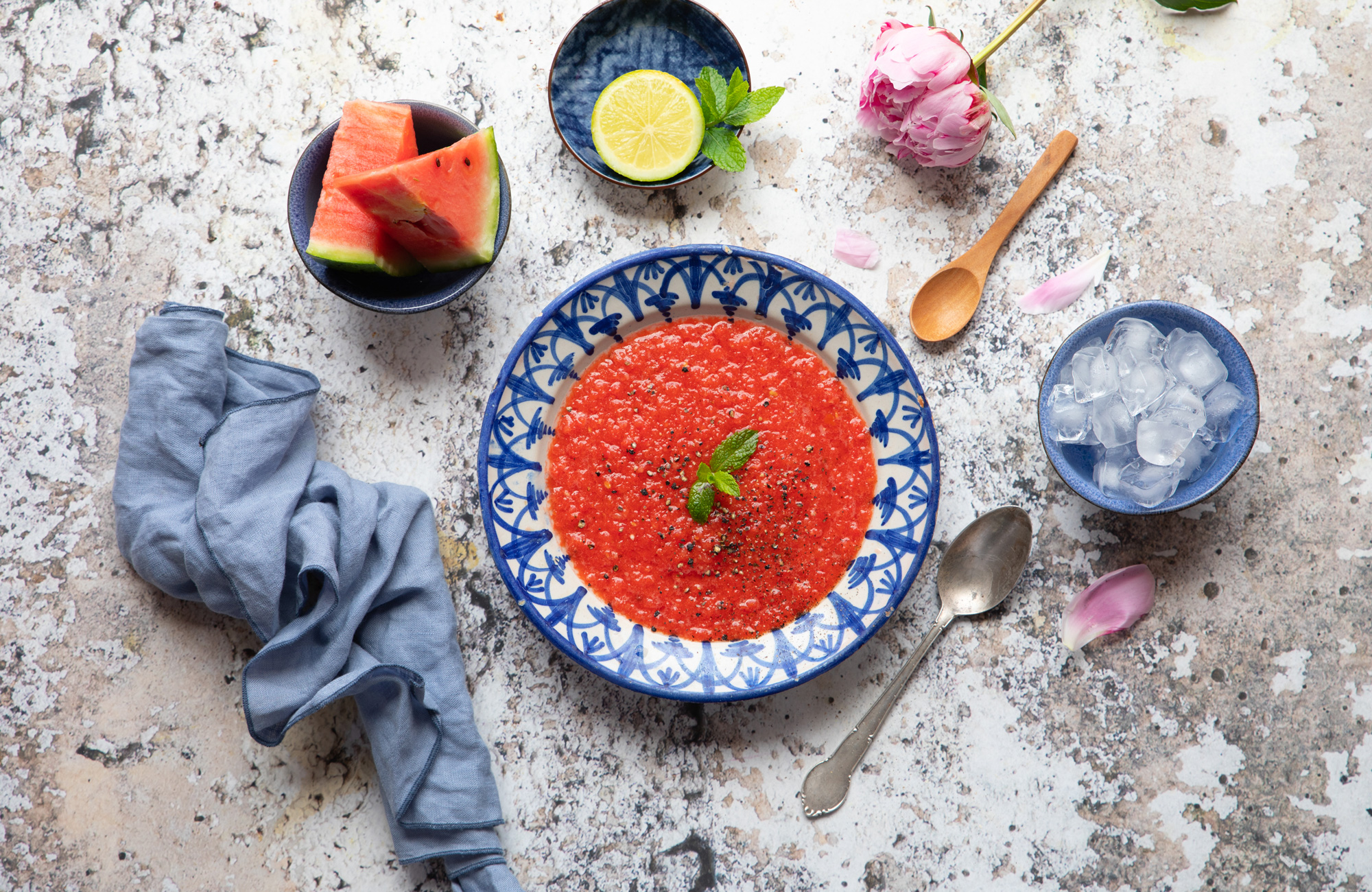 Have you ever heard about Gazpacho?
Gazpacho is a cold soup, made out of un-cooked veggies. You can find it preferably in southern countries, where it is consumed especially on hot days due to it's super refreshing and delicious taste.
And I have to admit that I really like those cold soups as well. I can't get enough of this tasty refreshment during the summer months;-)
I should tell you that I am only eating this kind of vegetable soup for lunch, since un-cooked veggies are usually not very digestible for dinner. And that applies to me as well. Unfortunately:-(
But this soup is super digestible as a lunch meal.
By the way, we recently did a little survey on our social media channels "Facebook & Instagram" on the most favorite summer dishes of our readers and followers.
Now guess which meal appeared in the comments.
EXACTLY… a watermelon Gazpacho;-)
Well, it couldn't get better.
Summer is here – woohoo – the temperatures are usually over 28°..phew… Tell me what could give us some refreshment besides visiting our favorite public pool and some ice cubes?
Yes…this refreshing and super tasty watermelon Gazpacho. Amazing!
But as the saying goes – ordered and already delivered-;-)
I have nothing left to say but: Ready, prepare your ingredients and go!
Micha
Oh by the way! I almost forgot to tell you that you can leave a comment under each recipe. Maybe you would like to tell me how you liked my watermelon Gazpacho or maybe you have some additional tips regarding the topic "Summer temperatures and refreshments" for us.
Let me know your thoughts;-)
Looking forward to them, Micha
In addition you'll need a good blender.
Refreshing Watermelon Gazpacho
600g watermelon *Remove the rind*
2 red peppers *BIO*
3 ripe tomatoes*BIO*
1 clove of garlic
1 celery
1/4 cucumber
1/4 chili
1 tablespoon of apple vinegar *Optional: Sherry-vinegar
1 lime *Optional: lemon*
A pinch of sea salt
Fresh pepper from the mill
1 tablespoon of olive oil
A small, handful of fresh basil
1 tablespoon of sunflower seeds *Optional: Hemp seeds*
Halve the pepper, remove the stem, the seeds, clean and dice it.
Clean and quarter the tomatoes. Peel and dice the garlic.
Peel and dice the celery. Clean the cucumber and dice it as well.
Squeeze the lime and chop the chili.
Clean, the basil, shake it dry and chop.
Give the watermelon, pepper, tomato, garlic, celery, chili and the cucumber into the blender and puree everything very well. Add the vinegar and puree everything once more.
Season the cold soup with your spices and the lemon juice.
Distribute the Gazpacho in deep plates, bowls or glasses. Sprinkle some oil over and garnish it with the basil and the sunflower seeds.
Serve the soup only cold.