Quinoa Salad with roasted Vegetables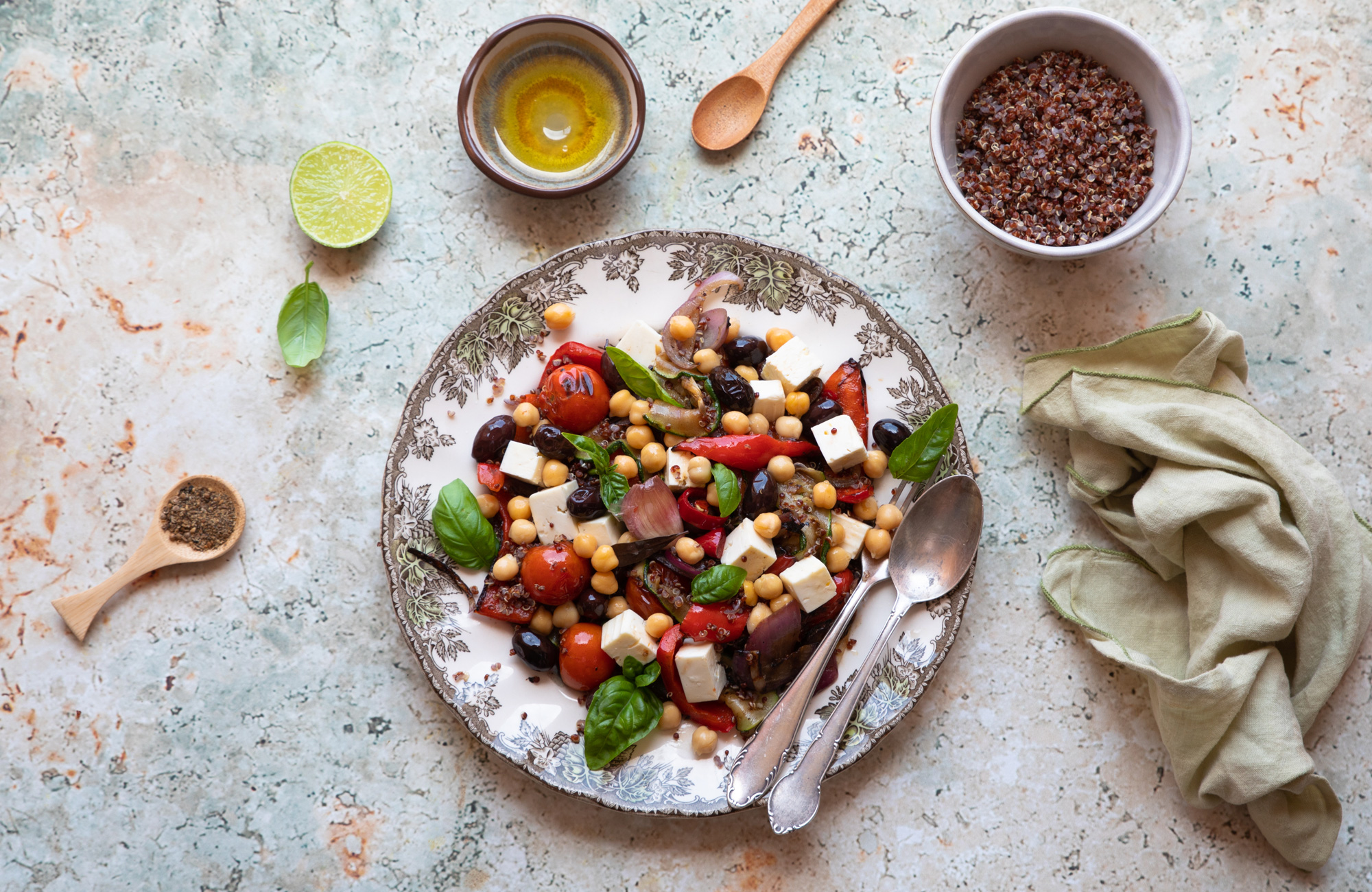 When it comes to Quinoa, opinions differ a lot.
Some like the slightly bitter-nutty taste a lot and others don't like this pseudo-grain at all.
And I have to admit that I wasn't a big fan of it until 3 years ago.
I kind of liked Quinoa ONLY if it was roasted.
Give some olive oil into a pan, slightly heat it up, add the Quinoa and roast it until you can sense this lovely scent. Tasty! But cooked?! yuck…
Just the thought of it gave me the chills.
But this suddenly changed when a dear friend of mine told me:
Listen, if the Quinoa is too bitter for you, simply fill it into a sieve and rinse it thoroughly. This will remove most of the Saponine out of the peel and the bitterness will vanish almost entirely as well.
She said it, I listened and tried it out immediately.
I really have to emphasize how valuable this advice was, because all of the sudden my perception of Quinoa changed completely and I even liked it in it's cooked form.
If you didn't know this, try it out. It makes a big difference!
And this led me to this lovely salad which is served at least twice a month.
Now during the summer month we serve it even more often since it's super light super delicious and because it provides us with lots of energy.
Ok, but now let's enjoy the sun!
Have lots of fun with this recipe.
In addition you will need a griddle pan and a large plate.
Quinoa Salad with roasted Vegetables
für 4 Personen:
200g Quinoa
1 glass of cooked chickpeas
1 zucchini
1 red pepper
1 red onion
1 clove of garlic
30g black olives
ca 15 cherry tomatoes
150g Feta *Sheep cheese*
50ml olive oil *extra virgin*
ca 10 leaves of fresh basil
For the dressing
3 tablespoons of olive oil *extra virgin*
1 lime
Fresh pepper from the mill
Some fine sea salt
Clean the Quinoa thoroughly in a sieve, let it drain and cook it in a pot with water until it's al dente. Afterwards pour everything through a sieve and let it drain again.
Pour the chickpeas into a sieve and let them drain as well.
Clean the zucchini and cut them into long and thin slices.
Clean the pepper and cut it into 3-4 cm thick slices.
Peel the onion and cut it into slices.
Peel the garlic and cut it into fine slices as well.
Rinse the cherry tomatoes and dab them dry.
Rinse the Feta cheese under cold water , dab it dry and dice it.
Pour some oil into the griddle pan, slightly heat it up, then brown the zucchini first from both sides. Then, take them out of the pan and place them on the large plate. Now give the pepper into the pan and roast it from both sides at low heat and with some oil as well. Let the pepper cool down a bit and peel of the skin. In the end, brown the onion and the garlic.
In order to prepare the dressing, simply give all the ingredients into a shaker and mix everything thoroughly.
Finally distribute all the ingredients *except for the Feta and the basil* over your large plate, sprinkle the dressing over and carefully mix everything very well. *Eventually you'll need to season the salad some more*
In the very end, decorate the Feta dices and the basil leaves all over the salad.