Quesadillas Filled With Guacamole & Avocado Slices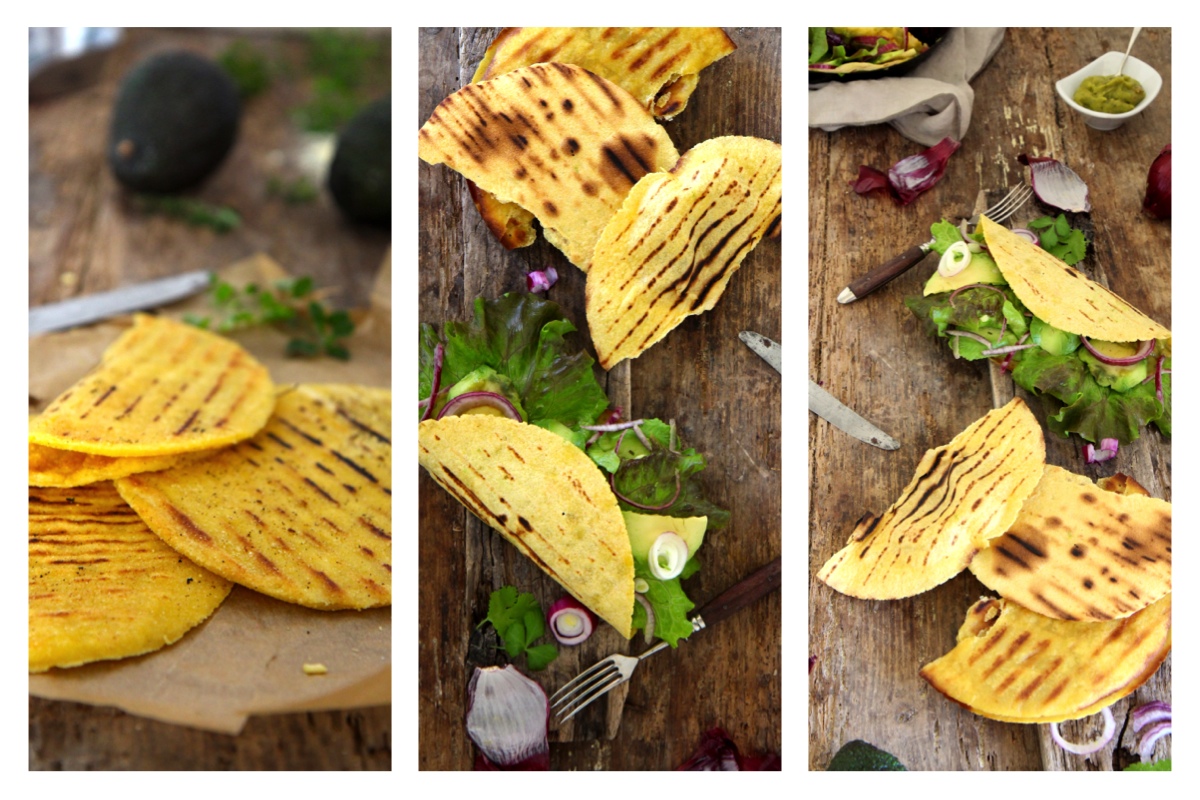 I prepared some tasty, gluten free and vegan quesadillas for you today and I hope that your hungry and that you'll like them. Because they taste really good and they are quickly done as well. So called "express quesadillas";-) The only really important detail of this recipe is that you will only be able to cook them with a precooked corn flour. You should really buy that flour. This great, so called *P.A.N* flour became an integral part of my kitchen and I can't imagine cooking without it anymore.
Quesadillas Filled With Guacamole & Avocado Slices
400g yellow *P.A.N* flour
200ml warm water
1 tea spoon of olive oil *cold pressed*
Sea salt
1 avocado *ripe, but not too ripe*
1 clove of garlic
1 lemon
Some sea salt
Fresh pepper from the mill
For the filling:
1 extra ripe avocado
1 red onion
Some salad leaves
Mix the flour, the salt, the oil and the water in a bowl. Best way to do that is to use your hands. It's very important that the dough has a good consistency. And the dough should not stick to your hands anymore. Scatter some corn flour over your working surface, take about 100g of dough, place it on the surface and use a rolling pin to roll it out. At this point I will use a little trick of mine;-) As soon as you rolled out the dough, take a little pot of more or less 16-17 cm in diameter, push the bottom into the dough and you'll get evenly round plates of dough. Pour some oil into a riffled pan, add one of the dough plates and brown the quesadilla from both sides until they are nice and crunchy. Repeat this until all of your dough is used up.
Zum warmhalten kannst Du diese in den Backofen legen.  Keep them warm by storing them within the oven. *Tip: If you just wanna use 2 quesadillas, simply wrap the others into a transparent film and store them in the fridge. If you don't wanna eat the remaining ones during the following days, simply freeze them. In the meantime, peel both avocados and remove their cores. Peel the clove of garlic and cut it into slices. Peel the onion and cut it into thin rings. Clean the salad leaves and shake them dry. Chop one avocado, put it with the garlic into the blender and puree very well. Season the cream with salt, pepper, lemon juice and put it aside.
Cut the second avocado into slices and immediately sprinkle lemon juice over for it not to become brown.  Flatten the quesadilla a bit, garnish it with the salad leaves, the guacamole, some avocado slices, onion rings and serve immediately.
Yumm, they are really good!
Micha♥