Plum-muffins with crumbles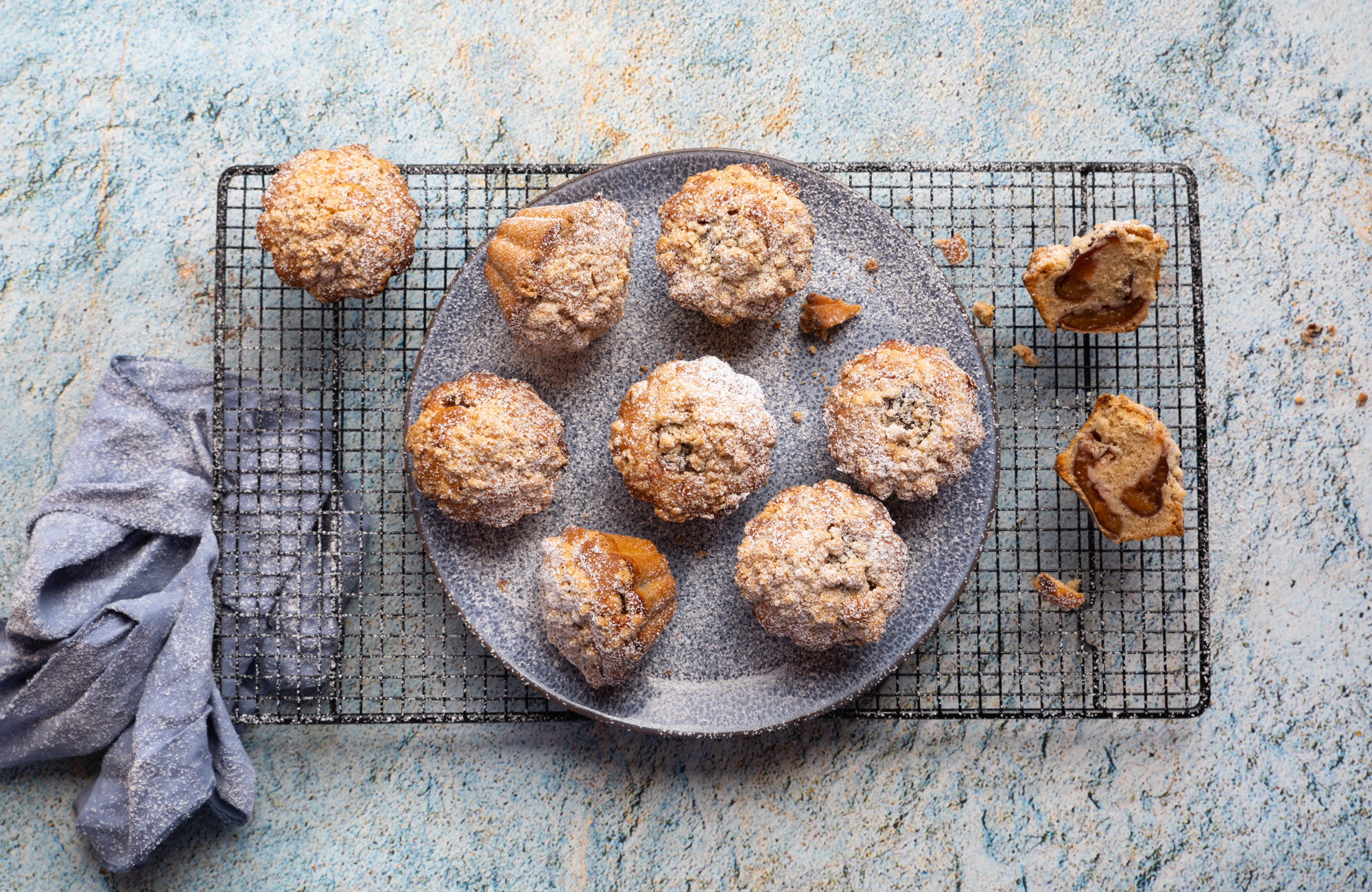 You won't believe it but yesterday evening I had a sudden craving for something sweet.
Yeeeeees, you heard me right;-)
Because those of you who know me well, know that I am not a big fan of sweet stuff.
And honestly, I don't really think that this will change anytime soon. Buuuuuut, try to tempt me with savory foods and you'll be probably successful. 😉
But I have to admit that this is not always the case.
My delicious plum muffins are the best example and a nice exception because I love plums very much! But they need to be sweet, not too soft and juicy. Perfection!
I was quite lucky this year with the plums that I bought because they were already ripe and just perfect for my muffins.  Mhhhh….divine! And it didn't take long until we were able to enjoy our first muffins after they baked in the oven, spreading this wonderful scent throughout the house.
I can only say super yummy! Try them out as soon as possible because the plum season is quite short. ;-(
In addition you'll need a bowl, a stirring machine and a muffin form. I only work with silicone baking forms. You'll save fat and baking paper. if you don't have a silicone baking form, simply fill the muffin form with baking paper or special muffin paper.
Plum-muffins with crumbles
For ca 10 muffins
110g soft butter
100g cane sugar
3 eggs
For the baking mixture
100g rice flour *white*
100g potato starch
30g corn starch
20g tapioca starch
2 tablespoons of psyllium husks
1 package of baking powder *gluten free*
1/2 tablespoons of coconut oil
10 sweet plums
For the crumbles 
50g flour mixture *follow instructions*
20g can sugar
20g soft butter
Give the butter and the sugar into the stirring machine and process everything until its creamy.
Add the eggs one after the other and continue to stir.
Mix all the dry ingredients in a bowl.
Take 50g from the flour mix and leave it aside. You will need it for the crumbles later.
Add 200g of the flour mix, spoon after spoon to the butter cream and keep the machine on.
Add oil and continue to stir.
If the dough is too firm, add 1-2 tablespoons of rice milk or a different herbal milk.
Clean the plums, halve them and remove the stones.
Take 1 tablespoon of dough, place it into each form, and push 2-3 plum pieces into the dough. Repeat this until all the forms are  filled.
Let the dough rise a little bit.
Preheat the oven up to 180° upper and lower heat
In order to prepare the crumbles, mix all the needed ingredients and crumble them afterwards.
Distribute the crumbles over the muffins, shove the griddle with the baking forms into the oven and bake them for 15-20 minutes Die Streusel über den Muffins verteilen, das Blech für 15-20. Afterwards let them cool down on the griddle.