Parsnip Apple Soup with Parsnip Chips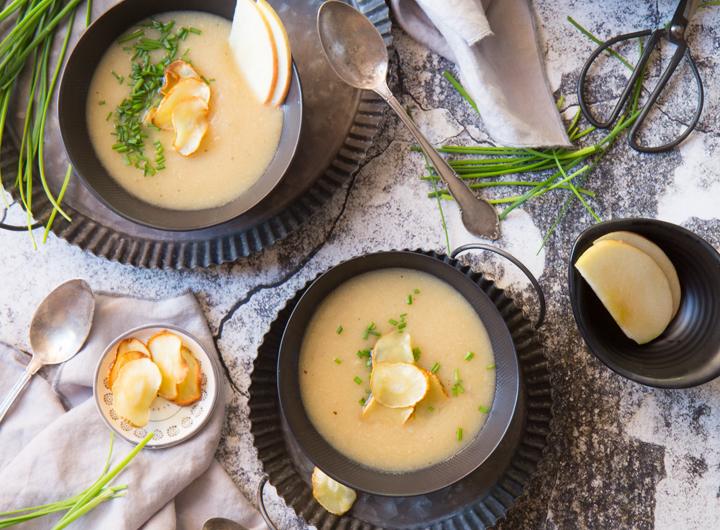 I can't tell you how happy I am to have guests over…
Especially when they can't stop saying: mhhhhhhhh and ohhhhhhh how delicious 😉 My ♥ skips a beat each time.
Just like this week. We had some dear friends over and I served this delicious parsnips-apple soup with crunchy parsnips chips.  And I have to say: Thx god I've prepared enough chips, since they where devoured faster than my I could follow. But the soup as well. Hihihihihihi.
Parsnip Apple Soup with Parsnip Chips
300g parsnips
2 apple
1 onion 
1 clove of garlic
750ml vegetable broth
1 tablespoon of cold pressed olive oil
A pinch of sea salt and nutmeg
Some fresh pepper from the mill 
1/2 bunch of fresh chives
1 parsnip
Coconut oil or coconut fat to fry
Salt and pepper from the mill 
Peel and dice the parsnips, the onion and the apple. Peel the garlic and cut it into thin rings. Clean the chives, shake them dry and cut them into fine rings as well. Brown the parsnips and the onion within some oil. Add the apple and the garlic after 5 minutes, stir well, cover with the lid and let everything braise for about 2 minutes. Now add the broth and continue to simmer for 15 minutes. In the meantime let's prepare the chips. For that clean the parsnip with a cloth, cut off both ends and shred it into thin slices. Puree the soup and keep it warm. For the chips to be crisp we have to fry them in two steps. Add some coconut oil or fat into a pan and fry half of the parsnips within until they are golden brown. Afterwards, take the chips out of the oil using a sieve and let them drain on a kitchen cloth.  In the meantime fry the second portion of chips and take them out with a sieve as well. Now let them drain on the kitchen cloth again and salt them just a little bit.
Serve the hot soup within bowls and top them with the chives and the chips.
My tipp: If you want, add some rice cuisine into the soup.
Bon Appétit ♥