Pasta with fresh venus clams a la Micha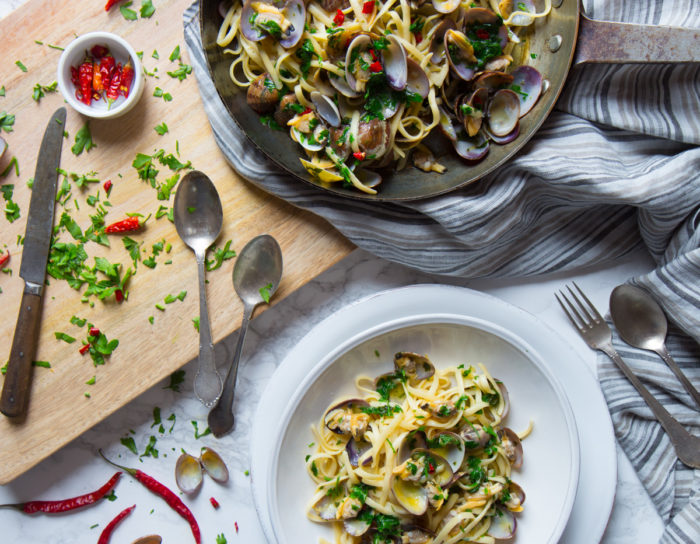 You've probably heard of the saying "less is more". Well, this is how I prepare my clams. Pure, simply and without a big fuzz. In my opinion this is how they taste best. The clams that I bought yesterday where super fresh, the shell was closed and they smelled of the sea and algae. Divine!
There was no doubt that I would clean and prepare them immediately.  And now I would like to introduce you to this simple recipe.
Pasta with fresh venus clams a la Micha
750g fresh venus clams 
2 cloves of garlic 
1 onion 
1 chili 
3 tablespoons of chopped parsley 
50ml cold pressed olive oil
1 bay leaf
150ml white wine
1 lemon
Sea salt and fresh pepper from the mill
250g gluten free pasta
Clean and rinse the clams under cold water and let them drain in a sieve. If you find open clams, remove them instantly!! Peel and dice the garlic and the onion. Chop the chili. Cook the noodles within a large pot until they are al dente. Afterwards pour the pasta into a sieve but keep about 100ml of the noodle water.  You will need it for the sauce later. Heat ca 40 ml of olive oil within a high pot, add the drained clams, the bay leaf and deglaze everything with the white wine.  Cover the pot with it's lid and let the clams cook for about 4 minutes within.
In the meantime, prepare a bowl, pour the clams into a sieve and let them drain. Place the pot under the sieve so that you can keep the stock and leave it aside. Pour the remaining oil into a large pan, shortly heat it up and brown the onions within.  Add the garlic, the chili and the chopped parsley, stir well and deglaze everything instantly with the white wine stock and the noodle water.  Season the sauce with salt, pepper and lemon juice.
Now add the noodles and the clams to the pan, stir well and serve as warm as possible.
Mhhhhhhhh… It was so deliciouuuuus!!
Have lots of fun with this recipe and enjoy;-)
Micha♥