Macaronis with creamy mushrooms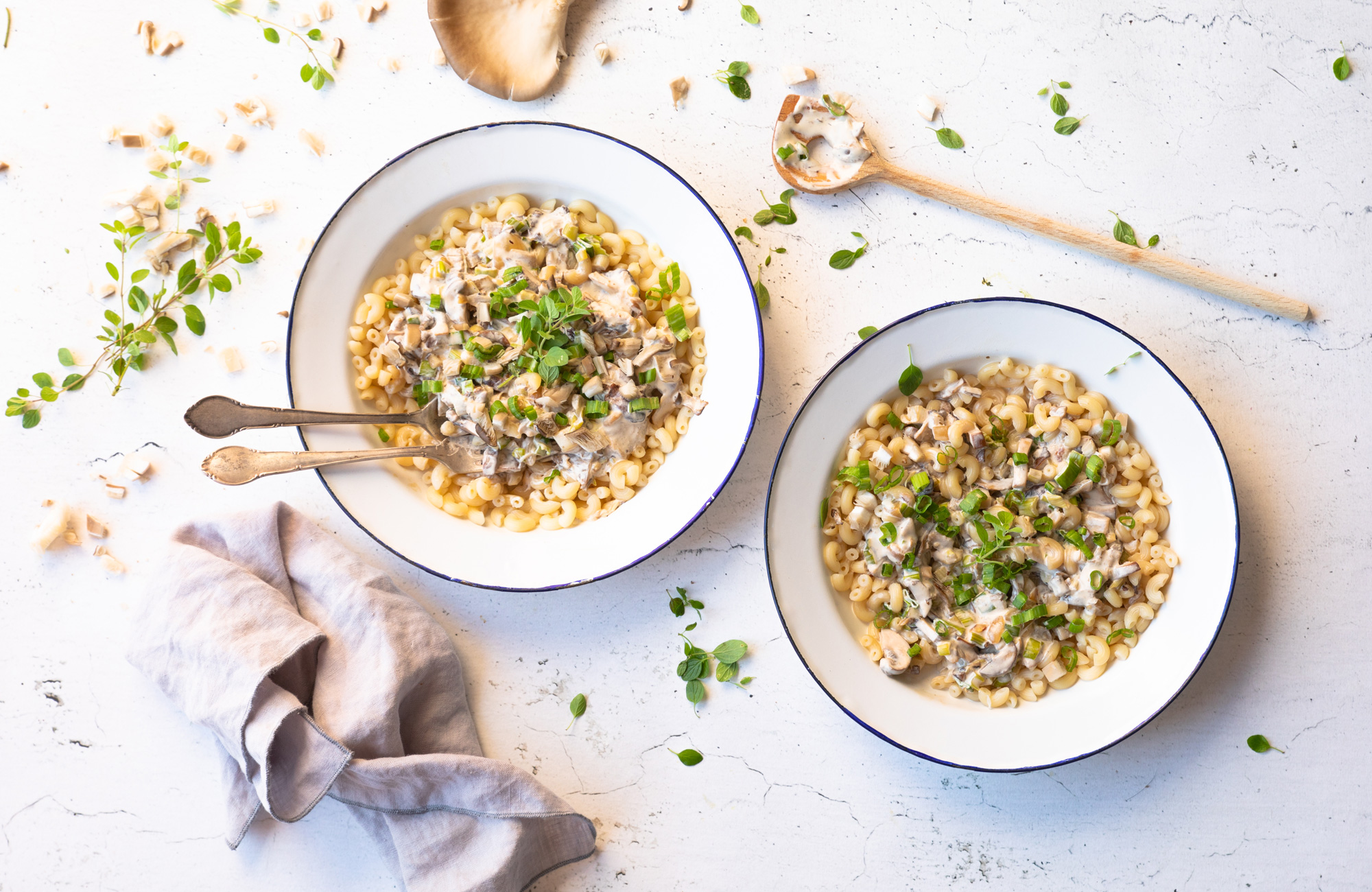 Autumn is finally back and I have to admit that I am a big fan of this colorful season.
And what can not be missing in autumn? Mushrooms! As many as possible;-)
Yeahhhhh……
And therefore I prepared this tasty mushroom pan for you paired with some nice pasta.
Sure, rice would work as well but I really had a craving for macaronis last week after seeing and buying them in a big Swedish furniture store 😉
But I have to say that I was quite disappointed of those noodles;-(
They had a strange consistency and didn't taste very good.
But hey, maybe it's just me and others really like them.
Whatever, my mushroom pan on the other hand was simply perfect.
Let's talk about the mushrooms, You can work with any mushrooms that you can find on the market or in the forest if you are confident enough to know which ones are edible.
Well, enough of this chit chat. My recipe is waiting for you;-)
Ich wünsche Dir einen richtig guten Appetit!
Enjoy this recipe and bon appetit.
In addition you'll need:
A pan and a sieve to drain the pasta.
Macaronis with creamy mushrooms
For  2 people:
200g gluten free pasta
250g mixed mushrooms
1 onion
1 clove of garlic
1/2 bunch of spring onions
100ml vegetable broth *or water*
200g soy cream *or rice cuisine*
5 stalks of fresh majoran
2 tablespoons of olive oil
1 pinch of curry powder
sea salt
fresh pepper from the mill
Clean the mushrooms
Peel the garlic and chop it.
Clean the spring onions, shake them dry and cut them into rings.
Clean the majoran, shake it dry and leave it aside.
Cook the noodles al dente in salty water and drain them afterwards through a sieve.
Sear the mushrooms in a pan with oil.  Add the onion, half of the spring onions, the garlic, stir well and slightly pan fry everything.
Deglaze everything with the vegetable broth and let the sauce reduce it self a bit.
Now add the cream, stir, add the majoran stalks and let everything simmer for 5 more minutes.
Season with salt and pepper, some curry powder and turn off the heat.
Remove the majoran stalks, scatter the remaining spring onions over and serve everything along with the pasta.