Juicy Plum Crumble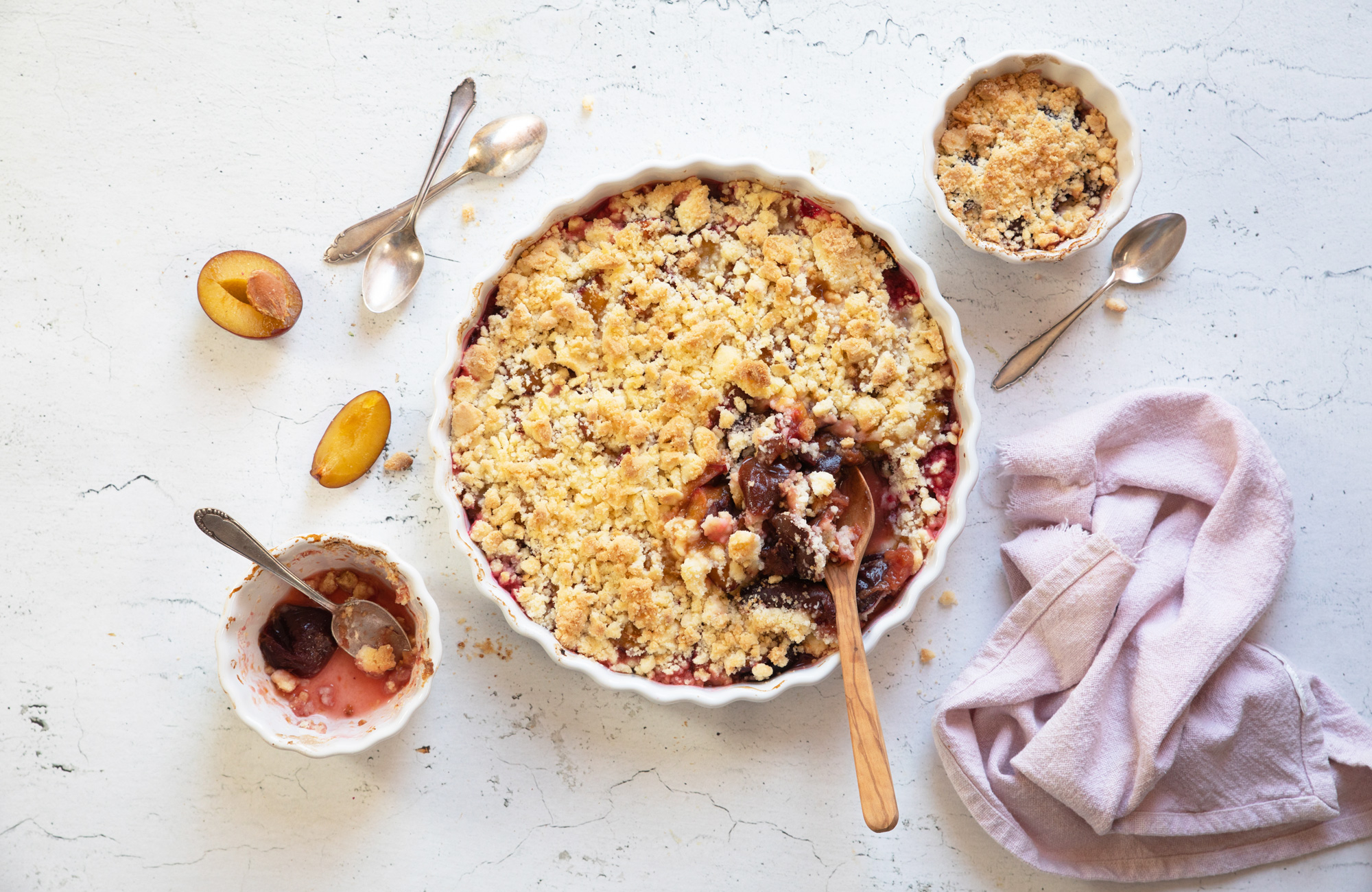 If you already  love normal crumbles you will probably never get enough of this extra juicy crumble.
And this tasty plum crumble is so easy and quickly prepared that you will love this sweet delight even more.
You can enjoy this crumble at your next tea party or as a snack in between.
Divine.
If you don't really like plums (what I honestly doubt) you can use apples or pears instead.
And now, I wish you lots of fun with this crumble recipe. And don't forget that a crumble needs to be enjoyed warm. 😉
In addition you'll need a baking form and a bowl.
Juicy Plum Crumble
For 4 people:
500g plums
50g cane sugar *optional birch sugar, or coconut blossom sugar*
1 tablespoon of lemon juice
1 tea spoon of cinnamon
For the crumbles: 
100g rice flour
3 tablespoons of ground almonds
80g soft butter *optional: vegan butter*
80g cane sugar *optional: coconut blossom sugar, or birch sugar
Clean the plums, remove the stones and halve them.
Place the plums into a bowl, add the sugar, the lemon juice, the cinnamon and stir well. Cover the bowl with a lid and leave it aside.
Now let's prepare the crumbles.
Give all the dry ingredients into a bowl, scatter the butter flakes over and knead the to into crumbles.
Preheat the oven up to 180° upper and lower heat.
Cover the baking form with fat, distribute the plums inside and scatter the crumbles all over.
Now shove the crumble into the preheated oven and bake it for 40 minutes.