Juicy Plum Cake with Cinnamon Crumbles

*Very juicy - and very tasty*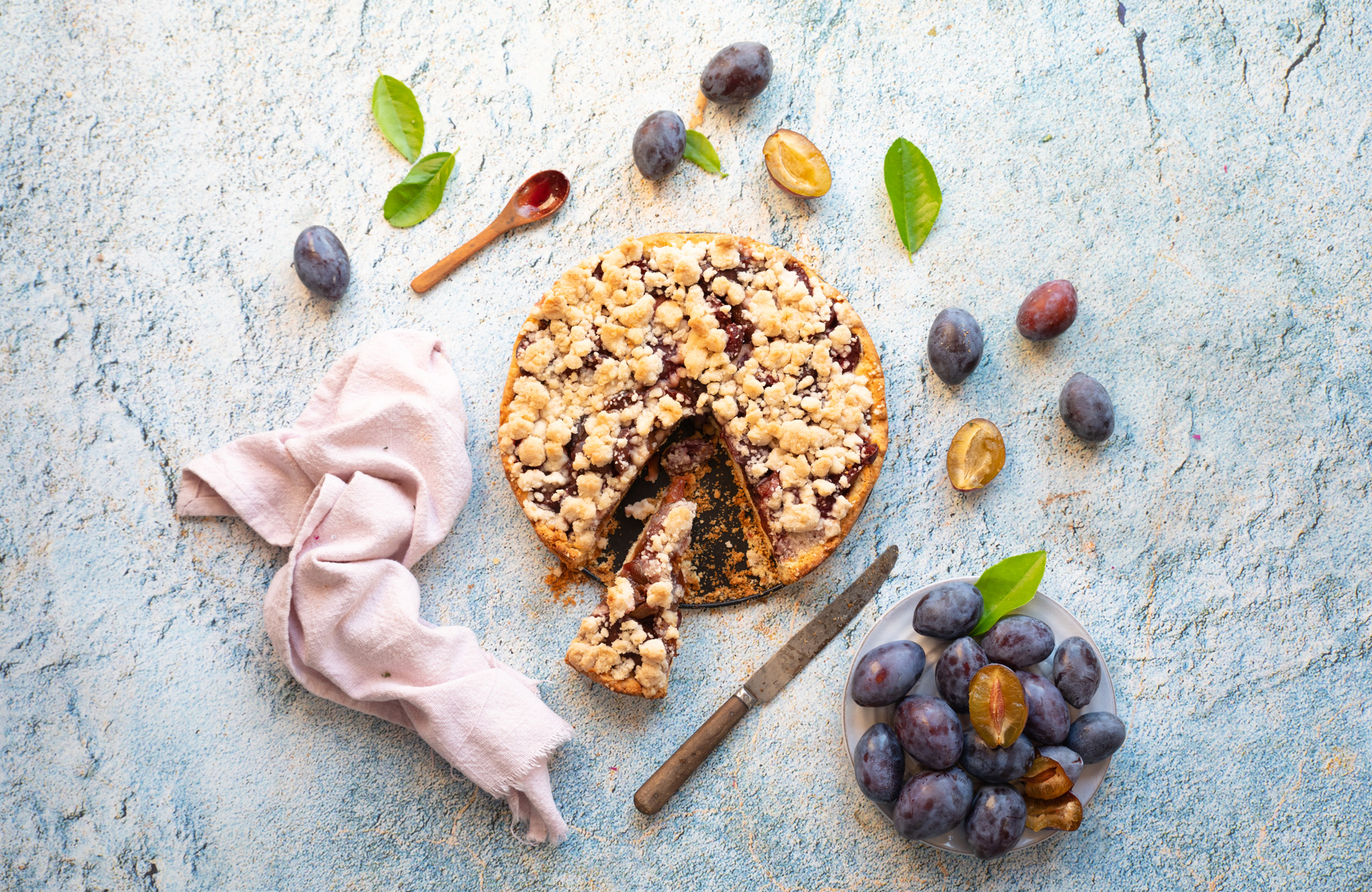 Just on time for the late summer days, one classic shouldn't be missing. My juicy and very delicious plum cake.
Yummy;-)
And since the harvest was very rich this year and the fruits are very sweet, I decided to bake 2 cakes at once. Hihihihi.
But I was only able to take photos of one since the other one was eaten in an instant.
You might be surprised now but this is quite normal in our house.
As soon as the cake is out of the oven and cooled down, we enjoy it fork after fork. Combine it with a fresh coffee and … mmmhhh!
To me, there's no better way to start into autumn.
And if you would like to bake this plum cake – and I really hope you will – let me give you some extra advice for the dough.
Since it is a gluten free cake, I recommend you to let it rest for one hour in your fridge covered with transparent foil.
If you have time, even 30 minutes more. This way, you'll make sure to have a nice and crunchy dough.
Have lots of success and fun and enjoy the last summer days.
In addition you'll need a big bowl, baking paper and a springform 28cm°
Juicy Plum Cake with Cinnamon Crumbles
For the dough
100g corn flour
100g rice flour *white*
100g corn starch
80g cane sugar
1 pinch of salt
1 tablespoon of psyllium husks
1 pinch of baking powder *gluten free*
1 egg *medium size*
150g soft butter
2-3 tablespoons of cold water
For the cinnamon crumbles
100g rice flour *white*
100g soft butter
60g cane sugar
1 pinch of salt
1 tea spoon of cinnamon
For the topping
700g fresh plums
For the dough
Give all dry ingredients into a bowl and mix them well.
Add the egg and the butter flakes and knead the dough well. Add the water continuously and knead. The dough shouldn't be too soft. Therefore, please dose the water carefully.
Distribute the dough into the springform (which is covered with baking paper) keep the edge  and let the dough rest for 1 hour in your fridge.
In the meantime let's prepare the crumbles.
Give all the ingredients into a bowl, knead them into crumbles and store them in the fridge.
Clean the plums, remove the stones and let them drain in a sieve.
Preheat the oven up to 200° upper and lower heat.
Take the springform out of the fridge and distribute the plums all over. Now scatter the crumbles over and shove the cake into the preheated oven for about 40 minutes.
After 30 minutes, please keep an eye on the crumbles. For them not to get burned, I recommend to cover the cake during the last 10 minutes.