Indian Naan-coriander-bread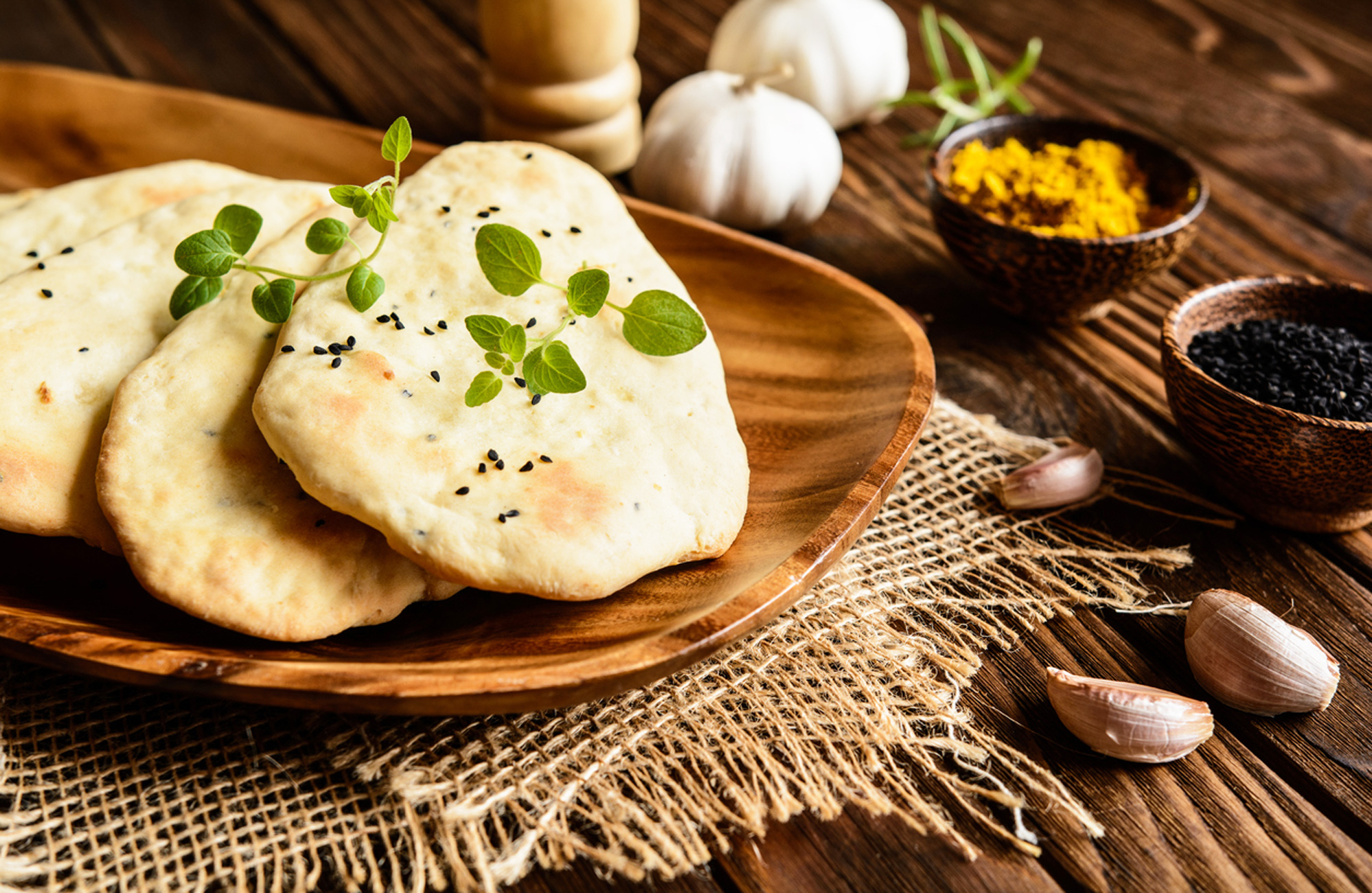 Are you familiar with Indian Naan-bread? No? Well, than it's about time for me to introduce you to this delicious flatbread.
This super tasty type of bread is actually just a fluffy and soft flatbread, shortly baked in a traditional Indian tandoor-oven. It's an integral part of the daily Indian kitchen since it is served along with almost all kinds of warm meals.
You can enjoy Naan-bread as a side dish or in many other different ways.
As you can see, I chose to prepare a coriander-Naan-bread.
I served it along with my tasty Chimichurri, some Hummus with smoked paprika powder and a few green olives. It was delicious!!
You are free to roll out the dough a bit thicker than usual and to fill it with many different delicacies such as veggies, onions and garlic. Just an idea;-))
It doesn't really matter how you fill it, as long as the dough is light and fluffy and the bread is baked either in a hot pan, or a very hot oven.
There are no limits to your creativity when it comes to how you prepare your bread.
And now I will show you how to quickly prepare a perfect Naan-bread.
Have lots of success and enjoy this wonderful bread!
Indian Naan-coriander-bread
1/2 package dried yeast
Some tepid water
A pinch of cane sugar
100g corn starch
100g buckwheat *white*
50g potato starch
20g Tapioca starch
2 tablespoons of psyllium husks
1 pinch of sea salt
1 egg *medium size*
40g soft butter *Optional: Vegan butter
80-100ml tepid water
1 bunch of coriander
*You can use 1/2 a package of bicarb instead and 1 tea spoon of vinegar instead of the yeast.
Give the yeast into a cup, add some tepid water and sugar and let the yeast rise until you can see some little bubbles.

Instead of the yeast you can add the bicarb and the vinegar to the flour mix until it starts to bubble.

Mix the flours with the psyllium husks ,the salt, the egg and the butter in the kitchen machine.
Add the yeast *or the bicarb* into the stirring machine and activate it.
Add the water continuously and knead the dough for 10 minutes.
Clean the coriander, shake it dry and chop it.
Place the dough into a bowl, cover it with foil and a cloth and let it process for 1 hour at a warm place.
Place the dough on top of a floured surface and knead the flour into the dough.
Now knead the coriander into the dough.
Afterwards cut the dough into  10-12 pieces and slightly roll out each piece.