Hummus with smoked peppers

*yeahhhh my favorite Hummus*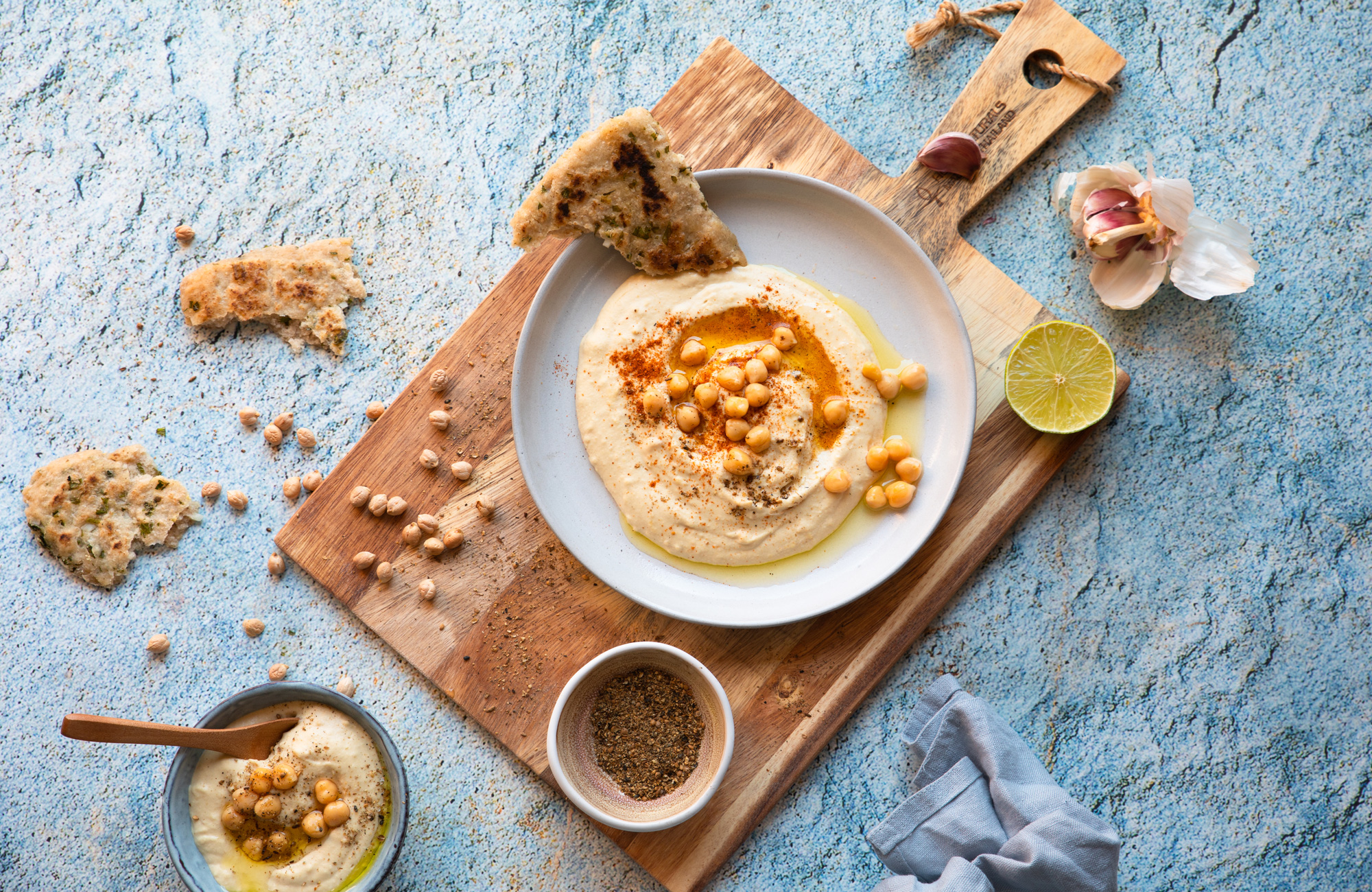 I have to admit that I am totally crazy about Hummus.
Because this chickpea-puree is not just suuuuuper tasty, but it is also a total all-rounder.
I usually get a Hummus craving about 3-4 times a month and when it happens it's like a fever.
This means: I start to let the chickpeas soak, then I have to cook and peel them and as soon as I have all the other ingredients together, I simply process them in the blender along with the chickpeas until I have a creamy dip.
Yes I know, normally one should let the dip infuse for a while. If possible even up to 24 hours. I am very sorry, but I can't wait that long!
Because as soon as I notice this divine, oriental scent in my nose I can't hold myself back;-)
I usually pair it with my tasty nan-coriander-bread or with some veggie sticks. For me, this is enough to be in peace with the world.
You can also enjoy this power-dip as a snack or with potatoes. Mhhhhh…. In addition, you can serve Hummus perfectly well as a pasta-sauce or with falafels.
Somehow it kind of matches with almost everything *yum*
And guess what is also great about chickpeas.
They contain lots of healthy proteins, dietary fibre and plant-based proteins.
All of this keeps your blood sugar levels down and at the same time your digestion is stimulated.
In addition, chickpeas contain Calcium, Vitamine A, B2, B6, folic acid AND iron. Oh and it even contains Vitamine C!
I really recommend you to try it out since there are not sooo many foods that are able to satisfy us and are able to provide us with enough energy for our bodies.
But now let's go over to the recipe.
Have lots of fun with this dip;-)
In addition you'll need a pot, a clean kitchen cloth and a good blender.
*You can use pre-cooked chickpeas  if you need a quick solution*
Hummus with smoked peppers
200g dried chickpeas
1 tea spoon of  bicarb
180g Tahini paste
100-120ml ice-cold water
1 clove of garlic
1 tea spoon of cumin
1 lemon *juice*
salt
1-2 tablespoon of olive oil *extra virgin*
Ground paprika-powder
One day in advance:
Give 500ml of cold water into a pot, clean the chickpeas, give them into the water, cover the pot with a lid and let the chickpeas soak for about 24 hours.
On the next day
Pour the chickpeas along with the water into a sieve.
Fill the pot with 300ml of water, add bicarb to the chickpeas and cook them for 45 minutes. Now and then remove the foam out of the pot.
Once again, pour the chickpeas along with the water into a sieve, then distribute the chickpeas on top of your clean kitchen cloth and peel them carefully.
Give the chickpeas into your blender and slowly add the ice-cold water. *Dose according to your taste* Too much water makes the Hummus to soft.
Add the garlic and continue to puree.
Season the chickpea puree with lemon juice, salt, cumin and blend everything one last time.
Give the dip into a small bowl or a deep plate, pour some olive oil over and finally scatter the paprika powder over as well.