Grilled Corn Cobs with a tasty Tomato Salsa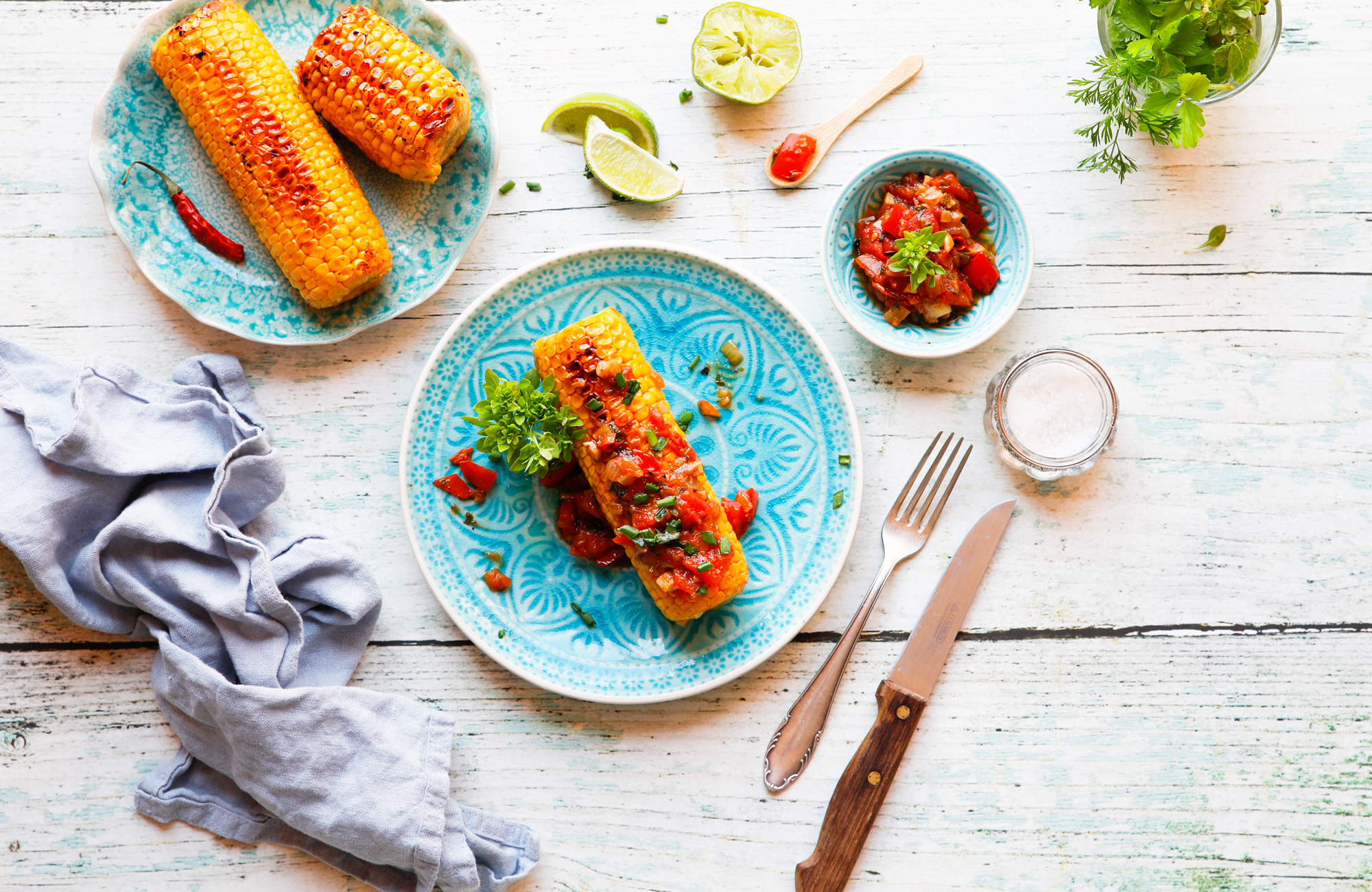 Woohoo, the time has come again. 
The BBQ season has officially begun and the scent of freshly grilled food is spreading through all gardens, parks and backyards.
And I have to admit that this time of the year is one of my favorites.
Is there anything better than inviting your friends over to a BBQ party? Everyone is bringing either a tasty salad or a desert and the chef (that would be me) is taking care of the grill.
And as soon as everything is ready, everybody is sitting around the table with a glass of wine, enjoying the weekend and the delicious food.
Divine!
That was literally our last weekend. Our friends came over and everyone was spoiled with the most delicious food. Juicy, grilled fish, slightly marinated tofu for our vegan friends, grilled veggies, super crunchy & gluten free bread, three extremely delicious and homemade BBQ sauces and of course, my grilled corncobs. I covered them with my tomato salsa and displayed them on my little grill buffet along with some other delicious treats.
Yummy ♥
You'll need 2 extra pans in addition.
Grilled Corn Cobs with a tasty Tomato Salsa
2 corn cobs *boiled*
2 cloves of garlic
1 onion
3 tomatoes
1/4 chili
1 lime *Optional: lemon*
1 tablespoon of freshly chopped coriander
1 tablespoon of freshly chopped basil
3 tablespoons of extra virgin olive oil
A pinch of salt 
Peel the garlic and the onion and chop both.
Clean the tomatoes, halve them and dice the pulp.
Chop the chili.
Halve the lime and leave it aside for the moment. 
Slightly heat one tablespoon of oil in a pan, add the onion and the garlic and pan fry everything for about 1 minute. 
Add the tomatoes, stir well and let everything process for 10 minutes. 
Give the butter and the remaining oil into the other pan and slowly brown the corn cob from all sides *If you want you can brown your corn cobs on the grill as well.*
Add the coriander, the basil and the lime juice to the tomatoes, stir well and season everything with some salt. 
Take the corn cobs out of the pan, sprinkle the sauce over and distribute them on your plates.