Green – Smoothie – Rainbow – Bowl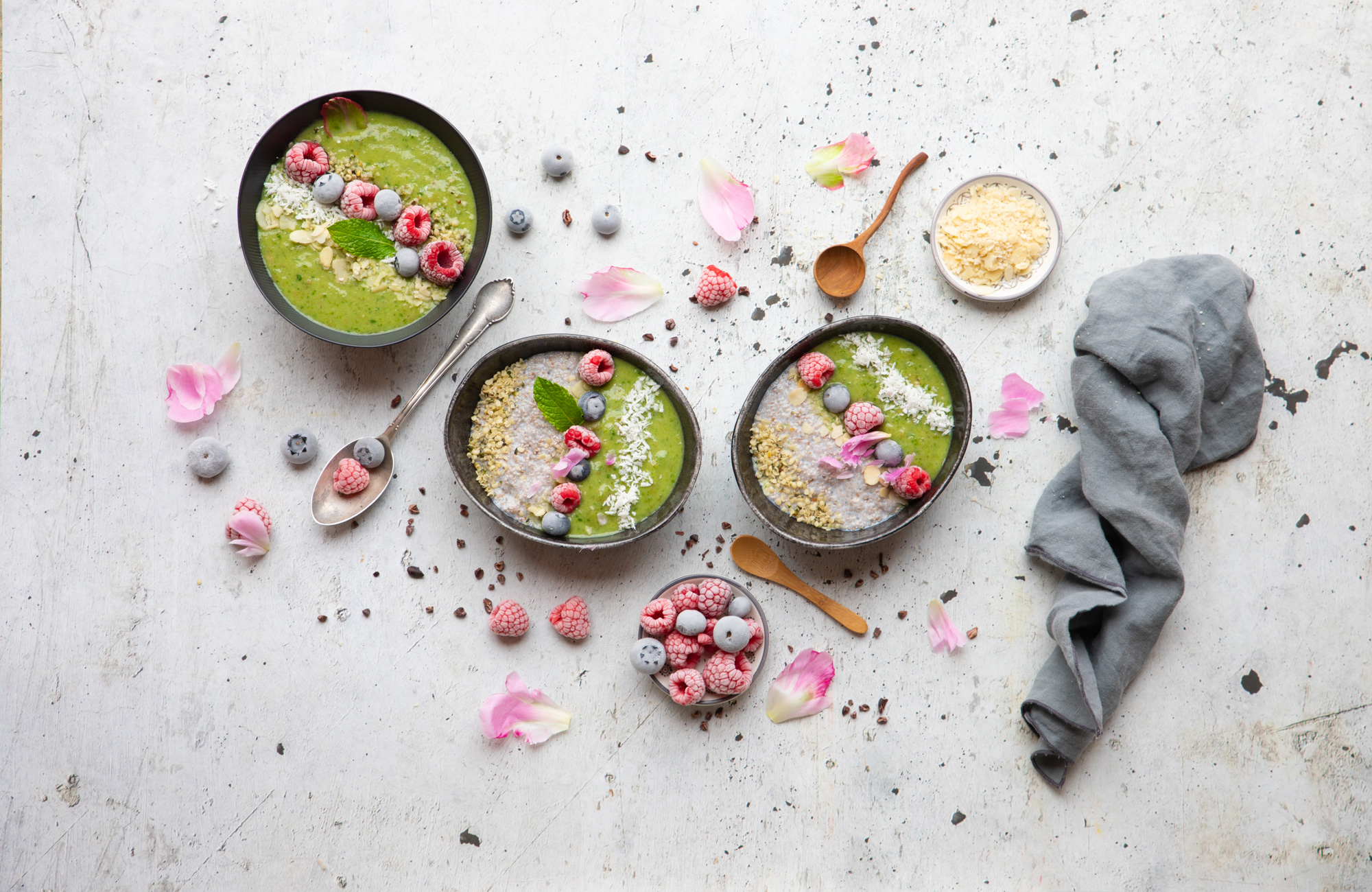 Just in time for the summer season, I would like to present you my absolute favorite smoothie – bowl.
Simply put some selected veggies along with some tasty, fresh fruits into your high performance blender, puree everything very well and you will get a nice smoothie bowl. You can enhance it with some of your favorite toppings.
Enjoy this tasty green bowl as a breakfast or as a healthy snack in between without much preparation time. Following my motto:
LIGHT – TASTY – HEALTHY & EASY.
I usually top my little smoothie bomb differently.
Sometimes I decide to add a spoon of hemp seeds, some fresh fruits, a tea spoon of coconut raps or chips and a tea spoon of cocoa nibs. Other times I choose to use nuts, different seeds, dried berries like cranberries or raisins and chia seeds. And on a day like today, I create two bowls out of one;-)
Lovely.
Naturally, you don't have to prepare your smoothie bowl the way I did. You can use all the ingredients that you like, according to the season and tolerance. You are free to customize it however you wish.
There are no limits to your creation and your fantasy.
Just try it out and you will see how tasty these bowls are and how easy they are prepared.
You have all your ingredients ready? Great, so let's start.
In addition you'll need two small bowls or muesli bowls. a food processor and another small bowl.
Green - Smoothie - Rainbow - Bowl
250ml almond milk *Optional: Rice or coconut milk*
2 frozen bananas
A handful of fresh spinach
1/4 avocado
1/4 cucumber
2 dates *Optional: Some date syrup*
2 tablespoon of white chia seeds

Topping according to your tolerance:

I used:

1 tea spoon of coconut rasps
1 tea spoon of hemp seeds
1 tea spoon of chopped almonds
Fresh fruits like *Raspberries, blue and strawberries*
Pour 100ml of milk into a small bowl, add the chia seeds and let them soak for 20 minutes.
Give the bananas, avocado, cucumber, dates and the remaining 150ml of milk into the mixer and blend everything very well. Now distribute the soaked chia seeds on one side of the bowl and the green smoothie on the other side.
Finally decorate the bowl with some of your favorite toppings and start to enjoy it right away;-)