Fruity Berry Jam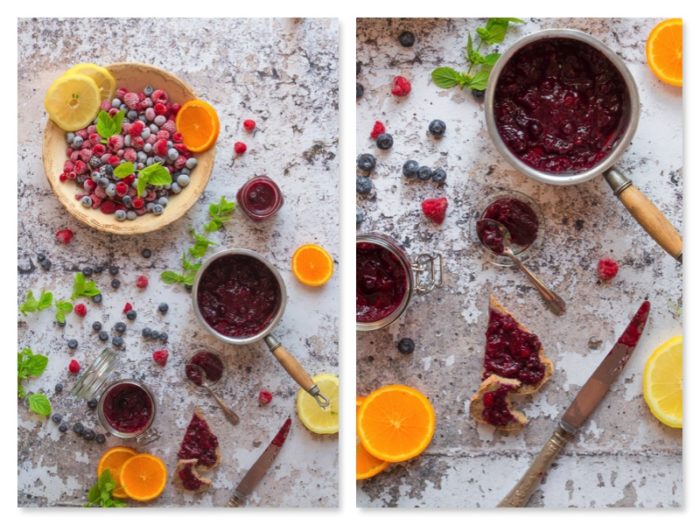 Today I've prepared a perfect, fruity, berry jam for your next Sunday breakfast even though it has a shot of alcohol;-) You'll have this sweet & fresh treat prepared in no time;-)
PS: Regarding the alcohol. Of course you don't have to add the alcohol. The jam tastes delicious without the Grand Marnier as well.
Fruity Berry Jam
500g mixed berries *Optional: Frozen berries*
2 tablespoons of pear syrup *Optional: Coconut blossom syrup, agave syrup or honey*
1 tablespoon of lemon juice 
1 tablespoon of orange juice *Freshly pressed*
1 tea spoon of  agar-agar
1 tea spoon of vanilla powder 
1 tablespoon Grand Marnier

1 teaspoon apple fiber

2 small canning jar
Slightly puree the berries within a blender and fill them into a pot afterwards. Add the lemon and orange juice, the Gran Marnier agar agar, the apple fiber, the syrup and the vanilla powder. Let everything boil up under continuous stirring. Please stir very well so that none of it gets burnt. After 5 minutes cooking,  fill the jam into sterile canning jars, seal them and turn them upside down. Afterwards store the jam within the fridge.
Have a wonderful day and lots of success with the recipe.
Micha;-)