Delicious gherkins – easy & homemade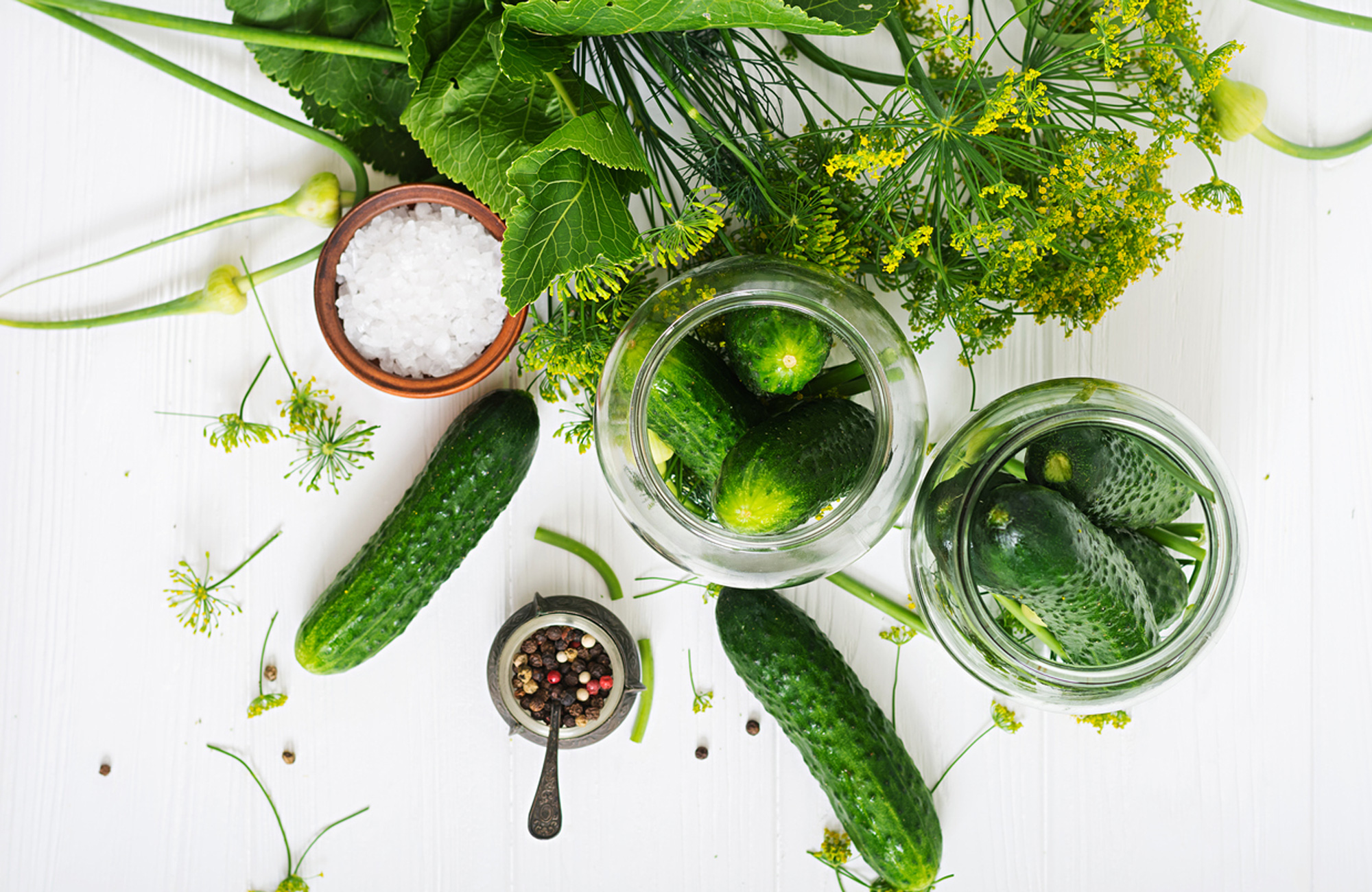 Mhhhh yummy….
Homemade and pickled gherkins. I simply love them.
Did you know that it is quite trendy to preserve your own, freshly harvested veggies from your garden or from an organic shop?
I'm not joking! And shall I tell you something? You'll not just notice the big difference in taste but you'll have lots of fun with it as well 😉  At least that's what I've experienced.
And as soon as the 5-6 weeks of preservation time is over…
Open the glass, grab a gherkin, take a bite and devour it. It's actually the perfect snack.
I preserved my gherkins 4 weeks ago along with fresh herbs, lots of mustard seeds and a big portion of love.
And just in this moment, while I am writing this recipe I can already, literally notice the taste of a crunchy gherkin in my mouth.
Therefore let's not get carried away and let's go over to the recipe.
Oh, by the way. If you don't like pickled gherkins, simply use zucchinis or a pumpkins. Those alternatives are super yummy as well!
But now, let's start.
Have lots of fun!!
In addition, you'll need 5x 1L preservation glasses with a lid, a large bowl and a pot.
Delicious gherkins - easy and homemade
Ingredients for 5x 1L glasses:
2kg of small gherkins
10 vine leaves
5 cloves of garlic
10 stalks of dill
1 bunch of  fennel
5 tablespoons of mustard seeds
3 tea spoons of black pepper
1L of water
6 tablespoons of white wine vinegar
100g sea salt
Place the gherkins for about 6-8 hours into a cold water bath and clean them thoroughly. Remove the little spikes and drain the water afterwards.
Boil 1L of water in a pot, add the salt and the vinegar, stir well and turn of the heat.
Slightly squeeze the garlic with it's peel with the backside of a knife. Clean the dill and the fennel and shake both dry.
Prepare the glasses.
First, add the dill, the fennel, two vine leaves, a clove of garlic, 1 tablespoon of mustard seeds and some pepper seeds into each glass. Afterwards add the gherkins and fill the glass up with the water-vinegar mix. Repeat this until all glasses are filled.
Close the glasses with the lids, turn them upside down and shake intensively. Now turn them back and let them infuse at a dark place at a normal room temperature for about 4-6 weeks.
PS: The longer the gherkins infuse, the more intense they will taste.