Creamy coconut-curry soup with rice noodles & zoodles

*TOP TIP ****** My absolute favorite soup*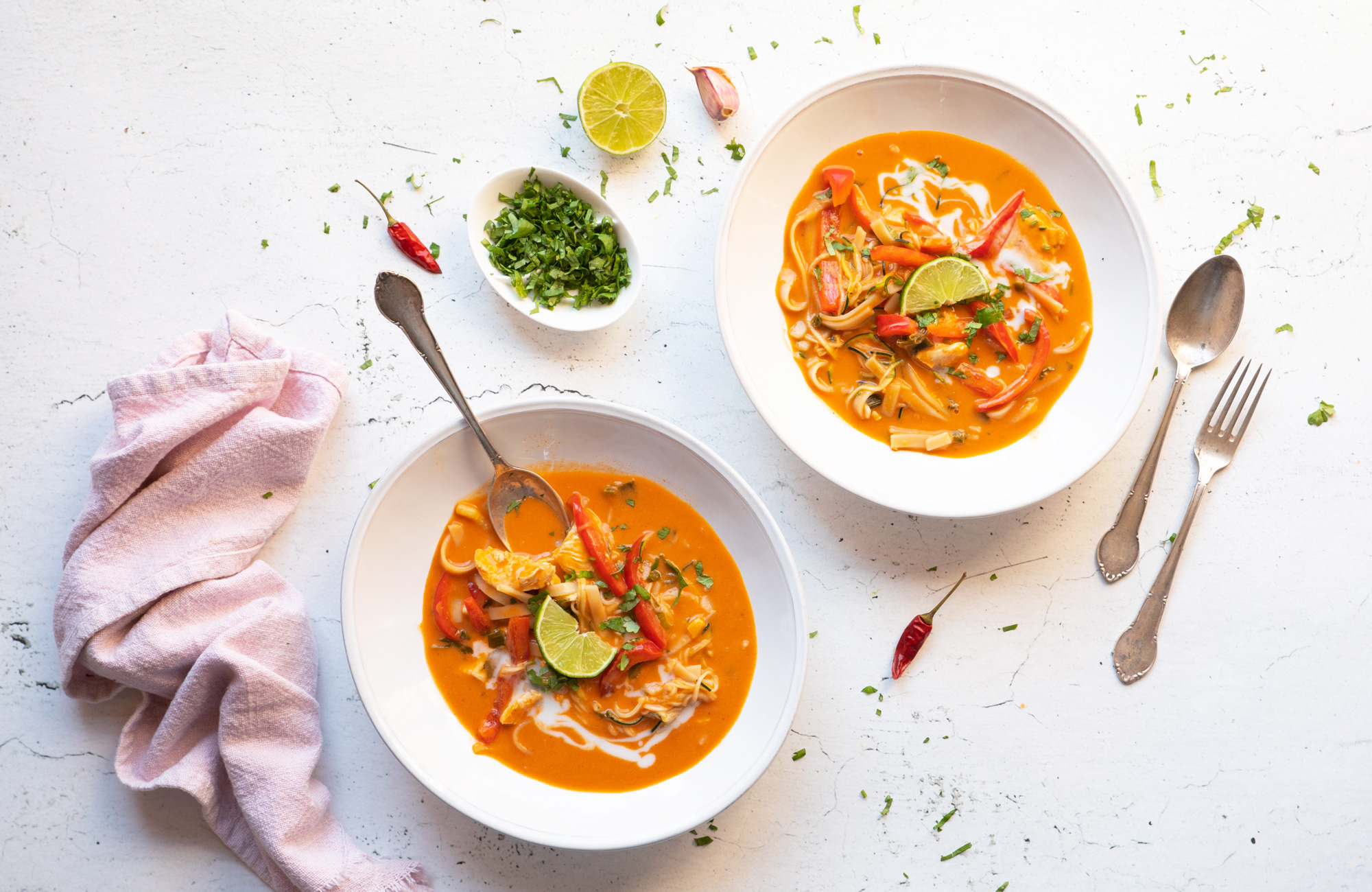 I have to admit that this tasty and super creamy coconut-curry soup is a long time classic and favorite in our house of Chiliandsweet.
You'll probably think to yourself now:
Hey, if this is one of your top recipes, why do you share it with us this late?
Well, even though this soup was super delicious from the beginning, and all our friends always said that I shouldn't change anything, I was always kind of tempted to improve it more and more. I don't really know why but I always had the feeling that it was possible to make it even better;-)
Well, what can I say… In the end it turned out to be exactly this way;-)
The taste of my, OUR favorite soup got more intense, more creamy & refined. And I will keep it this way from now on.
I hope so;-)
In this version, I decided to add not just zucchini zoodles but a handful of thick rice noodles with organic chicken as well.
It was a good choice but it's not a must.
You can substitute the chicken through tofu if you want and I guarantee you that you won't notice the difference.
I will make it up to you on deciding which side dish you would like to choose.
I will only tell you one thing: This soup conquered our heart a long time ago and I hope that it will have the same effect on you!
Have lots of fun with this recipe and enjoy it as much as you can;-)
In addition you will need a large pan. I prefer to cook this soup in my WOK.
Creamy coconut-curry soup with rice noodles & zoodles
200g chicken breast filet
1 zucchini
150g thick rice noodles
2 cloves of garlic
1/2 red pepper
1 piece of ginger *ca 4 cm*
2 tablespoons of coconut oil
1 tablespoon of tomato paste *sugar free*
1 tablespoon of red curry paste
800ml vegetable broth
450ml coconut milk
2 tablespoons of sesame oil
1/2 bunch of coriander
1 lime
clean the chicken breast filet, dab it dry and cut it into small dices.
Clean the zucchini and cut it into thin stripes. *Works best with a zoodle machine*
Peel the garlic and chop it.
Clean the pepper and cut it into thin stripes.
Peel the ginger and chop it.
Clean the coriander, shake it dry, chop it and leave it aside for the moment.
Squeeze the lime.
Give the coconut oil into a pan, add the garlic and the ginger and slightly brown both. Now add the tomato paste and the curry paste, stir and let everything infuse for one more minute.
Add the vegetable broth and the coconut milk, stir well and let the soup boil up. Add the pepper stripes and let the soup simmer. Now add the noodles into the soup and let them cook for about 10 minutes at a lower temperature. Stir the sesame oil into the soup and add the meat, stir well and continue to cook the soup for 4-5 minutes. Finally add the zoodles, fill the soup into deep plates, scatter the coriander over and serve the soup as warm as possible.