Cold cucumber-radish soup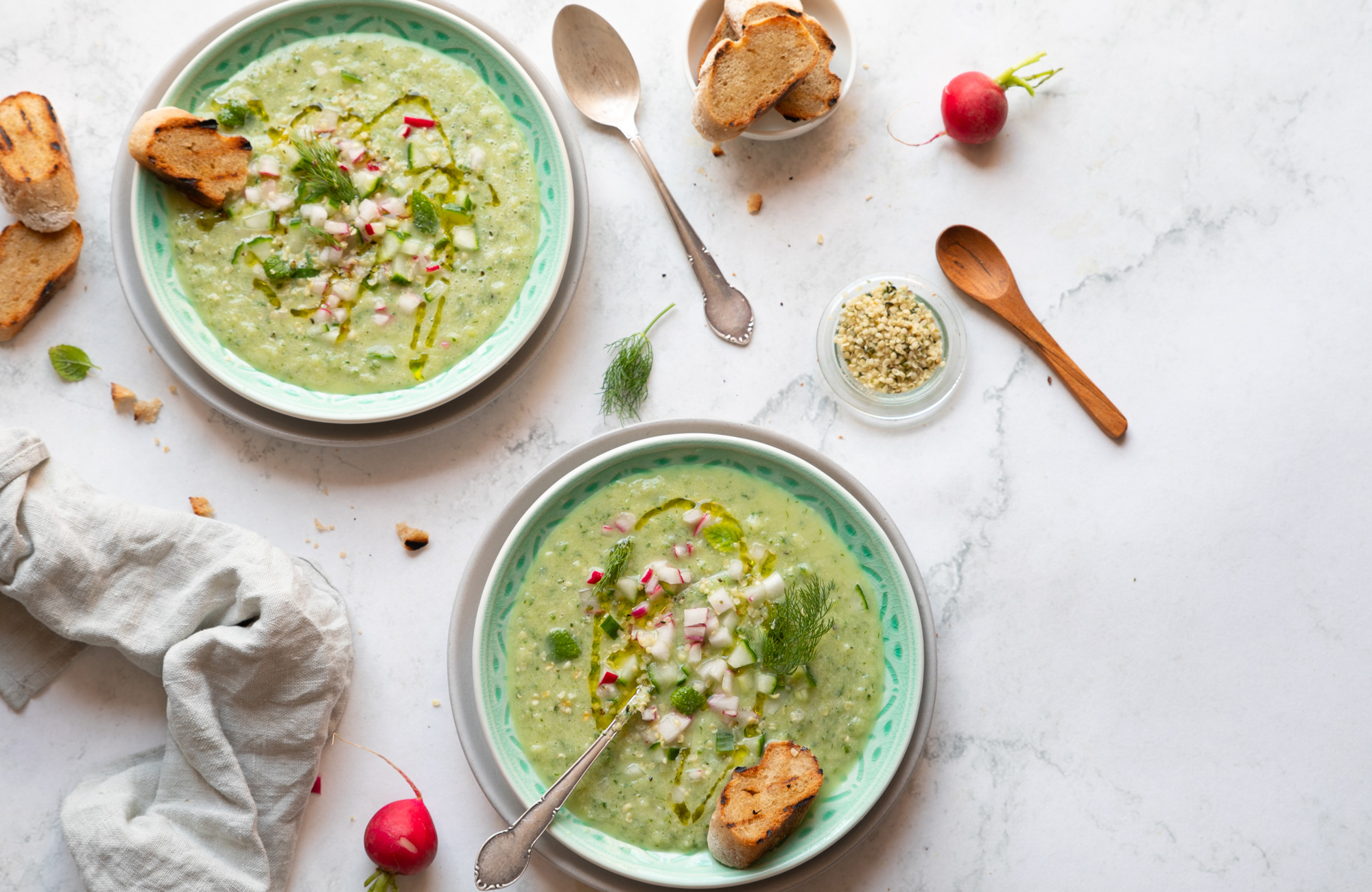 Hi there! Are you ready for a really tasty and super refreshing cucumber soup?
Really? Good choice!
But first of all… Hello again! 😉
My faithful Chiliandsweet food lovers probably noticed that I haven't posted anything lately. That was because I really needed some holidays and this time I was really able to enjoy them a lot.
You need to know that it's quite different when I spend my holidays at home.
I usually really try to commit to my holidays but I tend to catch myself after 2 days standing in the kitchen, trying out new recipes or sitting in front of my laptop, writing new articles for my blog instead of laying lazy in the sun.
Isn't that just terrible?!
But this time, I surprised myself and really pulled through. Yeahhh… And let me tell you, It felt really good;-)
But now lets get to the real topic. Today it's all about my fantastic cucumber soup.
Hey, I really, really recommend you to try it out.
This soup is a treat to your taste buds und tastes (especially during these hot summer days) really, really tasty and refreshing.
I changed the holiday-cucumber soup a little bit and added some crunchy radish slices, fresh herbs, mint and some hemp seeds in addition.
To me, this is the perfect summer-soup snack at times when you don't wanna stand behind the stove. 😉
Pair the soup with a piece of gluten free bread or enjoy the cold soup just as it is.
A dream!
Enjoy
If you don't tolerate soy, simply use sheep-yoghurt, coconut or if you tolerate it, normal yoghurt.
In addition, you'll need a blender
Cold cucumber-radish soup
for 3-4 people:
2 crunchy cucumbers
2 cloves of garlic
4-5 radishes
250g soy yoghurt
250ml vegetable broth
6 mint leaves
3 tablespoons of olive oil *extra virgin*
1 small organic lemon
Some sea salt
Fresh pepper from the mill
A pinch of ground cumin
1 tablespoon of hemp seeds
4 tablespoons of freshly chopped herbs: Dill, parsley and chives
Optional: Chopped coriander
Peel the cucumbers and the garlic.
Halve the lemon. Grate the peel of one lemon half and give the zest into a little bowl, then squeeze the lemon and leave both aside.
Halve 1/3 of the cucumber and remove the inner part with a small spoon. Now dice both cucumber halves, fill them into a vessel and leave them aside until the end.
Quarter the remaining cucumbers and give them into the blender.
Give the garlic, the yoghurt, the broth, half of the chopped herbs, 1 tablespoon of olive oil, the mint leaves and the lemon juice into the blender and puree everything very well.
Season the cucumber soup with your spices und the lemon juice, and fill it into deep plates or glasses.
Finally garnish the soup with the cucumber dices, the radishes, the zest and the herbs. Sprinkle some olive oil over and scatter the hemp seeds over as well and enjoy.