Cherry Tomato Relish with Beet Root & caramelized Onions
Yesterday was a really weird day. Somehow I couldn't get my act together even though I had so many things on my to do list. I wanted to archive some of my new food pics, my lemons needed to be boiled down, I planned to create a new pasta recipe and my favorite tomato relish was a very important point on my to do list as well.
Now guess how much I was able to accomplish…
Exactly, only my relish. But since I dedicated all my time to the relish, it became even better than expected and the other "to do's" won't run away any time soon;-)
Oops, I almost forgot one very important thing. Don't you think that my heart shaped cooking spoon looks super cute? Yeeeees, and I am so proud of my wooden heart. It was a present of my dear friend Sonja and it finally had it's first photo performance! And I think the spoon was a great actor;-) Thank you my dear Sonja ♥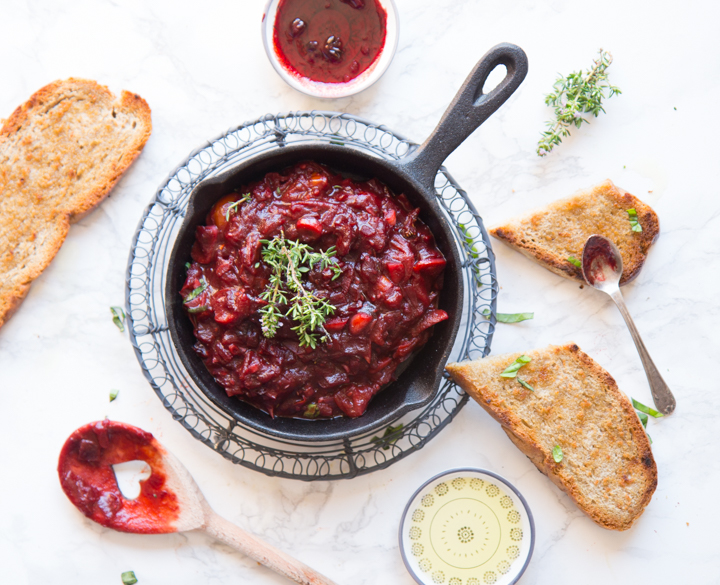 My relish is not just great as a spread on a bread or a sandwich, it's also a perfect match for grilled veggies or meat. Along with that, serve some thyme potatoes and you'll be able to enjoy the finest meal!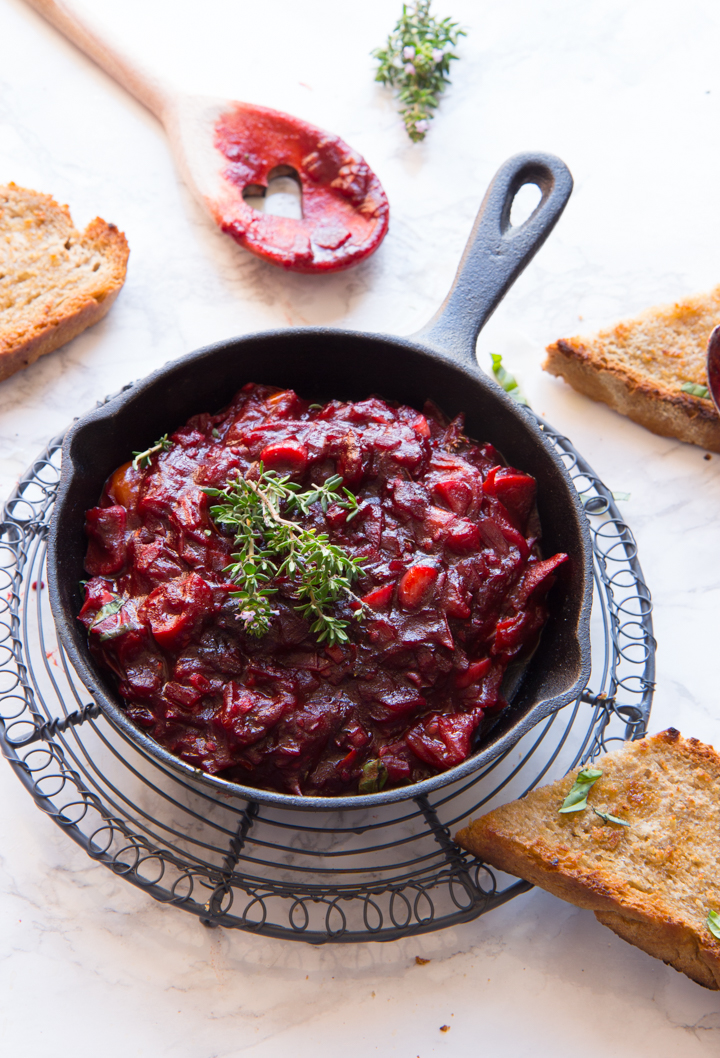 Ingredients:
500g cherry tomatoes
1 red onion
2 nodules of fresh beetroot *Optional: Pre-cooked beetroot*
1 tablespoon of freshly chopped thyme *Optional: Chopped basil*
2 tablespoons of rice syrup *Optional: Honey, apple or pear syrup*
Preparation:
Clean the tomatoes, let them drain and halve. Peel and dice the onion. Peel the fresh beet root with a glove and dice it. Dab the pre-cooked beet root with a piece of clean kitchen paper and dice it into 1 cm thick pieces. Clean the thyme, shake it dry and chop. If you prefer to use basil, clean it as well, shake it dry and chop. Brown the onion within a pot, add the tomatoes, the syrup, the beet root and let everything simmer for about 30 minutes at medium heat. 
At this point I need you to pay extra attention since it is very important to stir within the pot regularly. If your relish got too thick, simply add some water or 2-3 tablespoons of beet root juice. In the end simply add the chopped thyme and fill the hot tomato-beetroot relish into a sterile glass and seal it. You can store the relish for about 2 weeks within the fridge if you keep it sealed. If you open the glass in the meantime the relish holds up for about a week.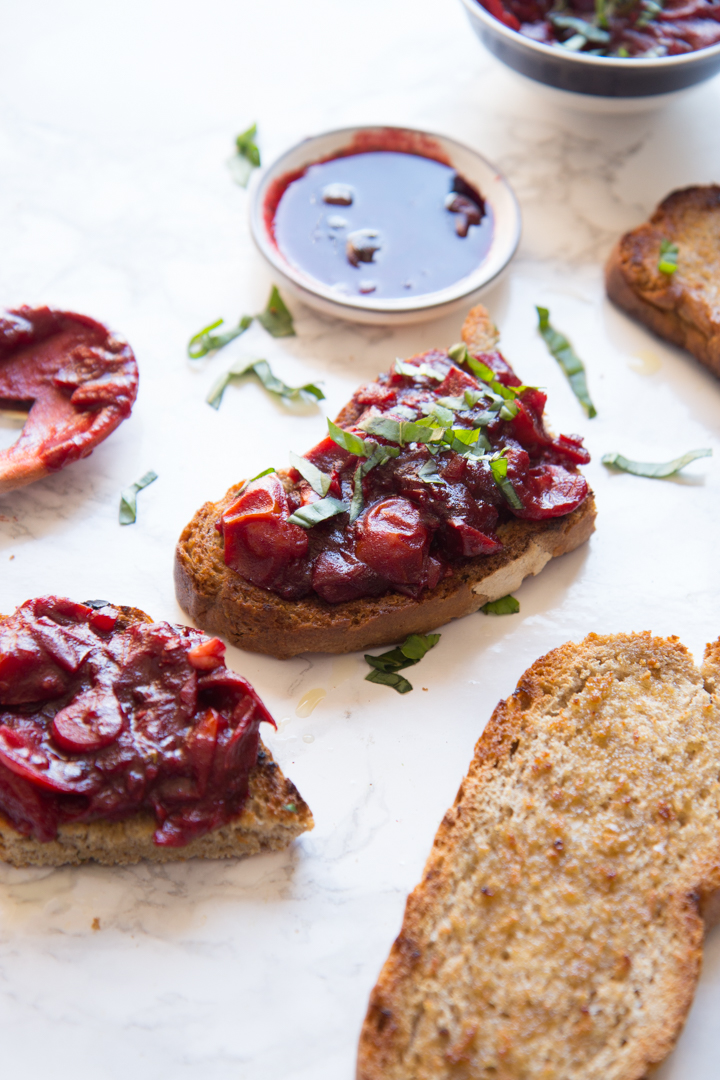 The relish is simply a dream if you use it as a spread on top of a gluten free, pan baked bread. ♥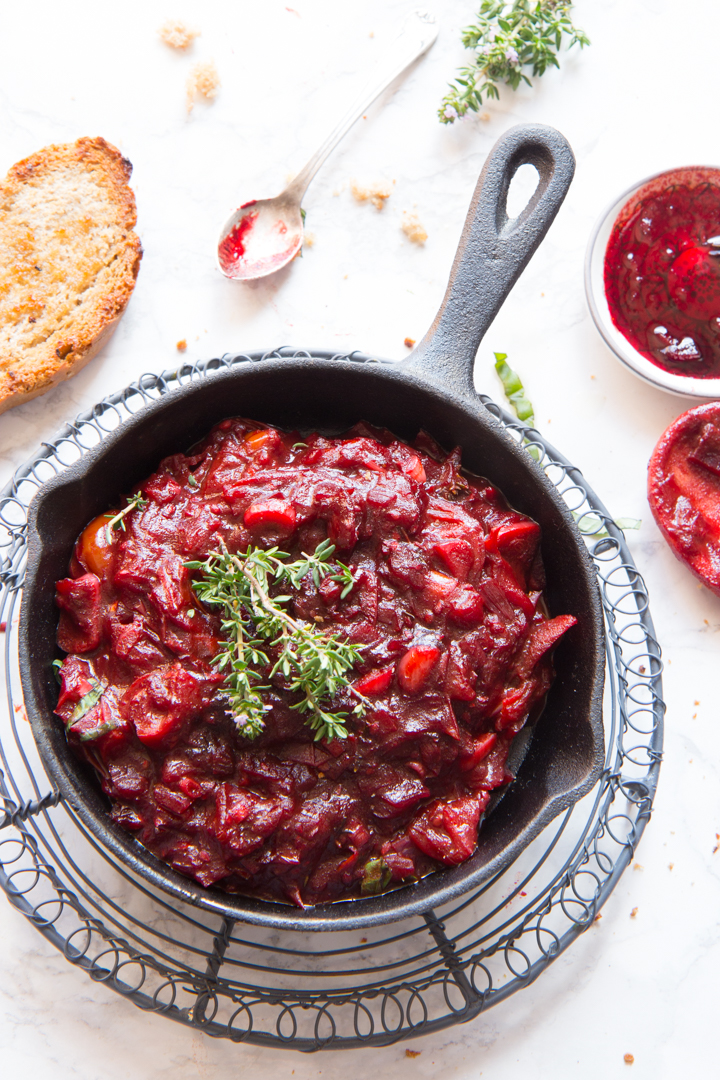 Have lots of success and fun with it;-)
Micha