Blackberry-Bruschetta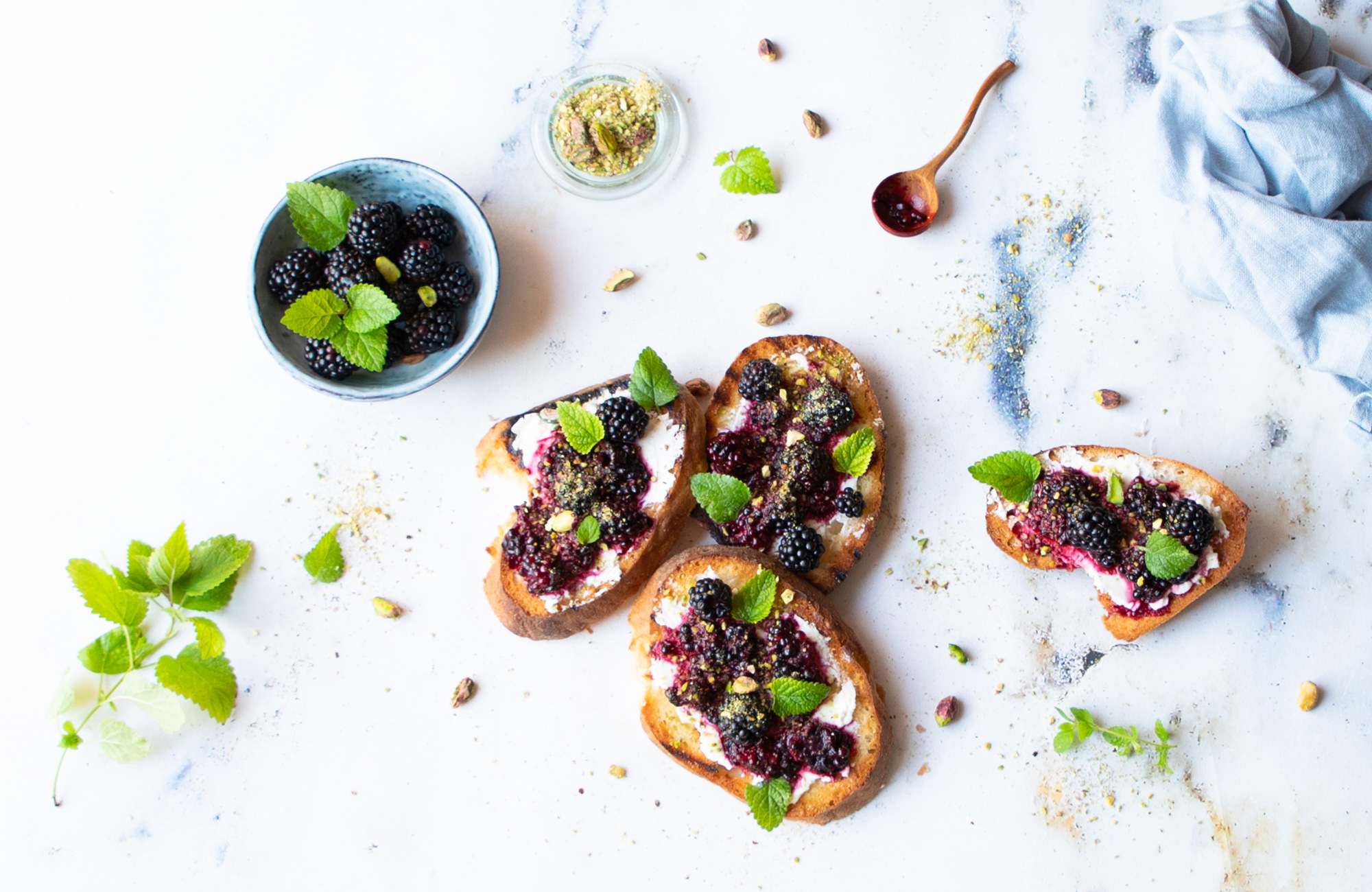 Much has been written about breakfast and there are as much variations as sand in the ocean. And yet, new ideas keep on popping up, trying to enhance our culinary experiences.
And I have to admit that…
roasted bread with slightly sweet goat cheese and fresh blackberries – (which I simply name blackberry-bruschetta), sounded a bit strange at first. But as soon as you've tried it, you won't be able to stop because the combined ingredients taste just too good.
And even now, while writing this recipe, my mouth starts to water, although I had my last blackberry bread just two hours ago. I had it for breakfast;-)
AGAIN!;-)
Stop, no! I just remembered that I ate 3 instead of just 2 berry breads. Ooops…
Don't be jealous;-) It's Sunday and I am allowed to sin;-)
And if you only want to enjoy one of them, please try it out. It's worth it;-)
And if you would like to know which bread I used for my blackberry bruschetta, simply follow this link: https://chiliandsweet.com/schnelles-und-knuspriges-reis-weissbrot-ohne-hefe/
Enjoy!
In addition you'll need a small pot, a small bowl and a grill pan. Oh and don't forget to add an extra amount of love;-)
Blackberry-Bruschetta
For 2 people:
4 small slices of gluten free bread
200g fresh blackberries
100g goat cheese *As a spread*
2 tablespoons of honey *Optional: Rice syrup*
1 stalk of fresh lemon balm *Optional: Mint*
1/4 lemon
1 tea spoon of chopped pistachios
Pour some olive oil into the pan and roast the bread slices until they are golden brown.
Give half of the blackberries and some of the lemon juice into the pot and slightly heat.
Give the goat cheese and the honey into a bowl and mix everything creamy.
Clean the lemon balm or the mint and pluck off the leaves.
Take the bread out of the pan and distribute the creamy goat cheese on top of the slices.
First distribute the warm blackberries over and then add the remaining, fresh berries as well.
In the end, simply scatter the chopped pistachios and some mint over and enjoy this amazing treat.